CANDDi Free Trial - What happens next ?
You've made it to the end of your CANDDi free trial! We're really excited to have you onboard with us. So, what happens next?
Unlike other businesses, we won't abandon you now. Our Customer Success team offer free and unlimited training and support, so you can make your onboarding process as long (or as little) as you'd like!
Your Customer Success Manager will explain the next steps for you in more detail, as each dashboard will look different for each user. No business is the same after all!
But more generally speaking, if you need a hand getting set-up with the basics, we've put together this guide to run you through the main features of CANDDi:
Email Plugin
Our email plugin is one of our biggest value-adders.
You might be thinking, well if I'm tracking my website visitors anyway, why should I integrate CANDDi with my Outlook or Gmail account?
Well, there are two pretty good reasons:
You'll be able to see when someone opens your email, or clicks on a link within it, all in real-time.
Individuals who click on a link to your website will automatically become identified by CANDDi, and will be recognized on all future return visits.
So by installing the CANDDi one-to-one email plugin, you've got a surefire way of getting individuals identified on CANDDi… and it's also nice to know when your colleagues are ignoring your emails!
Additionally, if you're sending any marketing collateral to your recipients (e.g. quote, brochure, e-guides) then you'll want to know if they're getting an engagement, and ultimately providing any value.
You can do this with CANDDi Download.
CANDDi.Download is a tool that can help you identify more prospects through hyperlinks. This comes in handy when you're sending an email attachment, or directing someone to a site that isn't yours.
Without CANDDi.Download you'd lose sight of this 'chain'. This is because wherever you're directing the recipient with your links, they aren't tracked by CANDDi.
To see how to install the plugin, and for best practices on what happens next, check out our guide.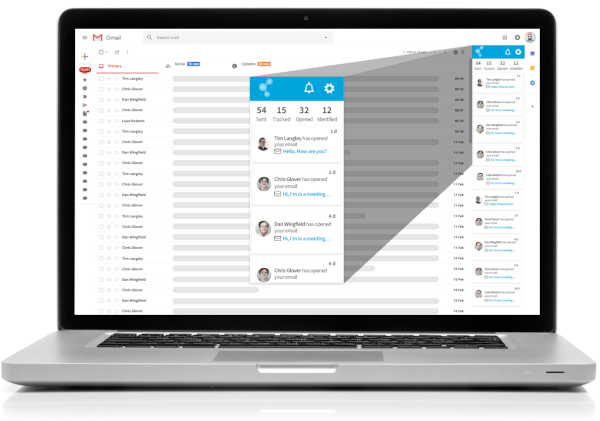 Bulk Email Tracking
I mean, who doesn't want to know if their email campaign is working or not?
Similar to our one-to-one plugin, CANDDi integrates directly with your existing digital marketing platforms so you can add tracked CANDDi links to your email campaigns!
This will give you better visibility over who's engaging with your email marketing, showing you who's opening your emails, clicking your links or even ignoring you… awkward.
Better yet, every click through will be identified in CANDDi so you can follow them up if they go cold! Win win.
To go ahead and get set up, follow our step-by-step guide. It couldn't be simpler, just head to your CANDDi Dashboard, navigate to the 'Identify' tab and find your ESP under our Email Marketing section.
CANDDi will take the rest from here!
CANDDi Capture
This thing can boost your website conversion rate by 400%, so you'd be daft not to give it a go…
CANDDi Capture is a pop-up enquiry form that can be used as a tool to capture data from your website visitors.
Their name, company and contact details can be captured in the click of a button, and since you can choose from a number of form types (e.g. subscribe, download, contact us, survey), you can decide exactly how you engage with each of your visitors.
CANDDi Capture is also fully customizable, so you can design them to perfectly match your website's colour scheme.
No need to worry about devices either, as each CANDDi Capture form is fully optimized for mobiles/ tablets, meaning you can effectively reach prospects no matter where they're viewing from.
If you need a hand getting your Capture forms live, you can follow our step-by-step guide, or check out our FAQs.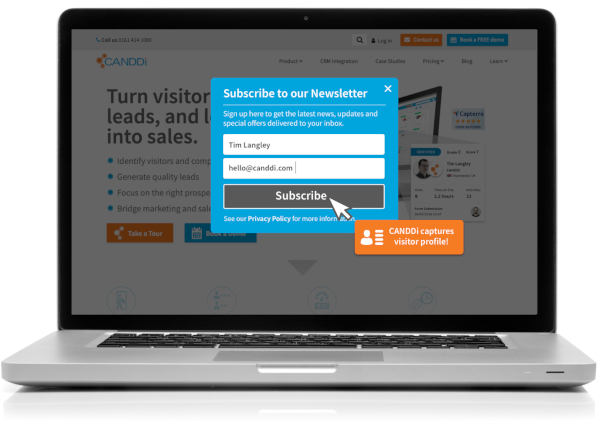 CRM Integration
So all of this sounds great, right? But what's the point in having all of this valuable data if you can't make the most of it? Well, thanks to CANDDi's CRM integration, you can.
Not only will you have access to your own personalised CANDDi dashboard that will show you all of the visitors you have landing on your site, you can enrich this by bringing CANDDi into your existing CRM.
In doing so, you'll be able to see the company details and contact information associated with each lead. This can be found on the profile tab.
You can also use the existing knowledge within your CRM/ ERP/ Database to enhance the data you have within CANDDi with CANDDi.Link.
Similarly, by driving our data directly into the software your teams are already comfortable with using. Hopefully resulting in a quicker, less painful transition period!
Should you need it, we've got the tips to make sure you're making the most out of our CRM integration.
If you're ready to get set-up, just follow our simple steps.
LinkedIn Propect Tracker
Last but not least, our latest feature is our new LinkedIn tool. This works in a similar way to our email plugin, you can simply add a CANDDi tracked link to your LinkedIn messages to allow CANDDi to identify any website visitors that come from your LinkedIn prospecting.
To see how you get this set up, have a look at our guide here, or if you need some inspiration for other ways in which CANDDi can help with your sales & marketing, have a look here.