Welcome to the beginning of your CANDDi adventure.
Before you can dive headfirst into a wonderful new world of website visitor tracking, let's start with something simple… presenting: your CANDDi Dashboard!
Your home away from home, the Dashboard is the central hub of your CANDDi tool. So let's take a quick look at what's included!
Contacts
Here's the main page. It's where the magic happens.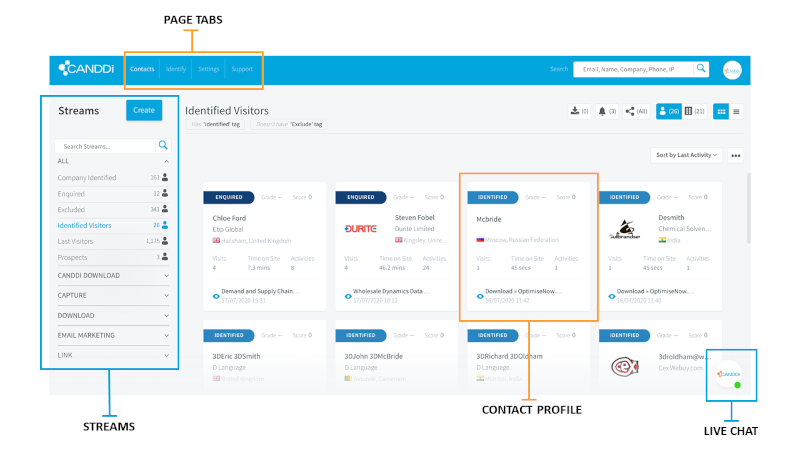 Streams
On the left side of your screen you'll see the Streams bar. This is a list of your Streams (or 'filters') which groups your visitors based on their characteristics for your viewing pleasure. We'll go into more detail about these later!
Contact Profiles
The rest of your screen is taken up by preview cards of the visitors on your website. You can click any of these to get more information about them, and you can use the handy toggles in the top right to change how this information is displayed.
Live chat
In the bottom right corner of your screen, you'll see a live chat icon. You can click this for direct contact to our support team during business hours. We're always happy to help!
The Identify Tab
This is where things get clever. Get ready to integrate!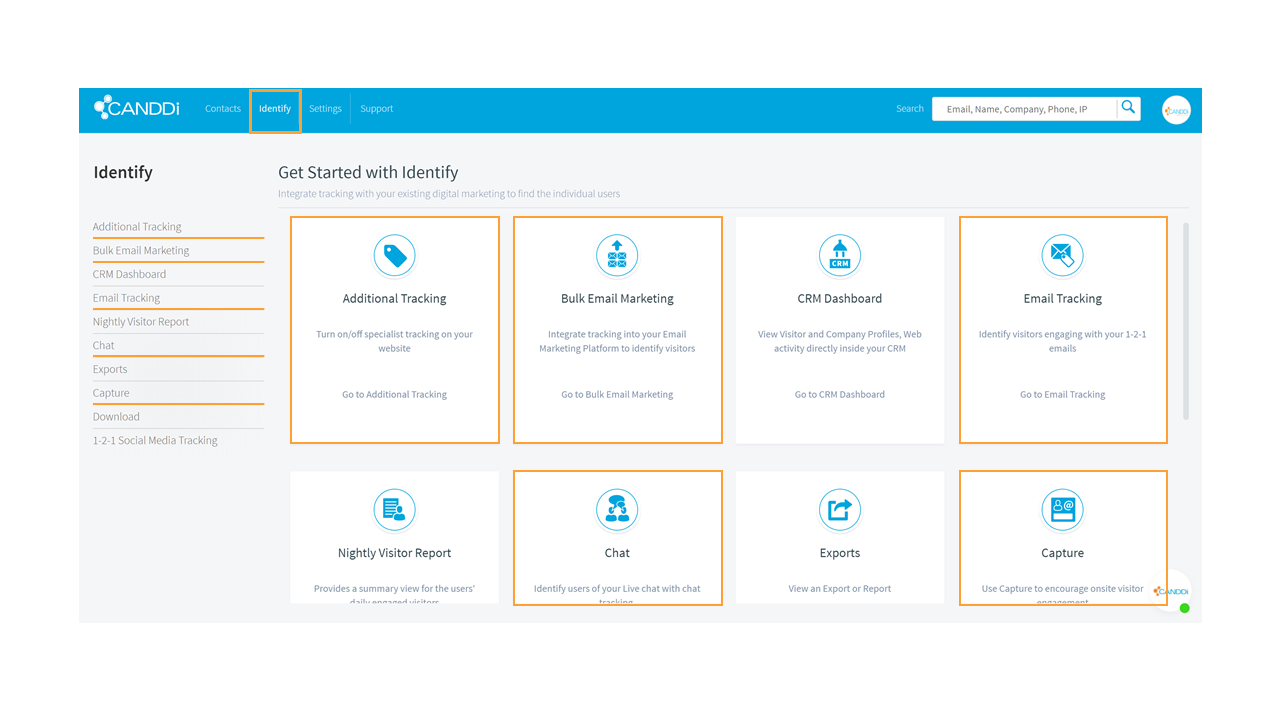 Additional tracking
Got some HubSpot forms or Wistia videos on your website? Just flick the switch in the Additional tracking section and CANDDi will start tracking every interaction your visitors have with them.
Bulk email marketing
Email marketers, welcome home! CANDDi integrates with over 90 email marketing platforms so we can give you more information about your campaigns. Just let your account manager know when you next plan to send, and we'll make sure everything is tracking perfectly.
Email tracking
We also track one-to-one emails, on both gmail and outlook! This is really useful for sales teams who want to know when someone is opening their email, and who is clicking through to their website from any links they send.
Chat
Here's where you can integrate your live chat with CANDDi. Just see if yours is on the list, flick the switch, and your live chat will be transformed into a data-capturing machine! Every time someone enters their details into your live chat, they'll be saved alongside their CANDDi visitor profile.
Capture
This is where you can craft the most beautiful, effective, laser-targeted pop-ups known to man. Choose the design, the content, and the targets of your forms, then preview them in real-time on your website!
Settings
Take a peek under the hood…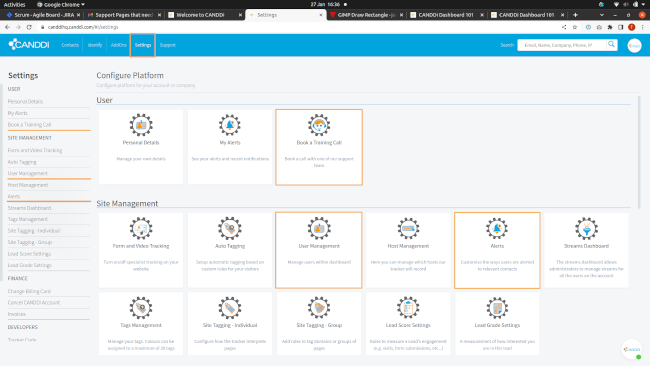 Book a training call
Need help understanding your data, or could use a guided tour through one of CANDDi's features? Just pick a slot in the calendar for some one-on-one screen-share action.
User management
Here's where you can add (or, God forbid, remove…) a team member on your account. You can also manage which users have permission to access different levels of data.
Alerts
This is where you can create real-time email alerts for important occurrences. You can choose which event triggers the alert (e.g. when a high-value individual returns to your site) as well as which team members will receive the alert.
Pretty cool, right? If you're keen to know more get in touch with the team and we'll be sure to fill you in!