How does CANDDi identify visitors?
It's not magic, but it nearly is.
We use our unique mix of IP lookup, cookie tracking and our special algorithms that are designed in-house to drill down into who it is exactly that's looking at your website.
In doing so, we'll add a tiny bit of Javascript into the header/ footer of your website and voila, you're good to go.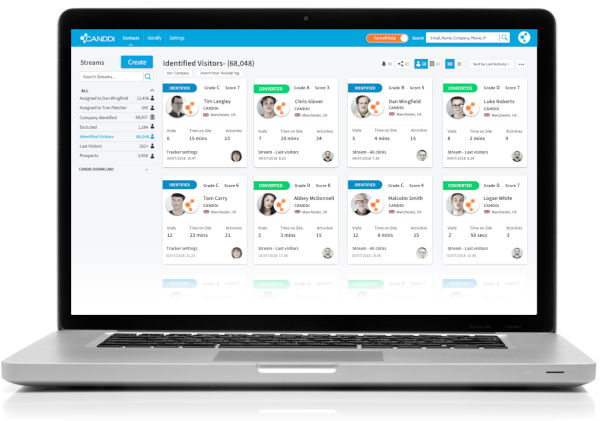 Is this even legal?! I hear you say. Put simply, yes of course.
Sure, knowing someone's name, the company they work for and their location might seem a little creepy, but we manage this through the reverse IP lookup of publically available data. Not so creepy after all…
But what does this even mean? It means that when a visitor arrives on your website, CANDDi will start to run a query to identify the registered owner of the IP address.
This of course is only an approximation, but luckily you can 'train' CANDDi to do better and improve relevance for your organisation.
We also use two first-party cookies to associate the website activity from the visitors identified with device linking sessions and visits. This means you'll be able to know when someone keeps returning to your site, what pages they go to, how long they spend there, and any other clicks they might make.
CANDDi keeps you on the ball. You'll never miss a hot prospect again.
If this is making your head spin (honestly, I don't blame you) then you'll be glad to know that when you're using CANDDi, our mission is to display all the data to you in a manner that's simple to understand and is stored in your CANDDi dashboard.
And that's not all! Our aim is that within 3 months, CANDDi should be identifying between 15-20% of the visitors to your site. We can't deliver that by sitting around doing nothing can we? So we try to be as proactive as possible.
This includes identifying your website visitors through the following:
A lot to take in, right? Don't worry. If you need any more information or guidance, our Customer Success Team is always on hand to help you. Get in touch at help@canddi.com