CANDDi Streams - What are they?
As you know by now, CANDDi's power lies in its ability to identify actual individuals visiting your website, rather than a vague company name guessed from an IP address.
But what's the point in all that if you can't see where they're going? Or what they're up to? We mean that in the LEAST creepy way possible, by the way.
Monitoring your web visitors journey across your site is a key part of your sales process. That's why we've set up streams for you to filter your visitors depending on their location, industry, marketing campaign and pretty much anything else you can think of! This way, you can focus on the prospects you really want, whenever you want.
So, how do you get them set up? Creating streams can seem a little daunting at first, especially with all the parameter options to choose from. Here's a quick guide that explains it all.
First of, you'll need to think about the prospects you want to focus on in order to pick the relevant rules from the list on the right, followed by a specific type. The options are:
Contact - if you want to sort website visitors by contact details, social profiles, etc

Summary - a bit more tricky. Use this one if you want to know the specific pages a viewer has interacted with, or how long they've spent on your site.

Company - this can range from industry to number of employees and revenue

Location - literally location. So where they are in the world at the time of visiting your website

Referrers - another trickier one. Filter by referrers if you want to know more about specific marketing activity. If you've just set up a new email campaign or want to know how well your LinkedIn profile works, this one's for you.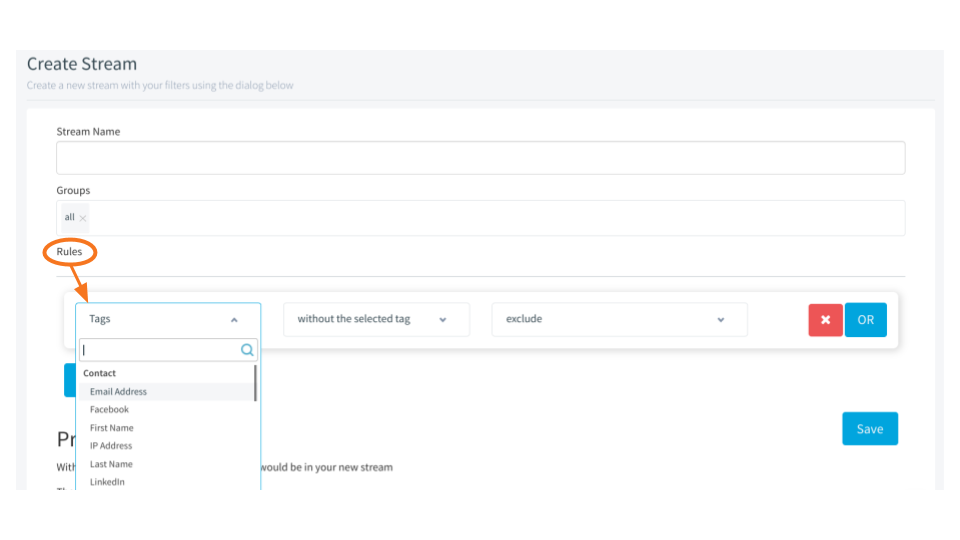 Once you've chosen your rule, you need to pick with/ without any value if you want to be vague, with/ without any selected value to get more specific. For example, if you picked a rule location with the selected value of Germany, all of your German viewers would land in your stream.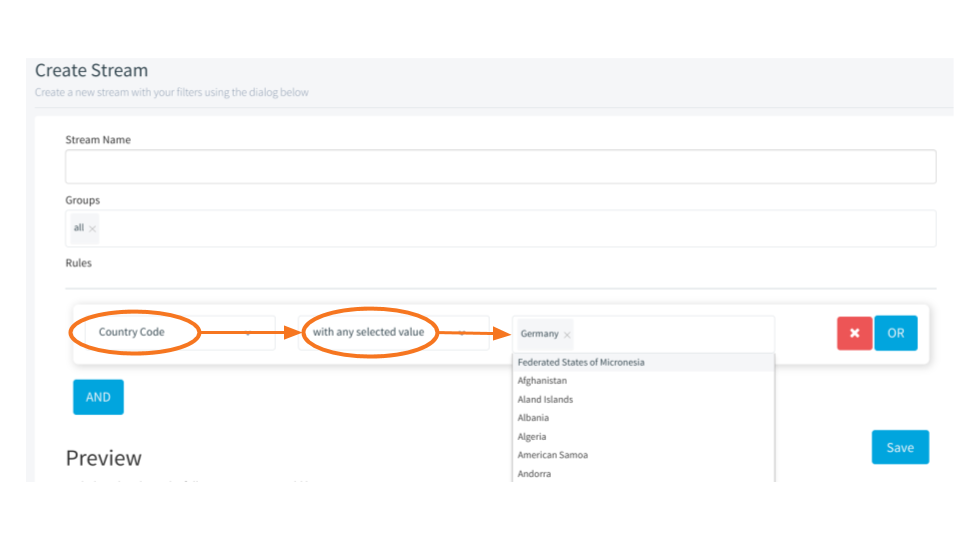 If you decided to go without the selected value of Germany, all other locations except Germany would show. Make sense?
So once you've picked your rules and options, don't forget to press the blue plus button at the side, or all your work will be lost!
Then press save if you're done, obviously.
Practice makes perfect at the end of the day, so if you're still not sure what you're doing when it comes to streams, reach out to the team and we'll help you out.