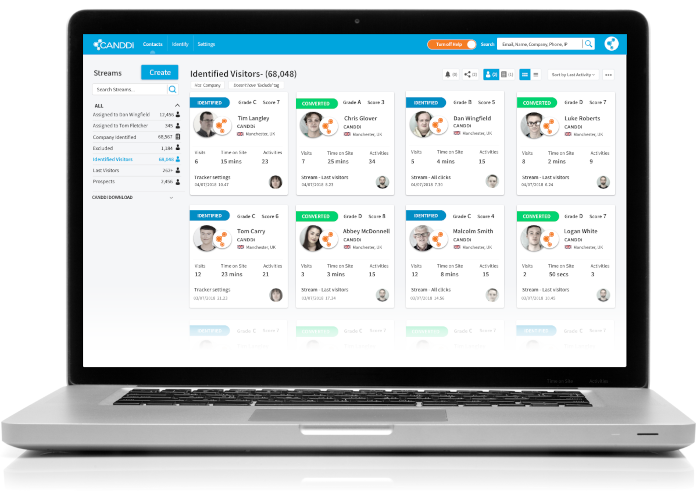 Track the individual visitors of your website in real time
With CANDDi easy-to-understand dashboard, you can get an overview of the individuals and companies who have visited your website. The dashboard continues to update 24/7, so you'll never miss a hot prospect again!
Get sales-ready leads with CANDDi in four simple steps!
Step 1: Track every single action of every single visitor
Did you know that standard visitor tracking tools ignore most of the activity on your website?

Rest assured that with CANDDi, you have complete visibility over every single action that takes place on your site.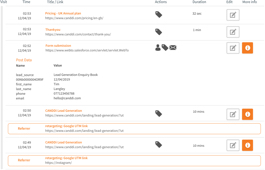 Step 2: Identify the companies on your website
On average, 98% of your website visitors leave without ever getting in touch. CANDDi utilizes the latest in Augmented Intelligence to discover who these companies are, allowing you to get more leads and close more sales.

Step 3: Integrate CANDDi with your digital marketing to identify individual visitor
CANDDi's true power lies in its ability to identify the individuals who visit your website. With this information, you can get in touch personally with an offer tailored to the prospect's interests.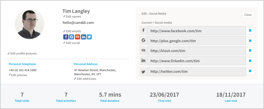 What makes CANDDi different?
Monitor all activity on your website
Because CANDDi utilizes cookie tracking, we're able to track the activity from every single piece of hardware that visits your website.

Most visitor tracking tools aren't able to distinguish between different pieces of hardware, but at CANDDi we believe in providing you with as much visibility as possible. With a complete picture of your website activity, you can get a true understanding of how your prospects are interacting with your digital shopfront.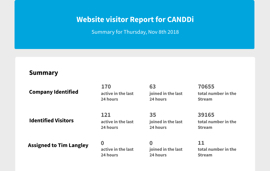 Best-in-class IP Lookup
Whatever your industry, it's important to know which companies have visited your website - and even more important to get this information in real time.

That's why as soon as someone visits your site, our bots begin scouring the internet to resolve the visitor's IP address with its company information. In fact, these bots are constantly scraping the internet for actionable data about IP addresses in order to keep our database current.

The result? Detail-rich profiles of the companies who visit, including contact details, employee count, and links to their social media.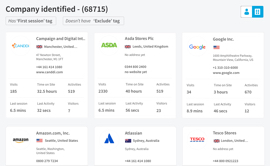 Identifying individuals with Visitor-Level Tracking
Knowing which company a visitor works for is great. Knowing who they are is even better.

The second an individual is identified by one of our many GDPR-compliant methods, their profile is updated with a name and contact information. This is where the true power of our Visitor-Level Tracking lies: in allowing you to get in touch personally with the prospects on your website, with a pitch that's specifically tailored to their interests.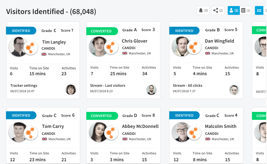 CRM Integration
We drive all of CANDDi's rich, actionable data about individuals directly into your CRM. That means your salespeople can view all the information CANDDi has gathered about prospects, in the software they're already comfortable with.

CANDDi integrates with an ever-expanding list of the biggest CRMs out there. That said, if your current CRM isn't on our list - don't worry! Our team is more than happy to build a bespoke integration just for you.