Reveal your website visitors
Demonstrate ROI of your website and marketing efforts
by sending warm leads to your sales team

CANDDi is the most advanced tool currently on the market for tracking what your clients and prospects as individuals are up to your website. We plug into your existing CRM systems, marketing campaigns, site capture forms and one-to-one emails to get the most insight possible on what your prospects are thinking.
See how CANDDi operates in four simple steps:
1. Track all visitors
CANDDi tracks every website visitor and all their activities including: page views, case-studies, products, downloads, videos viewed and more.

Clients with multiple websites can track the visitors across sites.

CANDDi uses this data to build a profile of interests / engagement so marketing teams can identify what's working and what's not.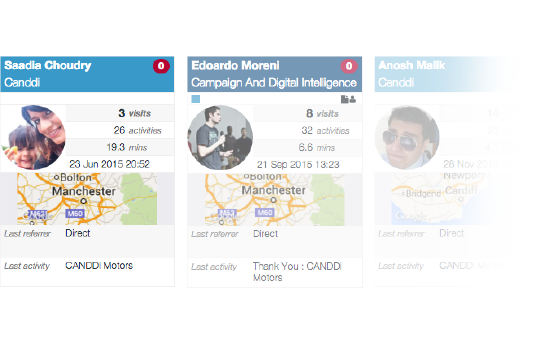 First Party Cookie
The first time a visitor arrives on the site CANDDi drops a 'very sticky' first-party-cookie with a unique identifier. In addition, CANDDi takes a fingerprint of the device configuration. Any action the visitor takes is tracked against this identifier.
"Continual" re-Identification
When the visitor returns the cookie re-identifies precisely the same visitor, uniquely providing all their previous browsing history. Unless the visitor reinstalls Windows or purchases a new machine then CANDDi will spot the visitor time and time again.

Especially with B2B businesses where there is a long decision making process for CANDDi to spot the same visitor across months, or even years, of engagement.
Multiple devices - Single profiles
Visitors who are identified across multiple machines have a single CANDDi profile. This enables precise knowledge about engagement for ROI and for Sales targeting.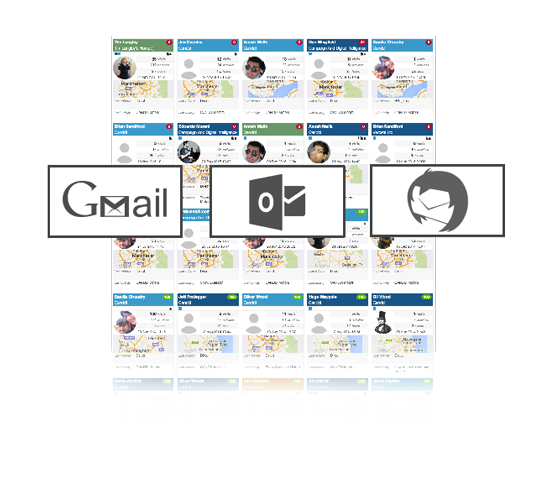 2. Follow up intelligently
Because we track individual people on your website, you can speak to the right person at the right time with the right message.

CANDDi integrates with all email marketing platforms, 1-2-1 emails using Outlook or Gmail, your website forms, any inbound phone calls and with our lightweight capture technologies.
Email Marketing Integration
There's no need to swith Email Marketing Platform!
CANDDi integrates with EVERY Email Service Provider (ESP) on the market: MailChimp, Campaign Monitor, DotMailer, e-Shot, etc... We've not yet found a platform we can't integrate with.
Outlook / Gmail / Thunderbird - 1-2-1 Email Integration
Not only Email Marketing - CANDDi also integrates into the 1-2-1 emails sent by sales-professionals.
Form integration
Enquiry forms, Search forms, Newsletter subscriptions, CANDDi will capture data from any form on your website.
Lightweight capture technologies
CANDDi Capture - our in session lightweight form - has been proven 2-4x more effective at capturing user details than contact or enquiry forms. Click here to find more
3. Segment, Score and Enhance
Visitors can be segmented based on activity and/or behavioural characteristics. These custom streams can be used to target visitors. Visitors can be assigned to individual sales people or used to drip marketing campaigns.

CANDDi supports Lead Scoring and Lead Grading. The Lead Score informs how active the visitor has been and how engaged they have been with the website. The Lead Grade measures how they specifically match against your defined quality criteria.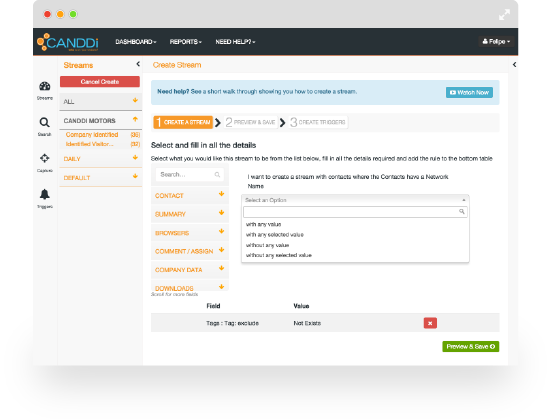 Data enhancement
Captured data is enhanced with further look-ups. For example identifying Social Media accounts / profiles or finding Company data such as size, turnover, SIC code, Registered Office.
Lead score
Scores determine how engaged each visitor is with you website. A high score means that the visitor is very engaged or has performed many high value activities. Scores decay over time - a visitor who was hot yesterday might not be hot today, unless they return.
Lead grade
Grade profiles for "how qualified" against ideal prospects. A high grade is a very relevant individual
Stream create
Create filtered streams of Visitors who have similar behaviour. For example everyone who's visited the pricing page at least twice. More Info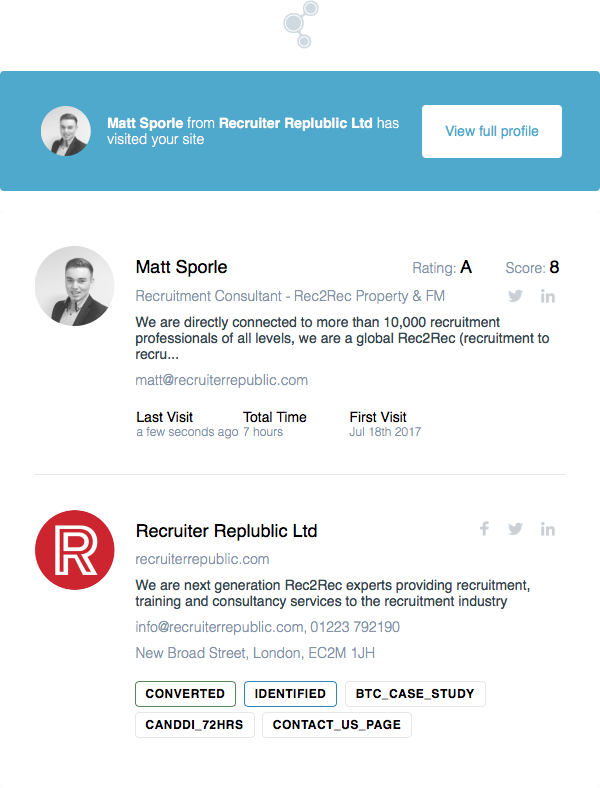 4. Alert! Ensuring right people know at the right time
Getting the right information to the best members of the team at the appropriate time is critical. A difference of minutes or hours can dramatically affect the probabilty of a success.

Real-time alerts can be delivered via: Email or directly into your CRM system.

Nightly or on demand reports can be scheduled for less time-sensitive results.
CRM integration
Salesforce, Microsoft Dynamics, Capsule CRM, Sugar CRM, and more.

CANDDi integrates with all leading CRM applications
Email alerts
Send hot or not information straight to the inbox of any of your sales-team
Interested to find out more?