CANDDi.Link
Since CANDDi integrates directly into your existing systems, you want to be making the most of it. That's where CANDDi.link comes in. CANDDi.Link allows you to use the existing knowledge within your CRM/ERP/Database to enhance the data you have within CANDDi. This is so you can better manage and filter your identified visitors into specific segments as well as alerting the right people at the right time. Below is a screenshot of a typical profile that could be enhanced with CANDDi.Link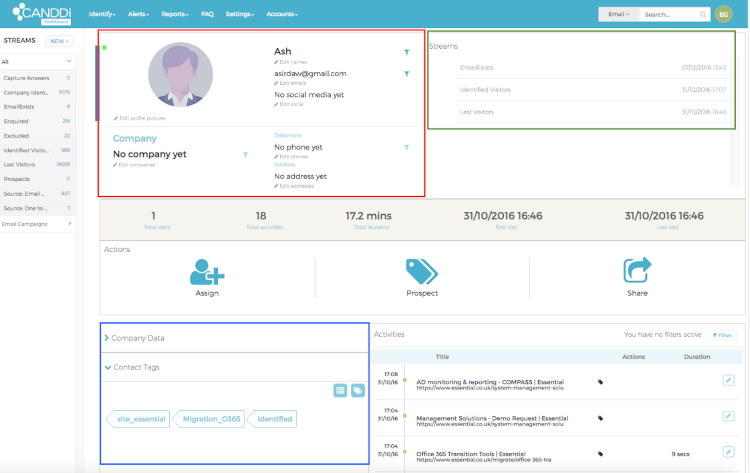 With CANDDi.Link, if the above contact was a known 'opportunity' within your CRM, we'd be using the information from there to tell CANDDi.
So when this contact returns to your website after he was emailed and identified, CANDDi now knows who owns that contact and at what stage they're at. CANDDi can then alert the relevant sales person.
How does it work?
Think about how you typically save records within your CRM. Invariably, we'll have records categorised as Client/ Account, Lead/ Opportunity, Lost Opportunities, Ex-Client, etc. We will then have contact details for any individuals belonging to those records, as well as whoever might own or created that record.
All we're essentially doing is re-processing that information as a 'tag' within CANDDi. Check the image below as a guide to how it works: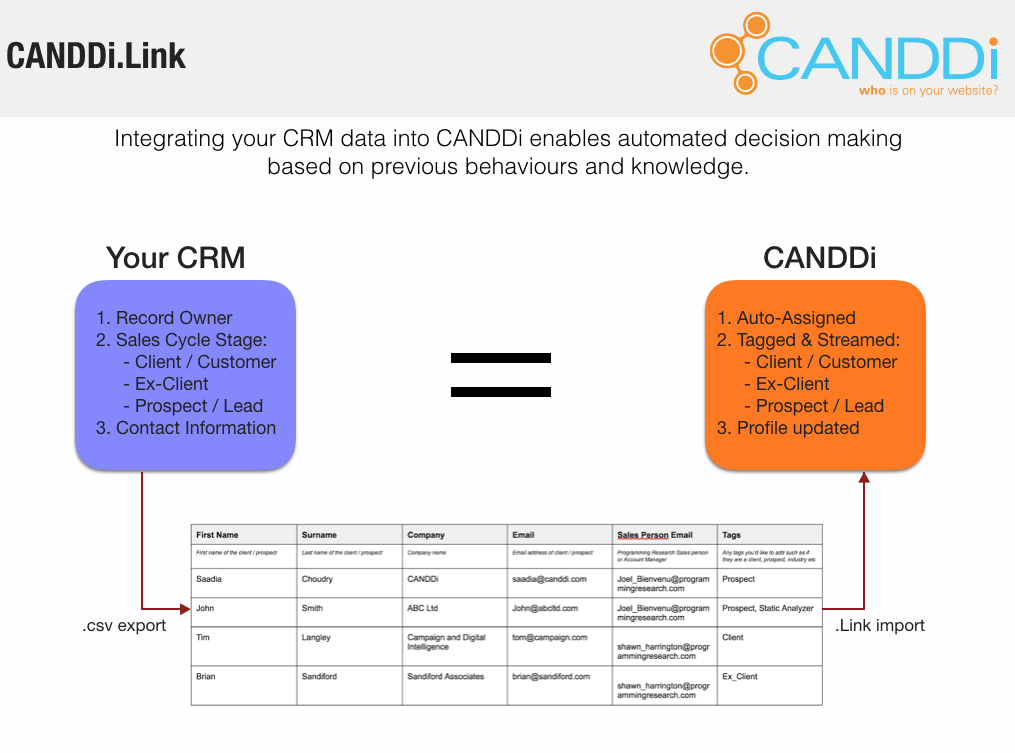 Once that upload has been made into CANDDi.Link, we're then able to stream users based on their auto-tags. As an example, see the image below.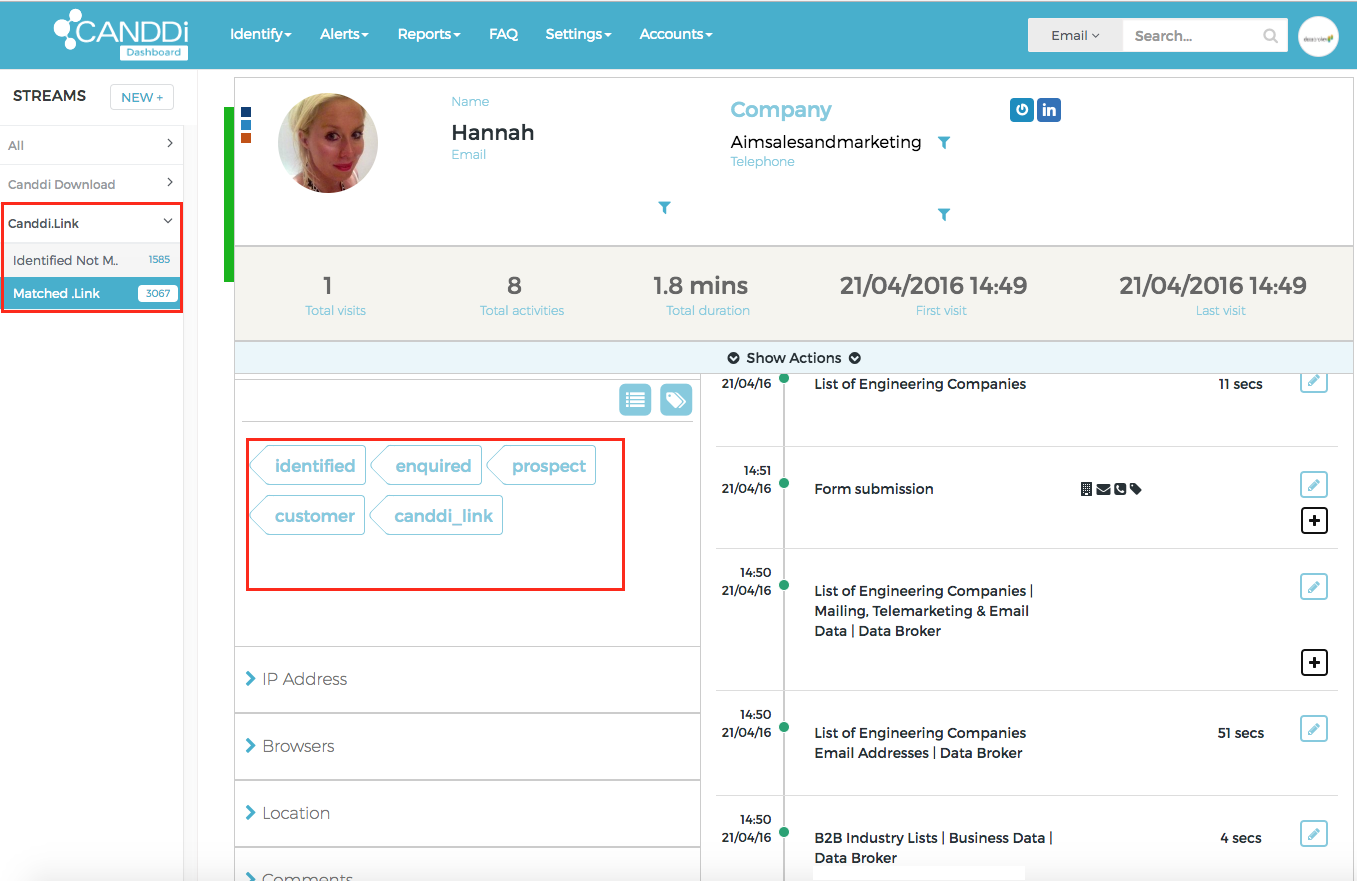 As you can see from the box on the left, CANDDi can filter through all of the visitors you have identified in CANDDi with matching information (more specifically email addresses) within your CRM. We can then define whether this visitor is an existing customer, as Hannah in the example above is (see the second box on the right).
Considering the alternative, there are all of these visitors you already have knowledge of and can track the activity of through streaming and so on. We are then able to filter any of the identified visitors who ARE NOT logged in your CRM, highlighting all of the potential opportunities you could be missing out on! You can do that by having a rule in your identified stream or a new stream if you were to build one that excludes contacts with the tag 'canddi_link'.
Uploading data to CANDDi.Link
Once you've decided how you want to filter, tag and manage your data in CANDDi, the next step is to upload this data into CANDDi.Link. Please make sure any upload is made with a .csv file. Here's how to do it:
You want to make sure only the relevant fields are uploaded as there are a limited number of data fields that can be mapped using CANDDi.Link. They are:
Tags
Assigned To: Email Address
Email Address
Address Line 1
Address Line 2
City
Postcode
Company
First Name
Last Name
Full Name
Phone Number
Then just drag and drop your .csv into CANDDi.Link to upload it. Uploads can take up to 24 hours to process all contacts and tags. Once this is complete, you should automatically see a new group of Streams in your Dashboard for CANDDi.Link, filtering out all of your identified visitors who match with your upload and those who don't.
CANDDi.Link and data privacy
Our obligation: As laid out for our clients in the CANDDi Terms & Conditions, we have a series of commitments to ensure that confidential information shared by our clients stays that way.
You can view these under Condition 10. Confidentiality (pg. 10) within our T&C's here
Your obligation: We completely respect and advocate the security of all of our clients and their respective customer/client data. That is why we always recommend that any client deciding to use CANDDi.Link should sign a Non-Disclosure Agreement (NDA) with us.
Any conversation you might have with your CANDDi Consultant regarding CANDDi.Link and sensitive data, do query whether there is an existing NDA in place or whether one can be signed prior to any submission of confidential information.
If you have any other questions, please don't hesitate to get in touch! You can reach out to the team at help@canddi.com