Pausing/ turning off the Gmail plugin
There are two ways of turning off the CANDDi Gmail plugin depending on whether you wish to turn off tracking for specific emails, or if you wish to remove CANDDi from Chrome/ Gmail entirely.
Pausing the plugin
You'll be glad to know that pausing your CANDDi tracking on specific emails is super simple. If you're sick of your personal/ internal emails clogging up your Gmail plug in, this is the option for you. Sometimes you just need to ignore your colleagues in peace, right?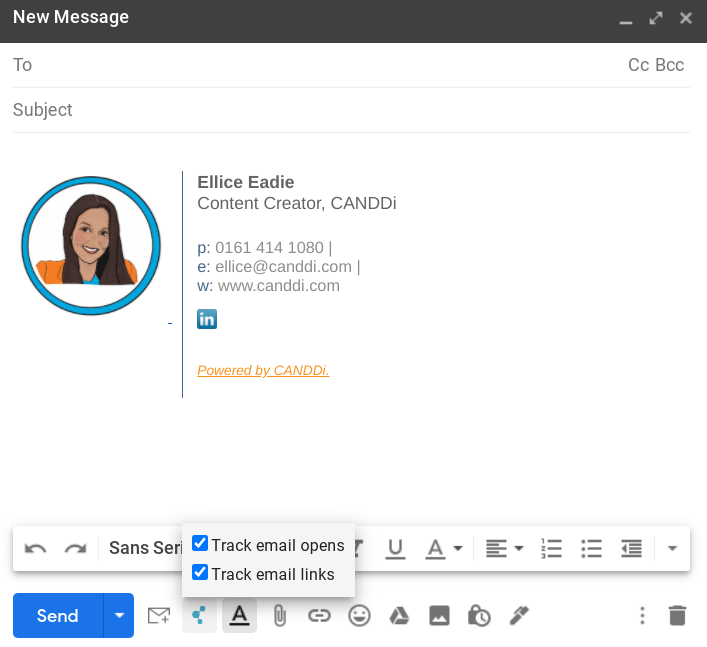 If you start to compose a new email in Gmail, you should see the CANDDi logo (three small circles) next to the send button. If you hover over the CANDDi icon, you'll see two options, track email opens and track email links.
To switch these off, all you have to do is untick the boxes.
Turning the plugin off
If you want to remove CANDDi email tracking from Chrome/ Gmail completely, open up your Chrome extensions and right click on the CANDDi Email Integration plug in. From here you'll be able click the remove from Chrome option.
If you need hand managing your Gmail plug in, just let us know at help@canddi.com and we'll help you out.