The CANDDi Capture Explained...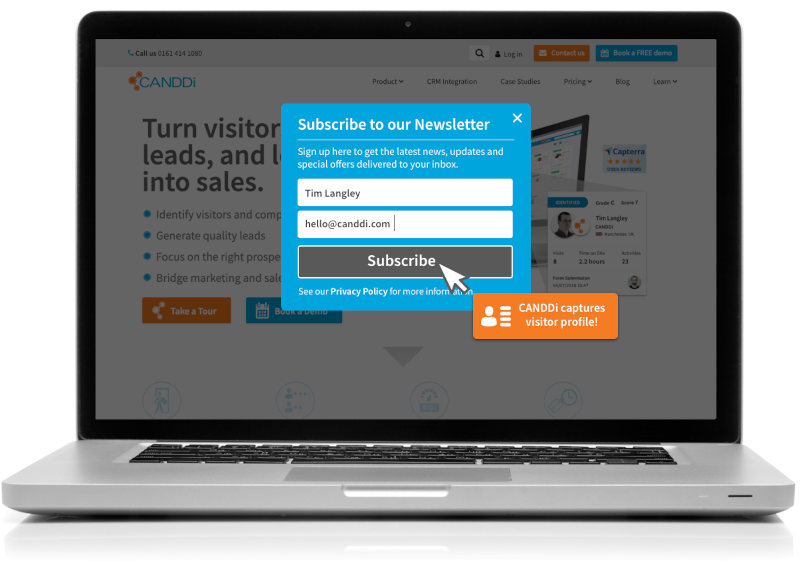 First things first, what is CANDDi Capture?
CANDDi Capture is a pop-up enquiry form that can be used as a cool tool to capture opt-in data from your website visitors.
Their name, company and contact details can be captured in the click of a button, and since you can choose from a number of form types (e.g. subscribe, download, contact us, survey), you can decide exactly how you engage with each of your visitors to make sure you're hitting the mark every time.
CANDDi Capture is also fully customizable, so you can design them to perfectly match your website's colour scheme. No need to worry about devices either, as each CANDDi Capture form is fully optimized for mobiles/ tablets, meaning you can effectively reach prospects no matter where they're viewing from.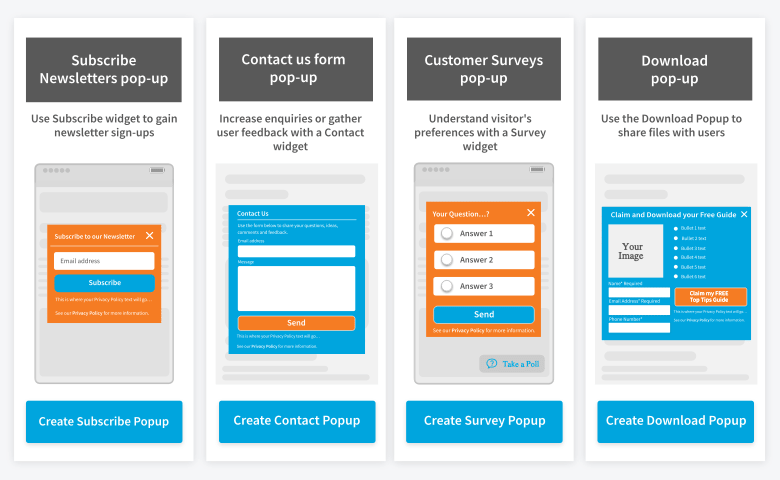 So this sounds great, but why bother?
Well, CANDDi Capture can increase your conversions by 400%.
WHAT?! How? Because when a prospect is rummaging around on your site, they're actively thinking about your product or service. So it makes sense to start engaging with them while you're fresh in their mind, right?
It's also handy to have as it reduces the clicks needed for prospects to get in touch with you. If there's an easier way to do things, people are more likely to do it.
This is particularly useful for your website if you're not using a live chat, as CANDDi Capture can get up to 4x more people identified than your standard website activity alone.
How does it work?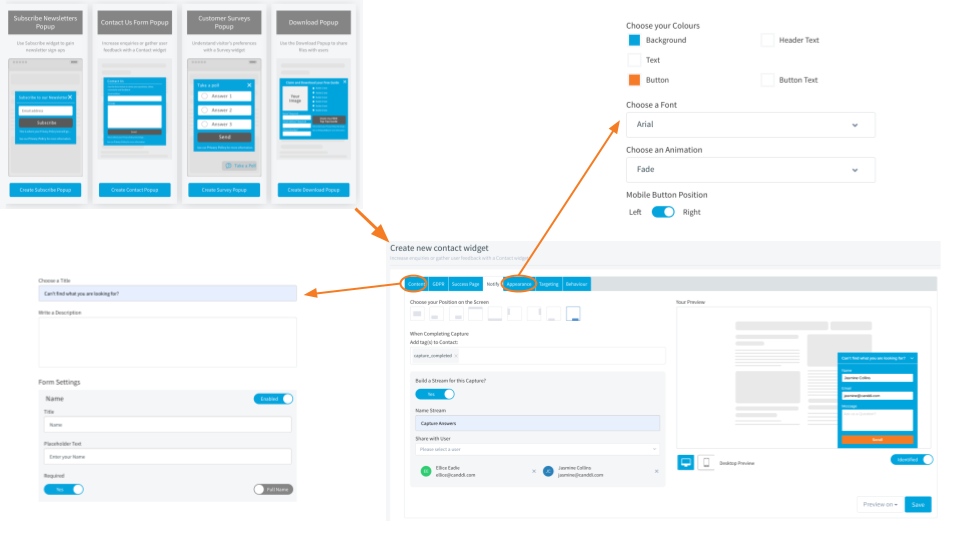 Get started by adding a contact pop up.

Select popup layout (there are 9 types to choose from).
If you're not sure what to go with, just preview the pop up on the left first to see what looks best.

Title your capture and select what information you want from people (we recommend making name and email required fields).
Make it a bit more personal by changing the message you want people to see when they have filled it in here.
You want to know when people are engaging with your Captures too. That's where Notify comes in.

Go to Notify, and add capture_completed to the tag section, build a stream and name it.
Share that stream with the members of your team you'd like to have access to it, as well as your account manager.

To make it look pretty, use the Appearance tab to change the colours and font styles to fit in with your website and branding.
If you want your Capture to appear on certain pages specifically, then you need to go to the Targeting/ Behaviour tab.

You'll need to put the URL of the page you want the Capture on here, but remove the first half so that it is just the page extension.
If you only want the Capture to appear on certain days, click behaviour.

Now that you're all set, don't forget to set up an alert.

Go to identify > alerts > email notification and select who should be notified.
Click join and name the subject of the email you want to come through to you.
If you have any problems getting your Captures set up, don't hesitate to get in touch!