CANDDi's Guide to B2B Marketing
B2B marketing is no walk in the park, especially when you consider that the average person sees more than 5,000 ads a day.

How do you break through the noise?

Gone are the days of a catchy radio jingle. Today's B2B marketers are competing with a growing social ad presence, multichannel marketing, push notifications... it's a little excessive.

There is a silver lining though. The rise of technology and the digital world has brought us access to more data than ever before. And that data can show us who's interested in our marketing, who's responding, and who couldn't care less.

Maybe I've just spent too much time in lockdown, but that sounds pretty exciting to me.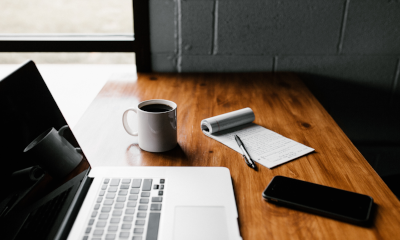 Data can be a bit daunting, but lucky for you, tools like CANDDi are here to help.
Not only can we tell you who's been visiting your website (and we mean actual people, not just companies by the way), but also what they get up to when they're there, how long they spent browsing and what brought them there in the first place.
You're welcome.
But what does this mean for you?
What is CANDDi, anyway?
Long-story short, CANDDi is a website visitor identification tool. This means through our handy little Javascript tracking code, we can track and identify the individuals landing on your website. Even if they don't fill in a contact form.
You'll know where they've come from, what they've looked at, what company they're at, and any other actions they've taken whilst on your site.
Now if you're thinking this is only useful for your sales team, think again!
CANDDi is used by both sales and marketing teams for a more aligned lead generation effort.
Think about it. If everyone has a better understanding of the types of prospects that are interested in your site, and what particular groups are showing interest in certain features etc, you've got more qualified leads in your funnel without even trying.
Not to mention precise marketing attribution measurements for future reference.
We can even help out your Customer Success teams too, if you fancy.
Implementing CANDDi in your marketing team
If you're happy with the basics of what CANDDi does, let's take a look at how your marketing teams can use the data for greater marketing success.
Build more accurate buyer personas
They can be painstaking, but they're necessary. And most annoying of all, they're not always 100% accurate.
Ideally, the buyer personas you've already got have been made through a data-driven decision. But pulling all of this data together can be hard, and we're only human. It's easy to miss something or discount data you've never considered before.
That's why you can let CANDDi do the hard work for you. Since we start by showing you company-level data, you can learn more about the geography, industry and buying habits of your website visitors.
What you do with this information depends on your company's goals, but best believe you'll start making more informed decisions.
A good place to start is to take a look at a recent sample of your visitors, which you can do easily through our reporting function. Then, you can start to draw parallels between certain prospects and what they mean for your business.
Once you've got a clear understanding of who's engaging with your website and digital marketing, you can keep an eye out for them with CANDDi Streams.
Streams are essentially filters for your website visitors that you can customise depending on your desired parameters. For example, you could set up a Stream for each buyer persona by filtering location, industry, pages looked at, etc, and monitor the success of each.
That way, you'll know where to spend your energy going forward.
Ensure seamless integration
Technology is taking over. Meaning no matter what your job role, there's always a tech stack waiting in the wings.
If you're in marketing, you'll be familiar with good ol' Martech. This is just the tools and software you use to improve the effectiveness of your marketing.
Yet 9 times out of 10, they actually make your life hard. If they're not working together to share data, deliver results, and automate your processes, you're wasting your time.
Whatever tech you're using should be implemented with the view of your marketing efforts as a whole.
That's why CANDDi integrates with your CRM (no matter how big, small or bespoke), to drive our data directly into the software your marketing team is already comfortable using.
Then of course there's email marketing. Whether it's 1-1 emailing or your bulk email marketing platform, CANDDi can work with them all to alert you as soon as a recipient opens your email, clicks any links within it, or downloads any marketing collateral.
The best bit is that with every click through, CANDDi will identify the individual and remember them for every future visit. We'll also make a note of what campaign they came from so you can monitor the success of each send.
What if I'm using PPC I hear you ask? Well, CANDDi has that covered too.
CANDDi and PPC is a match made in heaven. Firstly, we eliminate bots and fake clicks. Since you're paying for every click, you don't want to be shelling out for time wasters.
Our system will automatically flag spammy visitors as bots so you can block their IP address in whatever ad service you're using to run campaigns. That means less money spent on fakes clicks, and more money spent on driving real prospects to your website.
Then if you're running remarketing campaigns, CANDDi is the perfect tool to connect the dots between their multiple visits. If they've been on your website before, there's a good chance they're already an identified visitor in CANDDi. That means when they return, CANDDi will recognize them and add all new activity to their already-existing profile.
We all know that returning to your website from a remarketing ad is a fantastic buying signal, and it's also a second chance at conversion. So set up a real-time CANDDi alert for returning visitors via PPC, and get ready to fire off an email or pick up the phone when the opportunity arises!
Obviously implementing any new technology to your business process is a big deal, you've got to weigh up all the options. But if you need a helping hand, we've got the top tips for what to look for in your next SaaS product.
Scaling up
Scaling up your marketing efforts isn't about doing more marketing. It's about doing marketing more efficiently.
You can start by ensuring your sales and marketing teams are on the same page.
A massive 79% of marketing leads never actually turn into sales, leaving a large chunk of marketing efforts going to waste.
That's not just wasted time either, it's wasted cash and resources.
However, all is not lost! CANDDi is here to provide the information both your sales and marketing teams need to understand what type of leads you're looking for, ensuring more qualified leads are secured as a result.
There's no point letting all that data go to waste, either. You might as well let your prospects know that you know what they're up to. In a completely helpful, not creepy way.
You can do this by personalising your content. Whether it's a landing page, email campaign or sales pitch, you'll reap the rewards.
So by using the data you get from CANDDi, you can start to build a full activity history of everything a prospect has looked at on your site.
This will help your sales team build a much more personalized pitch and shows a sense of interest and care into each prospect's needs. That's what gets a sale over the line.
But of course, it's not always as simple as that. Although with CANDDi, it nearly is.
Once you've got a better understanding of what it is your customers are engaging with, you can start to put similar content right under their noses.
It's no secret that on average, B2B leads are reading at least five bits of content before they start to enquire. So let CANDDi show you which pieces of your existing content are driving the most high-value leads.
You can do this by using our Streams to filter by behavior and target those prospects that have read a specific blog post, visited a certain page or clicked on your LinkedIn article.
Why not retarget it too? If people are engaging with your content, make the most of it! Turn an old blog series into a podcast, an ebook into a blog series or a video into a support article.
Getting started with CANDDi
If you're ready to get your marketing team set up with CANDDi, why not try our 30-day free trial!
It's one month of full feature access so you can see the value of the data we provide.
Or if you'd rather learn more, we're a friendly bunch! Drop us a line at help@canddi.com and we'll be happy to jump on a call.