How will I know when a visitor is online?
Luckily for you, CANDDi takes care of all that automatically.
All you have to do is give us some parameters to work with. You can do this with the help of our email alerts and reports.
When you log into your dashboard, head over the 'Settings' tab and scroll down to the 'Site Management' section. Here you'll be able to option for 'Alerts'.
Once you start to create a new alert, you'll be presented with a number of options. Your dashboard should now look like this: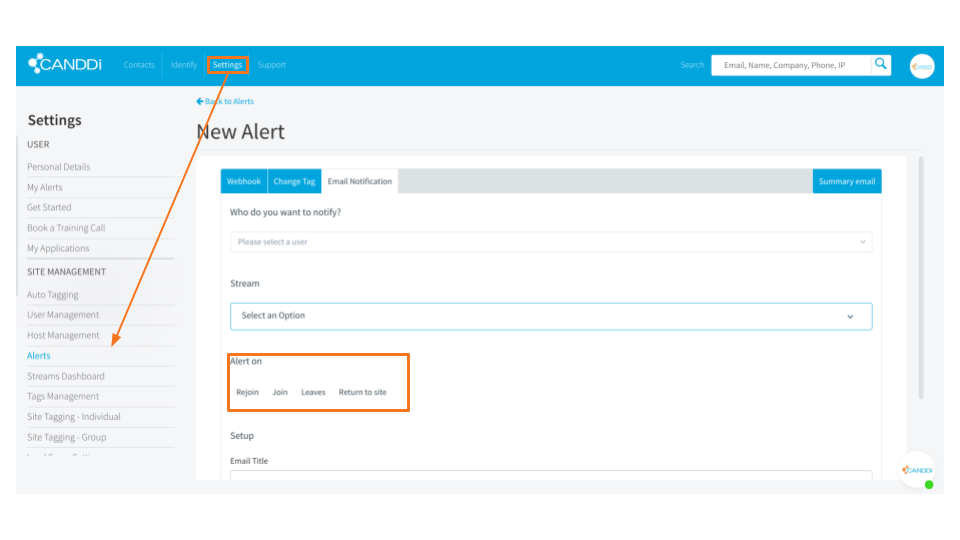 In the 'Email Notification' section, you'll notice there's an 'Alert on' section. This will determine how you can be alerted, and why. You can choose from the following options:
Rejoin - works based on Lead Score/ Grade data. So rejoin will alert you if a visitor has dropped out of a Stream due to lack of engagement, but then start to pick up again.
Join - a new visitor identified in CANDDi
Leaves - losing an identified visito in CANDDi
Returns to site - when a visitor is making a return visit. Usually a sign of a hot lead.
If you need a hand setting up your email alerts, let us know at help@canddi.com