Can Streams and Tags work together?
Streams and Tags are two hugely beneficial features of CANDDi that enable you to filter and identify the most relevant visitors to your website. When working together, they're a sure fire way to generate more leads.
What are they?
Tags are used to record when a visitor has visited a specific page on your website or carried out a specific action. You can use a different type of tag for different types of record. Check out our guide to auto-tagging, or see how you can set up individual site tagging too.
Streams on the other hand are more like filters. You can set an almost unlimited number of parameters on a stream to filter out a specific portion of your visitors, depending on the types of visitor you want to see. You know, the types of visitors who have come to your website from an email campaign, or the visitors that are based in Manchester, etc.
How do they work together?
So, once you've applied a tag based on someone viewing a certain page, this becomes a parameter used in order to stream them within CANDDi. You can then add additional rules such as, only seeing visitors with a company name or email address etc.
Let's take a look at how it works.
Creating a stream from a tag
If you want to see who has visited a particular page or performed certain actions on your website, you'll need to create a stream based on a specific tag.
To do this, you need to start by adding a tag to the page in question. To add a tag to the particular page, open up the 'Settings' tab of your CANDDi dashboard and navigate to Site Management, then Site Tagging - Individual.
Then copy and paste the URL of the page you are wanting to tag into the 'Search' bar in the top right.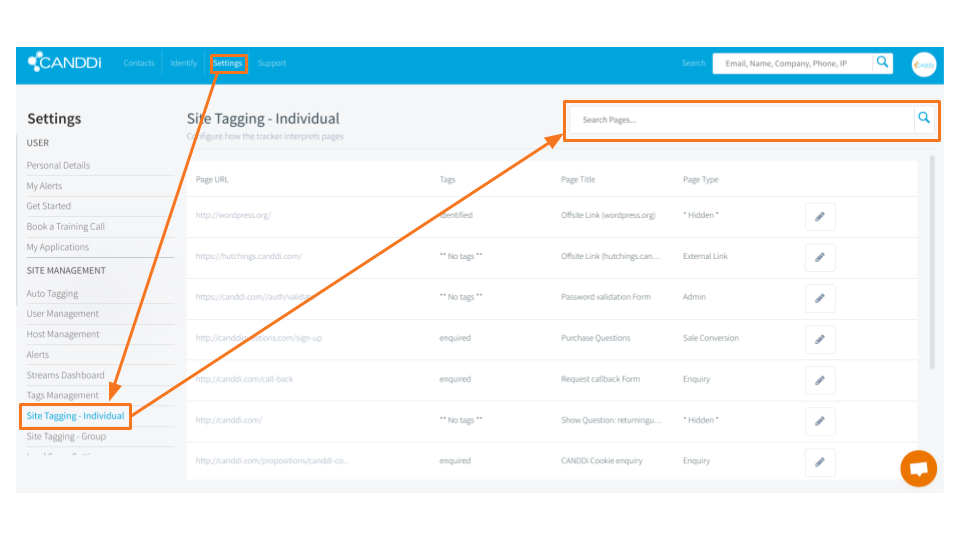 CANDDi will then bring that URL to the top of the list, and to the right hand side of the page, you will need to click the pencil icon. Select the 'Tags' tab and then add tag, type in what you want to tag visitors and click the green tick to add it, then 'Update Page'.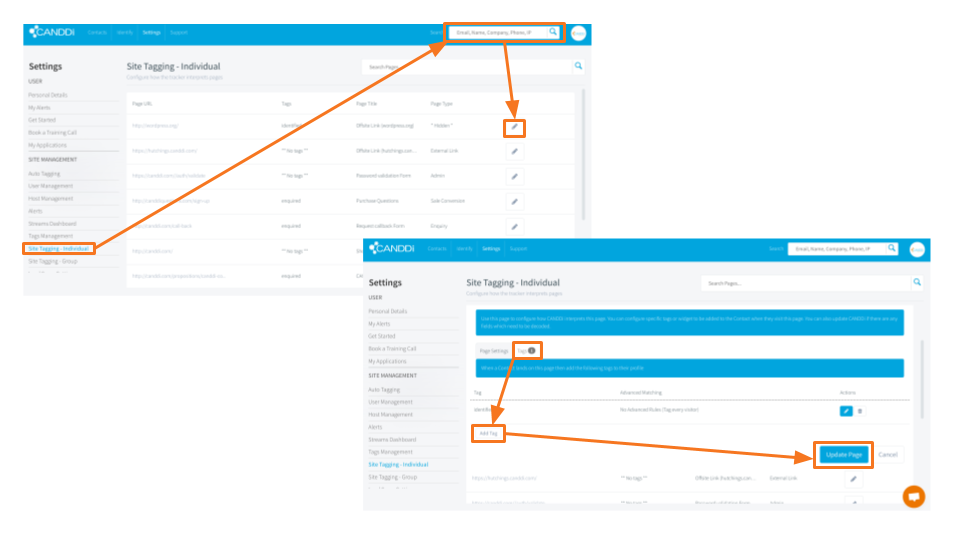 You'll now need to make a stream for everyone with this tag and voila, you're done!
If you need a hand with any of the above, don't hesitate to get in touch with the team. You can reach us at help@canddi.com