If your website visitors are making enquiries, you need to know about it straight away. That's why CANDDi can track almost every website form you can think of!
The ability to track Hubspot forms is already built into your CANDDi dashboard. All you have to do is head to the 'Settings' tab and then clicking 'Hosts Tracking'.
Here you'll see an option for Hubspot forms, so simply toggle the 'disabled' button and you're good to go!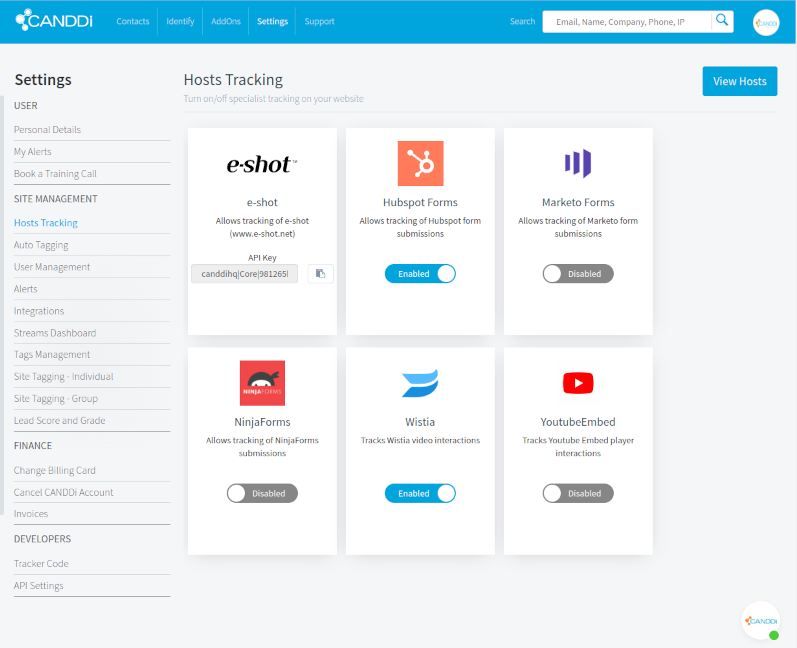 Forms aren't tracking
If you've noticed you've enabled CANDDi tracking of Hubspot forms but not seeing any results, it could be down to a number of things.
Firstly and most commonly, although our technology is the best, there's not much we can do about time delays and lags. Wait 20-30 minutes after toggling on/ off to give the cache enough time to clear.
Secondly, depending on the set up of your website, there are sometimes boundaries separating the fields within the form, meaning CANDDi is unable to interpret this data.
If you're having problems with this, then let the team know at help@canddi.com
Testing forms
If you've recently created a new Hubspot form and you want to ensure it's working as it should, you can simply fill out the form on your site and see if your data has been identified in your CANDDi dashboard.
You should see yourself in the 'exclude' tag of your contacts page. When you click on your own contact profile, you'll be able to see 'form submission' in your activity.
You can click the 'edit' button on the right, and you'll see if the data fields are being mapped correctly.
If not, simply use the drop down menus to accurately tag each data set.