CANDDi and YAMM Integration
The power of CANDDi lies in its ability to identify individuals. And the way we do this is through integrating with your existing digital marketing platforms to lead your website visitors to complete an identifying action.
I'm sure you already know that we work on a 1-1 email basis with Gmail and Outlook, as well as with all the bulk email marketing platforms you can think of.
But what happens when you're using Gmail to send bulk emails through the YAMM integration?
Fear no more! CANDDi has the perfect way to add CANDDi tracked links to your emails.
This way, you'll know exactly who's opened your emails, who's not, and more importantly - identify visitors as they click through to your website.
Here's how to get set-up:
Getting started
You can start your campaign as normal by creating your mailing list through Google Sheets and drafting your email template in Gmail.
Now here's the important part.
For every tracked link you want to send, change the link to include ?ce=
For example in the sheet above, the column was called EMAIL so our link would look like: ?ce=

To edit your link, you simply highlight the text you want to hyperlink, and edit the link accordingly.
Do this by highlighting the selected text, and clicking the link icon (it looks a bit like a paperclip) - this will say 'insert link'.
Clicking this will open a pop-up as shown below, where you can edit the link to match the CANDDi merge tags.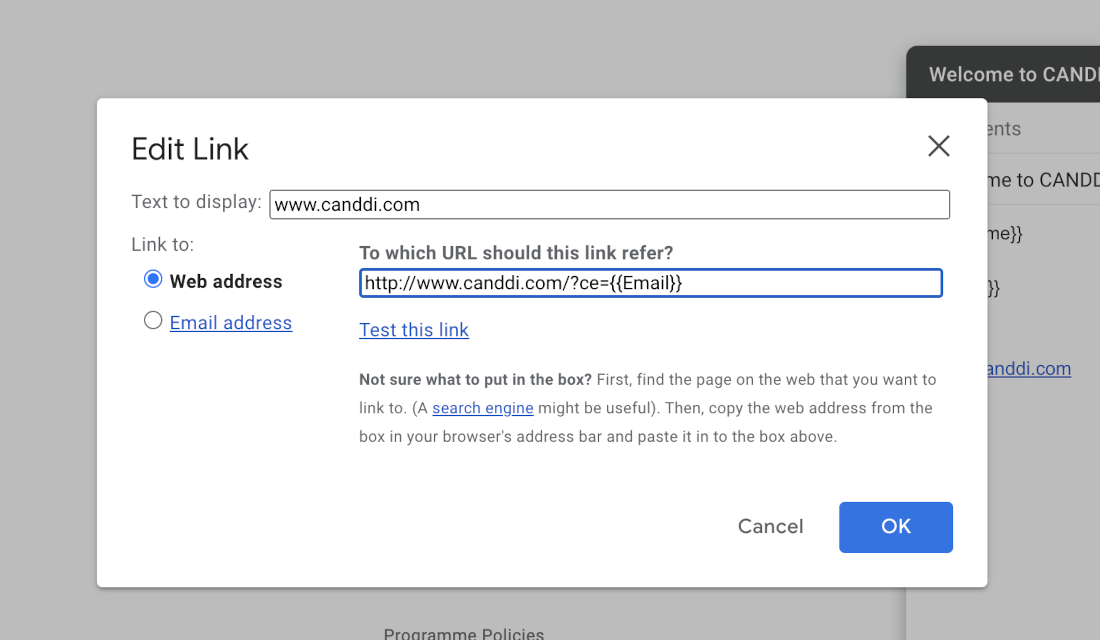 Once you're done, you just return to your Google Sheets, open YAMM and hit send!
It really is that simple!
If this isn't working for you, or you need a hand integrating CANDDi with YAMM, let us know at help@canddi.com