Can CANDDi track Wistia videos?
When it comes to driving engagement, uploading videos to your website is a pretty good idea.
Not only do they offer a more concise explanation than a load of text, they're more likely to hold your visitors' interest. This makes them a pretty good indicator of prospect engagement.
So it makes sense to track this engagement in CANDDi!
Luckily for you, we have just the integration. If you're using the Wistia platform, you can monitor the activity of your videos straight from your CANDDi dashboard.
All you have to do is log into your dashboard and head to the 'Settings' tab. Here you'll see a number of options down the left hand side of the screen, but for Wistia you want to click on 'Hosts Tracking'.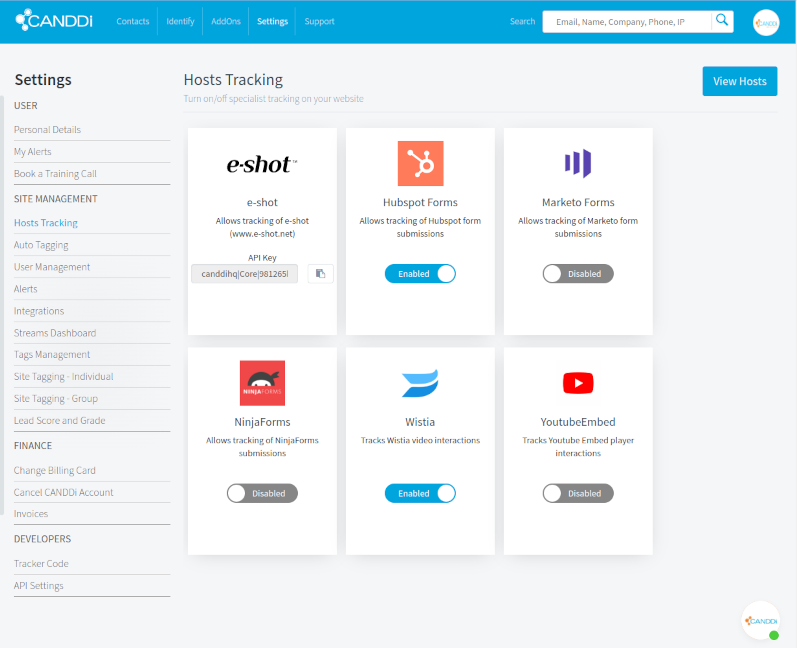 This will open up a new page where you'll see we have a Wistia integration already set up. Simply toggle the 'disabled' button to enabled, and you're good to go!
How does it work?
CANDDi will drive events into your CANDDi dashboard whenever a website visitor presses play or pause on a video, or when it ends.
It will also automatically assign the visitor with the email CANDDi has for them and this will show up in your Wistia analytics.