Boost your conversion rate by 400% with CANDDi Capture
When it comes to pop-up forms, there's a fine line between effective and annoying.

It's all about branding, positioning and timing.

You don't want to scare your prospects away by shoving an enquiry form in their face as soon as they land on your site!

So if you're wondering how to navigate the minefield of pop-ups, CANDDi can help!

Our CANDDi capture is proven to trap your leads right where you want them. In the nicest possible way, of course.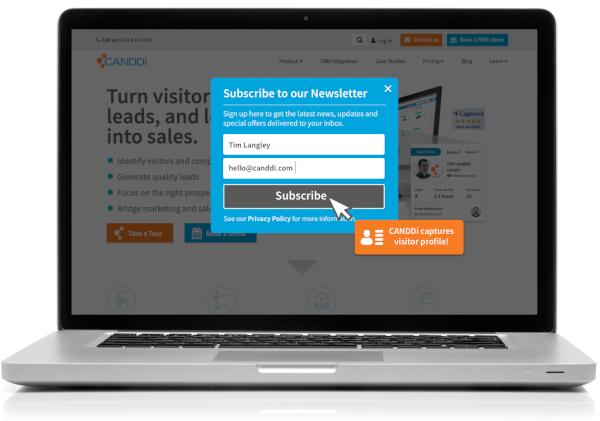 What is CANDDi Capture?
CANDDi Capture is a pop-up that captures opt-in data from your website visitors.
CANDDi Capture is fully customisable, allowing you to create contact forms that make it easy for prospects to get in touch.
You can choose from a number of form types (e.g. subscribe, download, contact us, survey), so you can decide exactly how you engage with each of your visitors.
This ensures you're hitting the mark every time.
No need to worry about devices either. Each CANDDi Capture form is optimized for mobiles/ tablets, meaning you can reach prospects no matter where they're viewing from.
Why bother with it?
Well, CANDDi Capture can increase your conversions by 400%.
Nope, we're not joking!
How? Because when a prospect is viewing your site, they're actively thinking about you.
The good news is that with CANDDi Capture, you can pick and choose what pages they appear on. So it makes sense to start engaging with them while you're fresh in their mind, right?
You can also choose certain colour schemes, better timings and personalise your success messages so each type of prospect gets the right treatment.
Pop-ups also reduce the clicks needed for prospects to get in touch with you. If there's an easier way to do things, people are more likely to do it.
This is particularly useful if you're not using a live chat, as CANDDi Capture can get up to 4x more people identified than your standard website activity alone.
Do pop-up blockers block CANDDi Capture?
The good news is no, not they don't.
Although CANDDi Capture may appear to behave like a pop-up ad, they technically work in a different way. Pop-up adverts actually open in a new 'window', whereas CANDDi Capture is within your own site – the same way your own forms on the site would work.
If you want to try our Capture for yourself, why not kick off with a free 30-day trial of CANDDi?