Introducing: CANDDi Add-ons!
It's exciting times in CANDDi as we unveil our new Add-ons, which offer every single one of our users a way to make CANDDi even more powerful!

Our add-ons vary from niche additional functionality for specific types of businesses, to super-valuable tools which can boost the results of any CANDDi user.

These add-ons are all about offering choice to our users so that they can make CANDDi work the way they'd like it to. Many of our add-ons are free, and all of them can be tried and tested on a monthly rolling basis and simply switched off if they aren't right for you.

Let's take a look at just some of the add-ons that will be available starting today!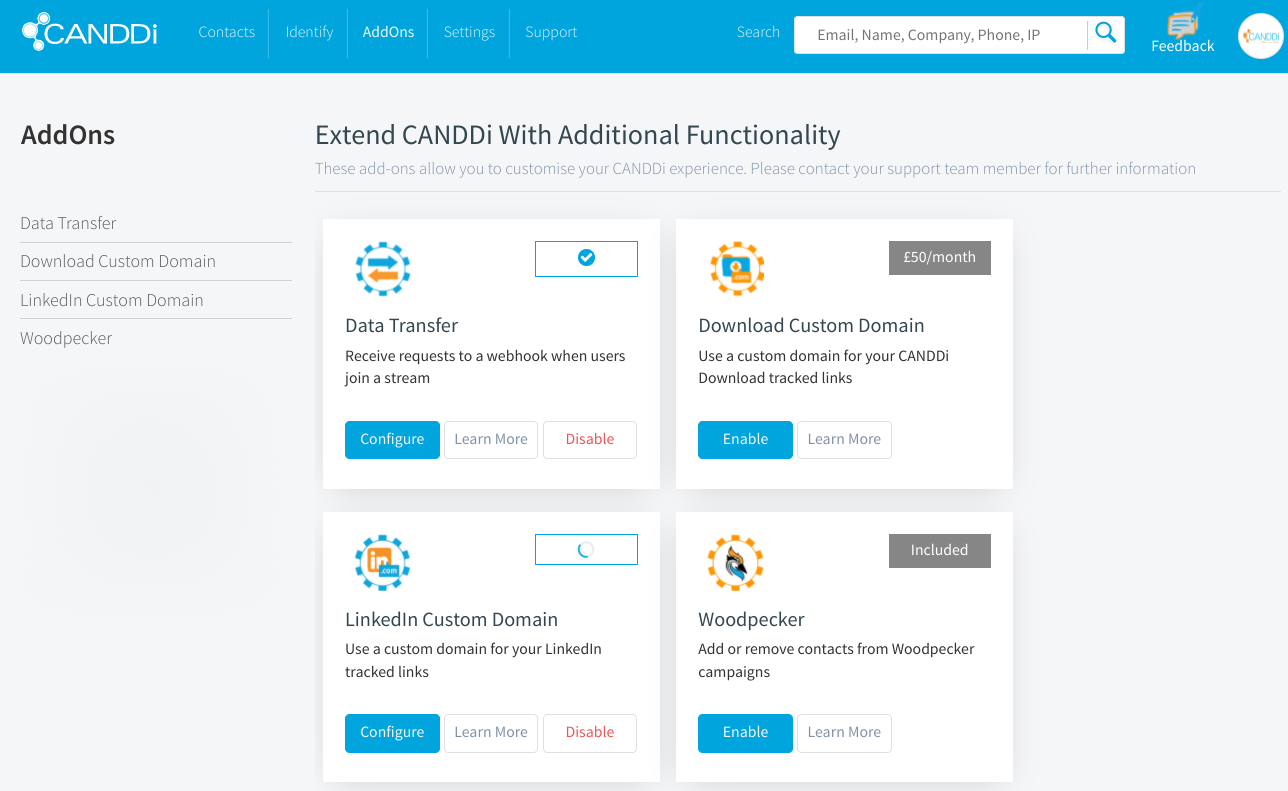 CANDDi Reveal
CANDDi Reveal allows you to uncover the GDPR compliant business email addresses of key individuals working at the companies that visit your website. For example, let's say you know that someone from CANDDi visited your website, but you don't know who. You can spend a token to reveal CEO Tim Langley's email address so you can reach out directly and start a conversation!
Additional Domain
The Additional Domain add-on allows you to add CANDDi tracking to additional website domain(s). This add-on is perfect if you're a business with multiple websites for different products or regions.
The best thing about tracking multiple domains with CANDDi is that it enables you to track visitors as they move between websites.
For example, if someone gets identified on Website A, CANDDi will recognize them and alert you when they visit Website B. This means you won't have to worry about identifying them all over again as if they were a new visitor!
Data Transfer
The Data Transfer is an Add-on for CANDDi users who have an advanced understanding of tech. The Add-on means the data CANDDi collects about your website visitors is sent (in real time) to a webhook, allowing you to do what you please with raw information.
The possibilities with this one really are endless - perhaps you have a bespoke internal system, and you'd like to plug CANDDi's data into that to provide up-to-date insights. Or maybe you'd simply like your own copy of the data CANDDi collects so you can analyze it more freely.
The data is yours; it's totally up to you!
Whitelabel
The Whitelabel add-on allows CANDDi Partners to add their own branding to the CANDDi product. This is a great way for partners to turn the powerful CANDDi tool into something that looks and feels like an integrated part of your offering.
This custom branding will also extend to the email alerts and messaging your clients receive from the CANDDi tool. The power of CANDDi tracking will become a part of your service, and you'll be able to promote it as such to future clients!
To find out more about our new add-ons, get in touch with us at help@canddi.com