The CANDDi free trial: why bother?
It's been a few months since we launched our free trial, and we've had a fantastic response so far.

We usually try our best to be humble about these things, but forgive us if we take a minute or two to explain just why the feedback has been so great… and exactly why yes, yes you should bother with the CANDDi free trial.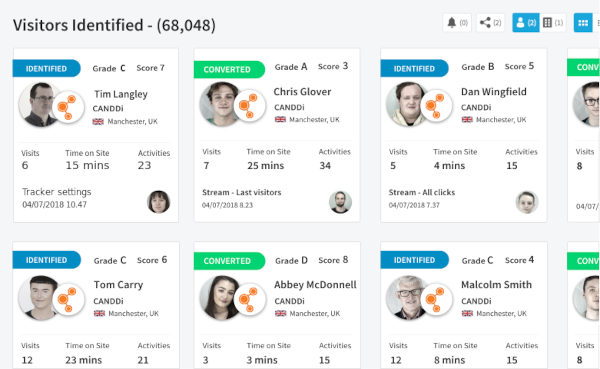 You get EVERYTHING
When you sign up to a free trial with us, you get access to everything for a whole month.
We've seen a lot of visitor tracking tools offer one-week or two-week trials, which we don't really think is long enough to get a feel for whether a trial is for you.
There's also a lot of "managed" trials out there, which means you just get fed a list of your identified visitors after the trial, instead of having true access to the platform.
When you're on the CANDDi trial, all of the data you gather is yours. We believe in showing you the good, the bad, and the ugly, so you can get a real idea of whether it's the right solution for you.
True visibility over your website visitors
Once your tracking code is installed, you'll start to see a steady stream of which companies have visited your site. You'll get profiles for all of the individuals visiting from the same company, as well as a list of email addresses of known employees.
But even more exciting, you can plug CANDDi into your one-to-one emails, email marketing, static forms, live chat, and downloads, and you'll start to see the actual individuals.
That's right - gone are the days of guesswork as you try to deduce which of the 10,000 employees of a large corporation visited your website! With CANDDi, you'll know it was John Smith, Joe Bloggs, or some other suitably generic name…
Get the full story about your email activity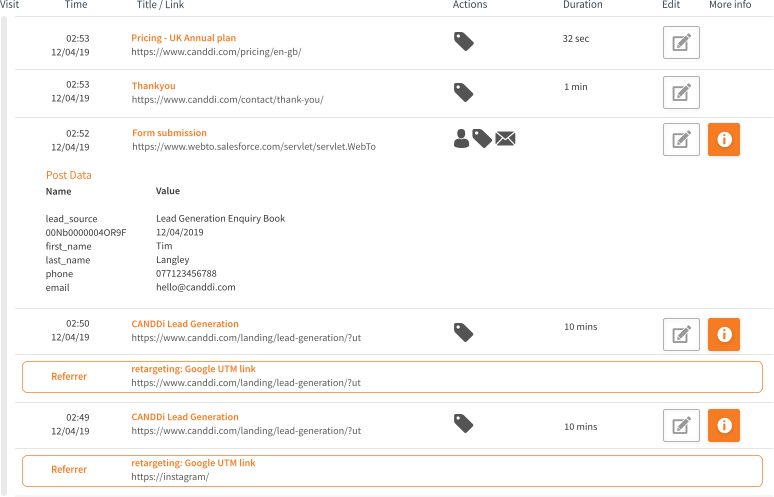 If you use email in your outreach (either one-to-one emails via Gmail or Outlook, or bigger email marketing campaigns) then you're about to have your mind blown. Everytime an individual clicks through to your website from an email you send, CANDDi will automatically identify them and create a detailed profile.
You'll see who they are, and every page they look at on your website as they travel through your site. Better still, you'll know every time they return to your website in the future so you never miss another sales opportunity!
The best pop-ups in the game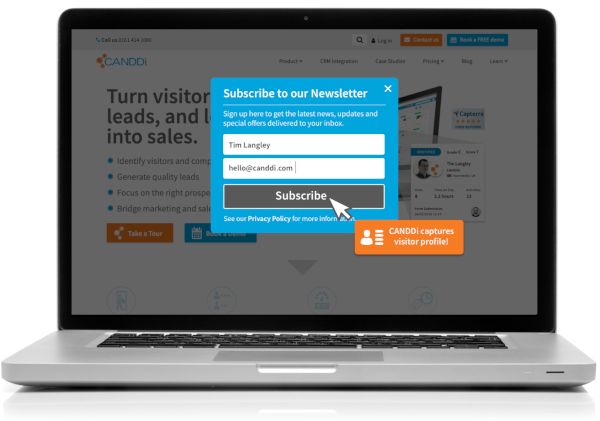 You may have experimented with pop-ups in the past, but we promise you've never used ones quite as effective as CANDDi Capture forms.
Since Capture runs off CANDDi, the pop-up targeting has access to all of the information CANDDi has about the visitor.
Do you want a pop-up which only shows if your visitor is on their third visit to your website, works in the manufacturing industry… oh, and lives in Puerto Rico? Well, I'm not sure what kind of niche marketing strategy you're running, but you can absolutely do it!
Hands-on support from our wonderful customer success team
From the moment you sign up, our customer success team will be here to make sure you get the most out of your one-month trial.
After signing up, you'll be able to book in your 30-minute onboarding call, during which one of the team will discuss your business goals, and exactly how to use CANDDi to attain them.
Then they'll be in touch regularly to discuss your progress and answer any questions that you may have.
Just be sure to tell them to leave you alone if their constant attempts to be helpful get on your nerves. They've been warned before!