Building UTM parameters for Social Media
CANDDi can cover all of your marketing efforts, so if you're running social media campaigns and want to know how they can work with CANDDi, you're in the right place!
We can track in CANDDi who comes to your website from a particular social media campaign link, and separate them into different streams.
You'll be able to see if they came from Twitter or Linked In, from the "October Newsletter" or the "How To Do Better" posts. (Note: We can't pull people's details from their Facebook profile to your database - that's not opted-in data, it's just an invasion of privacy!)
So, in order to track where your traffic is coming from, we need to embed some code behind your hyperlinks. These codes are called UTM Parameters.
UTM Tracking
UTM tracking will work the same with any other form of referrer, whether it be social media (LinkedIn, Twitter, etc) or online ads, or anything else. The purpose of them is to find out where traffic to your site is coming from, and to see how particular campaigns have been effective.
To build these parameters in CANDDi, see the steps below:
In your CANDDi Dashboard go to Identify > Bulk Email Marketing
Select 'Manually Create' at the bottom of the Email Platform drop down and enter the hyperlink/ landing page URL you want people to visit
Ignore the fields that say First Name to Email Address and just click 'Yes' to Google Analytics
Now you'll want to fill out your Parameters.
Hit 'Generate Code'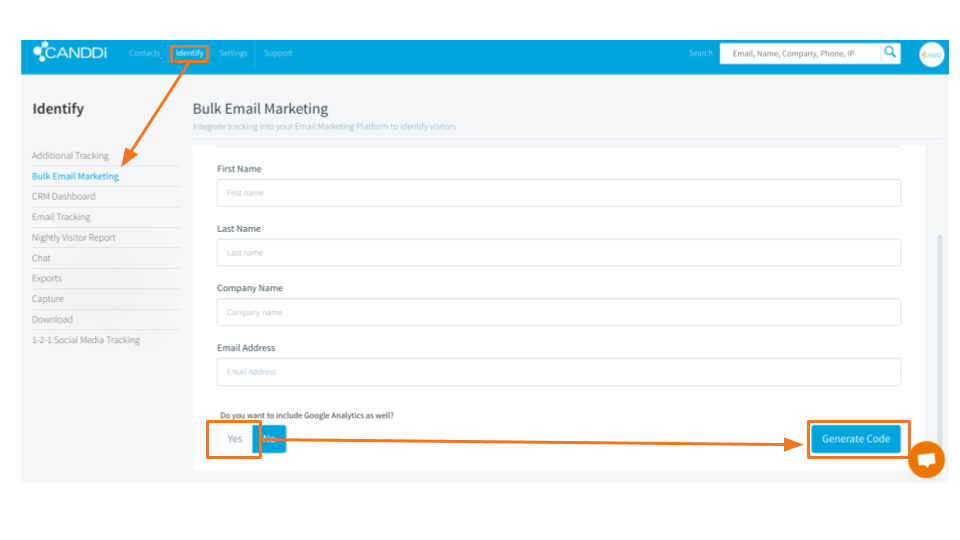 You should now be met with a link that looks something like this:
www.canddi.com?utmcampaign=MaySocial&utm_medium=Social_Media&utm_source=LinkedIn_
All that's left to do is select the text you want to put the hyperlink behind and click 'insert link', then paste the code you generated into this link.
If you need any help, reach out to our team at help@canddi.com