How to Manage Remote Working without any Business Loss
Covid-19 restrictions have forced a load of businesses to shut their workplaces, with the majority of employees now working from home.

Even though many country governments have started to ease the lockdowns, 90% of HR managers believe employees would continue to work remotely if their managers could cope managing a remote team.

Yet according to a recent study from the Society for Human Resource Management, more or less than 71% of team managers find it challenging to handle remote teams.

If you know you're in this 71%, you're not alone! That's why we've put together a few tips that can benefit you in managing your team from home. Or wherever else you might be working from.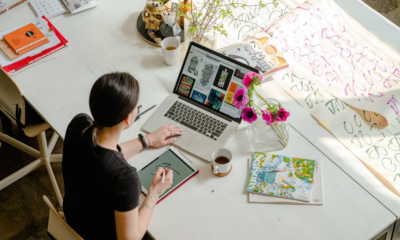 1. Emphasizing Communication
Communication is crucial when it comes to handling remote teams.
As a manager, you must keep communication channels open. This is one tactic that will help workers hark back to their targets and deadlines.
Also, if you're continuously discussing work goals and schedules with your team, it becomes easier for your team to realize their duties and cope with work-related challenges.
This communication and engagement is what will ultimately bolster your business' perspective. It also ensures tasks are performed up to your company's panorama as the greater the interaction between employers and workers, the greater the opportunities to broaden the horizon of your workforce.
However, make sure to avoid too many personal communications.
Of course the important stuff should always be shared, no matter how personal, but the juicy office tittle-tattle can take away the professionalism, and the dialogues soon turn into gossip that can cause real harm.
2. Build Connection And Listen To Your Crew
Justin Hale, a training designer at VitalSmarts says that "the most successful managers are good listeners, communicate, trust, and respect, inquire about workload and progress without any micromanaging, and err on the side of over-communicating."
This all sounds well and good, but let's face it, managing remote teams is not the same as dealing with them at the office. It takes more time, effort and hard work.
Since you don't have the opportunity to engage with them face to face, it's important to listen to them. Listen to what new ideas they have and respond accordingly.
When you don't listen to your staff, you can't possibly build a connection. Your team will end up feeling ignored and isolated, which will affect their work efficiency and productivity.
So to nurture your team best, make sure you keep yourself available to them. This connection will help build a solid professional relationship amongst the team that will help increase their proficiency.
Some great managers even suggest sharing feedback, grabbing a cup of coffee over the screens or hosting fun virtual sessions that can be an effective way to maintain an impression of ordinariness and harmony.
This gesture also tells them that they are not alone in challenging these situations, leaving the channels of communication open if needs be.
3. Provide Ways For Collaboration
Successful collaboration when your team is spread miles and miles apart can seem an impossible task. However, implementing virtual collaboration software lets your remote workforce work together in the same conference room.
It's not quite the office boardroom, but this approach adds to work flexibility, and allows your team to work together and more effectively.
Similarly, preparing a shared document that can track job undertakings is one of the most effective ways you can stay familiar with what your team is up to.
This process is even a good idea if your team has continued to deliver exceptional results from home.
According to an HR manager, these collaborations can also help you filter any anticipations or concerns you might have for one of your employees. This tactic also powers in-person interactions and can bring about personal improvements.
However, it's recommended to invest your time daily in this approach so you can have a thorough idea of what support your team members might need and how you can help them overcome these hurdles.
Here are six ways you can leverage successful collaboration for your remote team:
Use of collaboration tools
A solid focus on company culture
Use the time management system
Collaborative tasks
Video chats
4. Appreciate Innovation
In these uncertain times, it can be hard to climb out of your comfort zone. As a result, most teams are only focusing on their monthly targets and are anxious about trying anything new.
If, in such a case, any of your team members stand out and come up with a new plan, appreciate it. This token of realization will encourage other teammates, and they will also look forward to trying something new too.
So cheer your workers who take the stake, highlight their achievements and recognize their efforts.
According to Kropp, "During the time of disruption, employee's desire for being recognized for their contribution increases by about 30%." This means your credit not only encourages the team, but also gives out a strong signal to other members that taking risks sometimes is worthwhile.
It's at least better to try and fail than never try at all. After all, if you're not taking a chance, you might never know what triumph is.
5. Focus On Output More Than Process
Today, team leaders focus more on the progression and procession of the tasks, whereas they should be focusing more on the outputs.
In the remote landscape, you cannot work as productively as in your workstation because there's a lot of distraction back home. Especially for your female team members.
Therefore, you must let your employees fulfill their tasks in the easiest way possible for them.
Being a manager, you shouldn't worry about the process of your team member's jobs. Instead, you should concentrate more on the results.
Start asking yourself, how can you guide them through the trajectory to accomplishment?
6. Subtract Hurdles, Provide Solutions
For your employees, whether you're at the office or working remotely, removing hurdles and offering solutions is one the best things you can ever do.
Spare a minimum of ten minutes every day to connect with your team members. Ask and analyze if they face any challenges, hardships, problems, obstacles, etc., while completing their tasks and offer them a resolution.
Build rapport with all of your team members and try to ease their hardship. You can also inspect their barriers and try to build a bridge among them.
Subtracting snags and difficulties from your employee's life will improve their performance and productivity.
Every opportunity you take to converse with your workers gives them a sense of relaxation that you support them and are concerned about them.
7. Remain Flexible
Working from home can be fun, but it is challenging. There can be distractions, disturbance and a lot more.
That's why it's important to be flexible with your team. Allow your colleagues to work according to their feasibility. It's okay if you ask them about their daily progress but don't enforce the hulk on them.
All of your employees know what their duties are and what the deadlines are. Let them work how they want because everyone's struggling to combat this obscurity.
If you're not gentle with your team, you might still receive the same quantity of work, but the quality will always deteriorate. This is the primary risk while managing employees remotely.
8. Don't forget about coaching
If you're working from home, no doubt there's been a number of changes to how you run your usual business processes.
It's therefore so important to continue coaching your remote teams with video calls and screen shares.
While coaching, you can assess how your employees are responding to the complex points. Observe what ideas are fascinating and what notions are off-putting for them.
Speak your notions, perceive their reaction and toss the shift. After you have cleared your points, give your team members the chance to speak and iterate what seems fragile.
Once you have the plan ready, ask your team to start working on it. Leverage the technological tools you can employ and ask the members to work on it and assess the findings individually.
This method is one of the best measures you can take in action while managing remote teams.
9. Ensure Nobody Feels Left Out
Whether it's in your virtual meetings, conferences or events, make sure your remote team doesn't feel disregarded or overlooked.
The team working from home is already missing out on a lot of opportunities. They miss their favourite mug, colleagues, after work drinks, gossip at the printer. The list goes on.
Make sure you don't grow this sentiment and make it worse by snubbing them in the engagements. Don't forget to add them all to your discussions, dialogues, confabs, etc.
According to an Indeed survey, 37% of employees working from home believe that remote work can diminish their visibility and reduces their access to company leadership.
Therefore, you must not neglect the presence of any of your employees. Involve them in meetings and recognize their efforts.
10. Stand By Their Challenges
While managing remote teams, you must realize that your employees can be going through a rough patch that isn't as obvious when you're not face-to-face. It's a lot easier to put on a brave face from behind a computer screen.
The best thing you can do for them during this time of distress is saying, "Hey buddies, don't worry, we are here for you."
We know there's a professional relationship between a manager and employee, but you can always take a step beyond to relax them because, after all, they are a unit to your squad, and you must stand by them.
11. Trust Your Team
According to Forbes, the best answer supervisors, directors, and bosses can give managers who ask how to manage employees remotely is to trust their team.
You must hang up your doubts and put utmost faith in your colleagues. If you don't, your team might fail to achieve what they desire. Receiving no support from the manager has unfavorable results on employees.
12. Track Progress
Putting your utmost trust in your remote team doesn't mean you don't have to keep an eye on them. Not because you want to trace their every move, but for their own benefit.
To continue to improve, your team should be aware of their progress.
However, it's not recommended to hunt down the movement. If you have an outline of the process your team is taking, believe in that.
Allot your team members due dates, and with due dates, you shouldn't track the daily tasks. Just focus the trail on the mission of the due date.
Managing employees remotely can be exhausting at times, but endure patience and trust in your team. They will soon calm your fears and achieve your goals.
13. Recognizing Employee's Effort
As said earlier, recognition of your employee's effort is crucial. Appreciate whatever good they do and underscore their contributions.
It's recommended by the experts to celebrate the success of employees, so they are more motivated. The recognition practice also encourages other team members to maintain a striving consistency in their work and become next to receive the pride.
Some finest practices to highlight employee's effort include:
E-Certificates
Cash prizes
Virtual celebrations
Award of honor
Managing remote teams can be challenging but gives exceptional experiences. One day you might be annoyed by your employee's inefficiency, but other days will be the days of feat.
Just trust in your workforce and emphasize what aids them the most.
Author bio
Amanda Jerelyn is currently working as a Content Executive at Crowd Writer, one of the best platforms to buy essays online at reasonable rates. She is an avid traveler waiting for the pandemic to end so she can visit her favorite places.