Give your read receipts a CANDDi upgrade
CANDDi identifies and tracks the companies that land on your website.

We let you know how they got there, what they looked at, and how long for.

But we can also dig a little deep into who it is looking at your website, not just the company they work for.

Obviously, we can't start magically identifying people's individual, personal information out of nowhere.

Not only would that go against all GDPR regulations, we just don't want to be that sneaky.

That's where our email plugin comes in...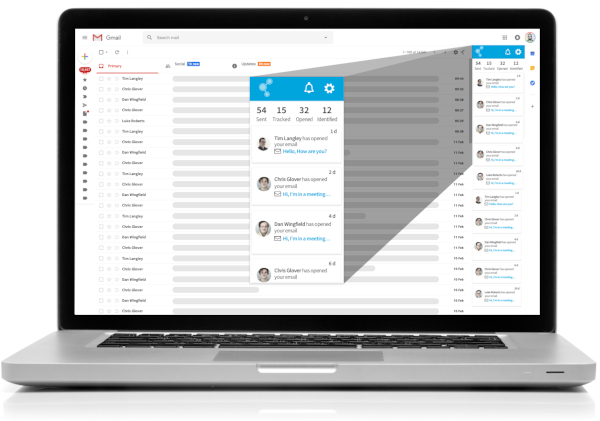 CANDDi integrates with your digital marketing activity for an even better insight into who's visiting your site.
All your visitors have to do is complete an 'identifying' action, which could be clicking a tracked link from your email marketing, dealing with your live chat, downloading a file from your site or even filling in a form.
So, how can you get your emails up and running for better visibility over your marketing efforts?
Gmail/ Outlook plugin
What can you expect from our email plugin?
You can see in real time when someone opens your email, or clicks on a link within it.
People who click on a link to your website become identified by CANDDi, and will be recognized on all future return visits.
Installing the CANDDi one-to-one email plugin for everyone in your business is a fantastic way to get individuals identified on CANDDi. It's also nice to know when your colleagues are ignoring your emails…
The first thing to note is that the one-to-one tracking will only work for emails with a single recipient.
Any emails with multiple recipients, even if they are CC'd or BCC'd in, will unfortunately not be tracked. Keep that in mind!
What information will you get?
There are two main parts of the plugin.
The first is the live feed, which can be seen on the right hand side of your Gmail window, or can be accessed as a separate window if you're on Outlook.
This displays in real time how people are interacting with the one-to-one emails you've sent. Opens, clicks of any links, and any CANDDi.download tracked files that are accessed will all be shown here.
The second benefit of the plugin is that anyone who clicks a link to your website becomes identified in CANDDi.
This is fantastic if you're prospecting, or sending emails in a business which has a medium-to-long sales cycle.
After just a single click, you'll know every time they return to your website, allowing you to connect the dots between their sales journey!
Does this work for bulk email marketing?
If you're using our Gmail/ Outlook plug in for one-to-one email tracking, then it only makes sense that you want to bring your bulk email marketing platform in on the action.
Luckily for you, CANDDi can integrate with a whole host of email platforms!
But in order for CANDDi to work alongside your existing platform, your email software needs the ability to send personalised emails to each individual recipient.
Almost all email platforms support this. However, this functionality has different names in different platforms: 'Merge Tags', 'Merge Fields', 'Personalisation' are just some of the terms that we've come across so far!
If you want help getting this set up, we've put together a list of the main email platforms we work with. This is complete with instructions to see how you can incorporate CANDDi tracked links into your mass marketing.
If you want to see how CANDDi's email plugin can work for you, get in touch with us at help@canddi.com, or register for our 30-day free trial.