Going live: introducing real-time previews for CANDDi Capture
We've had great feedback from our customers since we launched the redesigned CANDDi Capture feature a few weeks ago. They love the new look, and find it a responsive, versatile way of creating ways for customers to interact with them on their websites.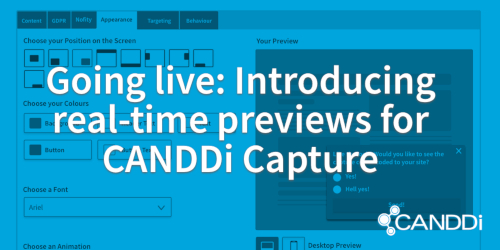 However, they also told us that they wanted a better preview feature. Capture has lots of settings to help you create the perfect interactive pop-up for your website, but trying it out, tweaking settings and then trying it again wasn't the smoothest experience.
So now we're delighted to introduce live previews for CANDDi Capture. On your Capture's set-up screen, you'll now see a preview that updates in real time. As you type text, it will appear immediately. Change a colour? Add a button? It's all reflected in the preview right away.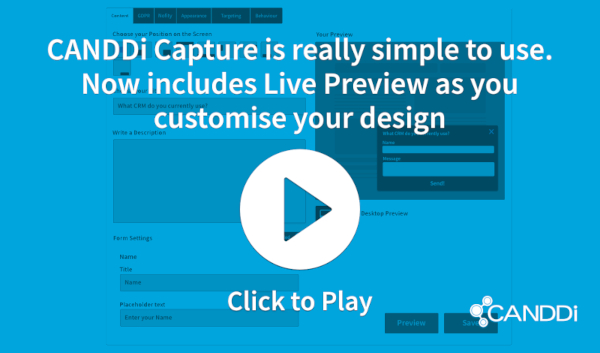 Not only will live preview save you time, it will also give you more opportunity to be creative. When you can see immediate feedback, you're more likely to try new things. There's no more clicking buttons and going back and forth between screens to slow you down and break your flow.
Making Capture even better
We're always striving to make our software easier to use, and live preview is just the beginning of a series of improvements we have lined up for CANDDi Capture.
Coming soon, live preview will show what your Capture looks like on your actual website, helping you fine tune the experience for your customers even further.
We know GDPR compliance is a concern for many of our customers. Currently, Capture allows you to link to your privacy policy. But we'll soon let you gain explicit content to retain users' data.
And you'll soon be able to be much more precise in when Capture activates on your web pages. A time delay after a page loads or after a visit to the site begins, and a limit on the number times Capture loads per visitor each day, are among the new options you'll soon be able to choose from.
These new features have come directly from user requests – proof that we listen and are committed to making CANDDi even better for our customers.
Have a feature suggestion for CANDDi? Let us know!