Manchester Grad Fair 2017
We're extremely excited to be exhibiting at The University of Manchester's Graduate Fair this Spring. It's on Thursday 4th May 2017 at the Armitage Centre in Fallowfield and will be open from 10:30am to 4pm. We're looking for the next generation of CANDDi Sales Superstars to join our growing team based in the Northern Quarter in Manchester. We've currently got 20 members of staff, and are planning on having 40 people working here by the end of the year.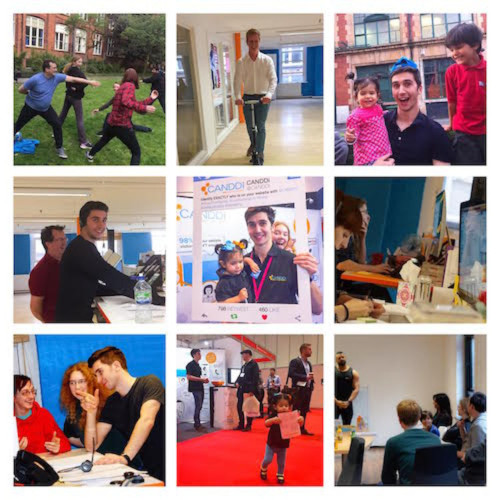 Why CANDDi?
CANDDi, short for Campaign and Digital Intelligence, provides the UK's most innovative web tracking tool and helps business all over the world hit their sales targets - we tell businesses which prospects are on their website so they know who to sell to (slightly weird, but mostly amazing). We're big on personal development, work super hard, and like to have a laugh. Meet the team here
Why Sales?
Regardless of if you've decided what you want to do when you grow up, or you're still undecided - learning the art of sales is incredibly useful. The training we provide at CANDDi is more like a Sales Bootcamp, we teach you everything you need to know about sales and how businesses work - this intelligence is going to be invaluable whatever our grads end up doing in the future. Here's our blog on how to hire our sales people if you're interested to learn more
Some tips to help you on the day
Do your research - take a look at who is exhibiting, check out their websites and make a shortlist of companies you're particularly interested in.
Ask the right questions - you'll be spending more time with your future colleagues than your friends and families! Ask about the culture, training, responsibilities etc.
Bring your CV - although some companies only accept online applications, many (us included) do accept CVs and it'll make it easy for us to get in touch with you!
Be yourself - it may seem daunting, and it's very important to be professional, but be confident and have fun!
Network - if you don't already have a LinkedIn profile, it might be worth setting one up and connecting with people you had good conversations with.
If you are planning on attending, send me an email on saadia@canddi.com and we can arrange a chat! You can register to attend the Grad Fair here
Good luck! :) Saadia