The pros and cons of web analytics tools
Looking to make the most of your website? Then you should be utilising web analytics tools. As the world gets more and more digital, your website is quickly becoming the face of your brand. So It only makes sense to get to grips with who is visiting your site and why, right?

But we know it can be risky business implementing new tools to your operations, especially when they're a little technical. That's why we've put together some of the most important pros and cons of using web analytics tools to help you make a decision once and for all.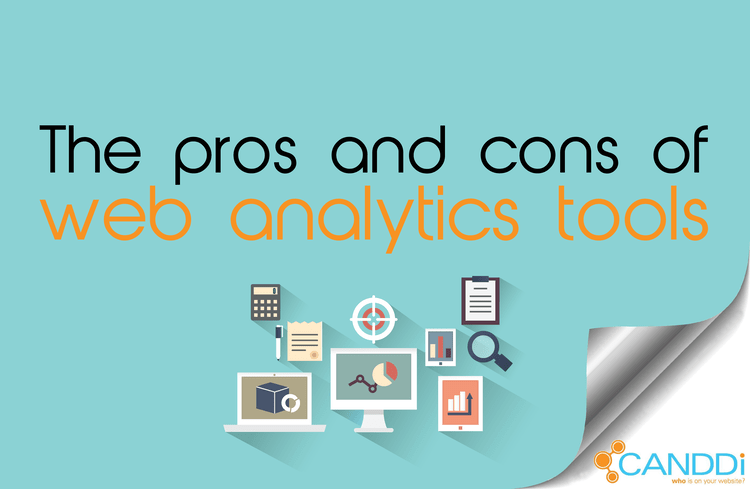 The pros of analytics
Identification
One of the biggest pros of using web analytics tools, like CANDDi, lies in the ability to see who, when and how people move through your website. Other than the perks of being nosey, this is key when it comes to planning your sales & marketing activities. Why wouldn't you want to know who you're reaching out to?
Time-saving
Think of all the stuff you could finally get done if the time you normally spent qualifying and analysing your leads is done for you! Since website visitor tracking tools are what's known as a SaaS solution, they take one easy install to get up and running. You don't have to do a thing.
Then of course, you've got all the value-added data. Playing guess who with your potential clients is a thing of a past. Tools like CANDDi drill down into individual visitor information so you know who's been on your website, what they've looked out, how they got there and how long they spent browsing. You'll also know if they keep coming back.
Obviously, your sales teams will want to monitor this data, so you can also set up customised data collection and reporting, replacing the time spent searching the web or scrolling through excel spreadsheets.
Marketing ROI
Web analytics tools can also be utilised across all digital marketing channels to work to your benefit. For example, if you're running a Google Adwords campaign, you can analyse results much more efficiently, figuring out what works and what doesn't.
Even if your website isn't e-commerce based, the chances are you'll invest in online advertising or email sign-ups at some point. Rest assured these can be tracked in web analytics tools as well. So, in general, web analytics tools are a very flexible, easy to use platform – supporting a solid return on investment in the end.
Cons of analytics tools
Sneaky pricing
Generally, there are very few cons to using web analytics tools, and, what's more, when something is so cost-effective, it's not something to grumble about. However, there are a couple of things to mention.
In the instance of Google Analytics, yes it is one of many free web analytics tools, but on occasions that works against itself. Of course, Google is going to encourage you to spend money on a ludicrously expensive upgrade, so why would they give you the whole package for free? With CANDDi, you can maximise a free trial for one whole month, and then make a decision to see if it's worth paying for. Our payment options are super flexible too, depending on your traffic/ feature use.
Data misuse
Some data analytics tools rely on you giving up information about yourself, your company and your visitors, meaning they no longer remain confidential to you. I guess as long as you aren't working on something super sensitive or top secret, this may be something you can swallow.
Rest assured that with CANDDi, GDPR and data compliance is at the heart of everything we do. Both your data, and the data of your website visitors will always be in safe hands. You can learn more about that here, just in case you don't believe me.
Why do web analytics tools matter?
Analytics can help your business bring its data together. You can get real-time insights about sales and finance, marketing, product development, and much more. With an analytics tool, your teams can better collaborate, achieve better results, and outsell rival companies. What's not to love?
If this sounds like something you're interested in, get in touch with us today. Or you can register your interest today in two simple steps.