The pros and cons of web analytics tools
Looking to make the most of your website? Then you need to be utilising web analytics tools. Besides everything, they can help you to understand who is visiting your site and why, so that when it comes to planning your sales and marketing activities, you can know who you're reaching out to, why and how.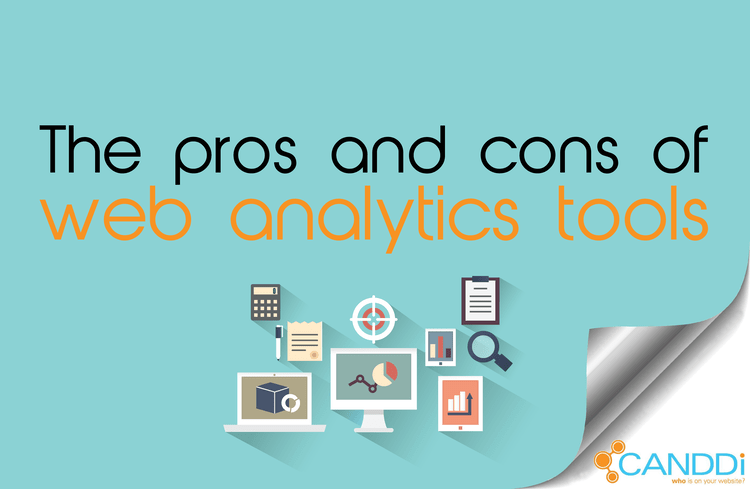 The biggest pros of using web analytics tools is the simple reason that you have the ability to see where identified people click on the page and which navigation paths they follow through your website. Google Analytics is the most widely-used analytics tool and many businesses spend lots of time pouring through all the data that it provides.
##The pros of analytics
Of course, using web analytics tools such as Google Analytics or CANDDi, means that businesses can save many hours on any mistakes they might make without the insights. What's more they are very easy to install and it can be applied to any website. You can also set up customised data collection and reporting, adding further time-saving advantages for businesses who may use other methods of analysing data by, for example, manually searching the web or scrolling through excel spreadsheets.
Web analytics tools can also be utilised across all digital marketing channels to work to your benefit. For example, if you are using Google Adwords, you can analyse results much more efficiently through Google Analytics and CANDDi and really dig in to what works and what doesn't. Even if your website isn't ecommerce based, the chances are you will invest in online advertising or email sign-ups at some point and these can be tracked in web analytics tools as well. So, in general, web analytics tools are a very flexible, easy to use platform – supporting a solid return on investment at the harvest end.
##Cons of analytics tools
Generally, there are very few cons to using web analytics tools, and, what's more, when something is so cost-effective, it's not something to grumble about. However, there are a couple of things to mention. In the instance of Google Analytics, yes it is one of many free web analytics tools, but on occasions that works against itself. Of course, Google is going to encourage you to spend money on a ludicrously expensive upgrade, so why would they give you the whole package for free?
Also, the 'price' you pay for this 'free' tool, is giving up information about you, your company and your visitors, which don't remain confidential to you. However, if you don't mind this, and as long as you aren't working on something sensitive or top secret, this may be something you can swallow.
##Why web analytics tools matter
It is without doubt better to invest in web analytics tools than not. The time and cost savings alone they can offer make it a no brainer. The pros really do outweigh the cons and even if your visitor data is particularly sensitive, whereas using Google Analytics may be a concern, a company like CANDDi will be happy to accommodate any confidentiality terms you require.
Paul Clarke CANDDi