CANDDi isn't a one size fits all solution. We offer different user levels to support everyone across the team. This includes Sales People, Users and Admins. If you want to know more about the CANDDi functionality at each level, have a read of the below.
1. Sales People
The Sales People level is probably the most common, we are a sales & marketing tool after all.
With a salesperson's dashboard, they'll be able to find all the information they need for their prospecting process. They'll have access to customer profiles, including their personal data and records of their journey on/ through your website. It's the perfect weapon for sales pitches.
However, users who are Sales People level can only see contacts/ streams which have been explicitly shared with them. It's probably best to assign this user level if you want your sales executives in depth data for lead generation and notifications about returning visitors, without giving up access to all the contacts in CANDDi.
2. Users
The User level has the same functionality as those with Sales People level in terms of what they can view, with the added bonus of having access to all contacts in CANDDi. Users of user level will be able to create new streams and add any triggers to the streams created.
Streams allow your teams to monitor a web visitor's journey across your website, filtering each of them depending on their location, industry, marketing campaign or pretty much anything else you can think of! This way, you can focus on the prospects you really want, whenever you want.
Users level is a good option for managerial positions, perhaps sales & marketing managers, who are looking to target certain demographics of customers, whilst also keeping their eyes on website analytics.
3. Admins
Last by no means least, the Admin level is for those who are looking to "administer" the CANDDi platform. They have the functionality of all the user levels combined, as well as being able to add new users and change the settings on the tracker.
In order to change a user's permissions/levels, Administrators should head to Settings –> Users on the top menu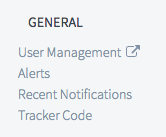 Although we recommend keeping this as limited as possible. Too many chefs in the kitchen and all that.
Have any more questions? Contact us at hello@canddi.com or 0161 414 1080 and we'll be able to talk them through.