When it comes to choosing a new software for your business, you want to make sure it'll fit in effortlessly with the systems you're already using.
That's why CANDDi is designed to integrate with your existing CRM, driving our data directly into the software your teams are already comfortable with using. Hopefully resulting in a quicker, less painful transition period!
We have a specific plugin for Salesforce which you can download from the Chrome store here. All you have to do is add the plugin to Chrome, and you'll be able to see all of your prospect's real-time web activity. This includes their personal details, the historical activity performed on your site, e.g. pages viewed, links clicked and how long they've spent browsing to give you a better understanding of what your prospect is looking for.
CANDDi can be used in conjunction with Salesforce's email templates to embed CANDDi tracking links personalised for the recipient. Due to the way Salesforce works, the exact code you need to use in the template is different depending on whether the contact is a Lead or a Contact. The process for editing the templates remains the same.
Log into your CANDDi dashboard, select the 'Identify' tab and then select 'Bulk Email Marketing'.
From the drop down menu choose Salesforce LEAD or Salesforce CONTACT. You cannot use the same link for Leads and Contacts.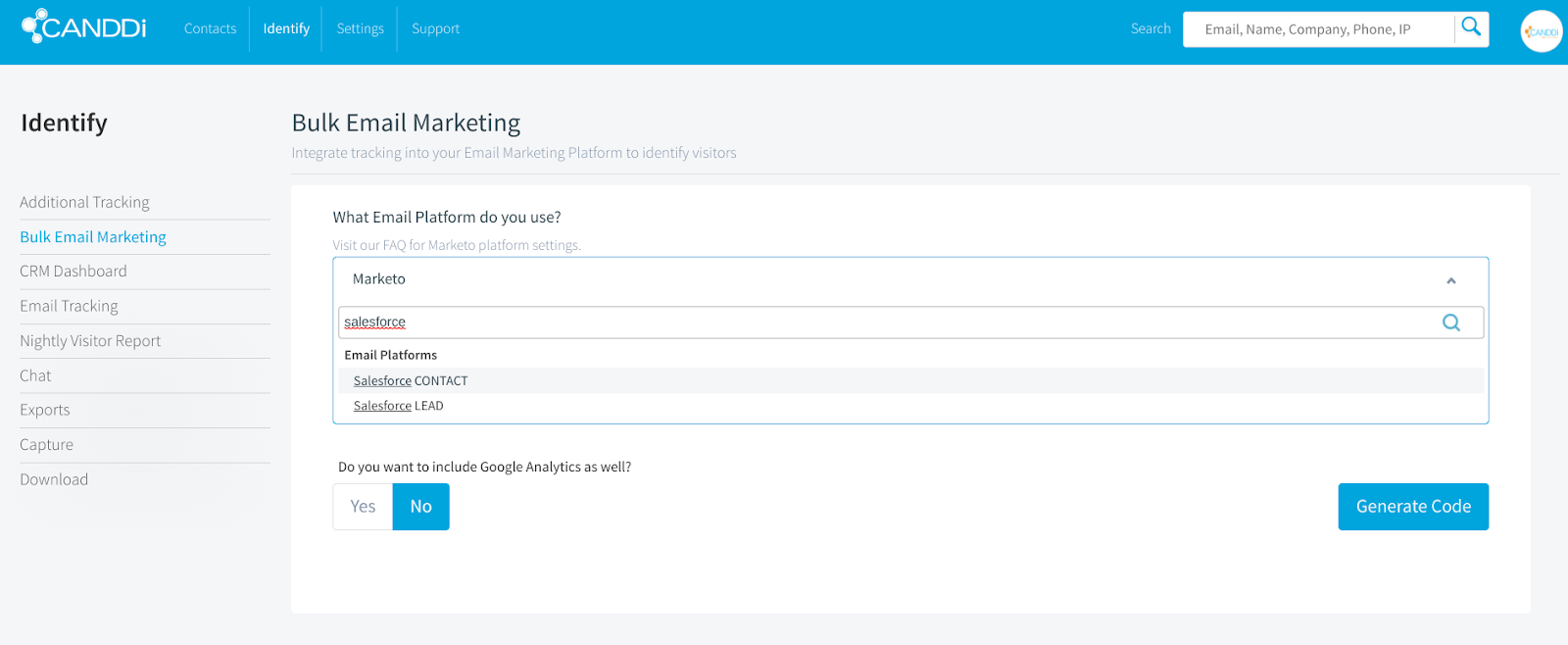 Add the URL of the page you want to send your email recipients to and select if you also want to include Google Analytics, then press generate code. The generated tracker link will appear in the box at the bottom. Keep hold of this.
After logging into Salesforce, head to the top right hand menu and select 'Setup'. On the left hand side menu choose 'Email' and then 'My Templates'. Choose the template you wish to edit and include a link in, or create a new template. Choose 'Edit HTML Version' and insert your CANDDi tracking link from earlier. Save the template, and use it as normal when emailing the contact or lead.
If you need help getting CANDDi set up with your Salesforce account, let us know at help@canddi.com