Company background
Fluid Trust PLC is a relatively new company dedicated to providing flexible short-term loans. Headed by CEO Ansar Mahmood, the team offers lending solutions for anything from property development to general business growth.

What makes Fluid Trust unique is their passion for providing a more personable approach to bridging loans. With over 100 years of shared experience, the Fluid Trust team offer bespoke lending with tailored support throughout the entire process.
"After seeing the impact it had on sales for our sister company
Pomegranate

, I knew CANDDi had to be the first marketing spend for my new business."
The Issue/Challenge Faced
Because Fluid Trust is a new endeavor, Ansar understood the importance of intelligent marketing and identifying new prospects. He needed to know which of his marketing efforts were successful in driving people to Fluid Trust's website, and who his visitors were once they got there.

More importantly, Ansar didn't have time for any time-consuming solutions. As his hands were full with the day-to-day running of a new business, he wanted software that delivered this information with as little effort on his part as possible.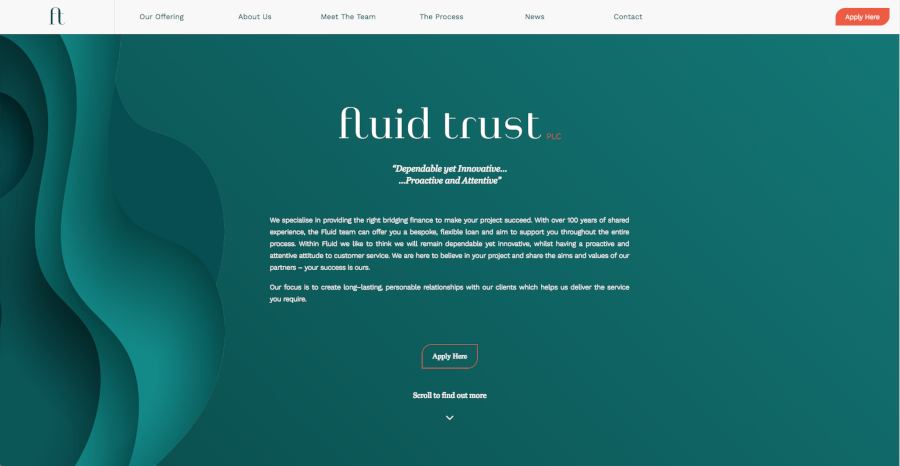 CANDDi for Fluid Trust PLC
The Benefits
Immediately after subscribing to CANDDi, Ansar saw results. The daily report gave him exactly what he wanted: comprehensive data about his marketing efforts, in an easy-to-understand medium.
"CANDDi helped me become more informed about my marketing efforts, focusing my expenditure so much that I could afford to hire new staff!"
Armed with this information, Ansar was able to tighten his marketing expenditure and create a more focused and effective approach. CANDDi's impact in this area was so significant that Fluid Trust had actually freed up enough revenue to hire and expand the team.

CANDDi's ability to identify new prospects has also been a huge help to Fluid Trust; Ansar is now able to know when important potential investors are visiting the site. One notable example is a prominent company based in New York, who CANDDi was able to immediately identify to Fluid Trust, allowing them to get in touch at the optimal time to close the deal.

As the business continues to grow, Ansar plans to make use of even more of CANDDi's features to maximize their marketing efforts and identification of new prospects. Fluid Trust PLC is growing fast, and we're looking forward to seeing what the future holds for Ansar and the team!