Digital Marketing in 2018: What Should You Focus on?
Most small businesses want to attract prospects to their website as part of the process of turning them into customers. But how best to do that? 'Marketing' is the obvious answer, but there are so many options out there that it can be hard to decide which to choose.

Here we'll take at look at the most powerful digital marketing channels and which is best for you.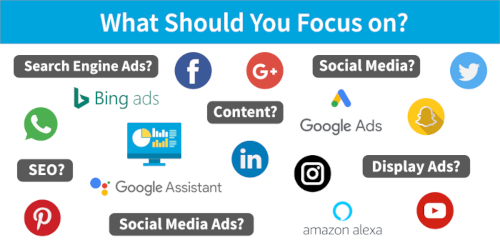 Search engine ads
Search engines advertising is a staple of many businesses' digital marketing spend. They can be very effective in putting your name ahead of the competition, but it pays to be clever about how you implement them. If popular search terms prove expensive and difficult to win, think about whether you can do 'more with less' and get a bigger slice of the pie for less popular search terms that still bring in meaningful numbers of relevant customers.
As with anything in the digital realm, the world of search engine ads is constantly evolving. Even if you outsource the process of placing ads to an external expert, it pays to stay on top of the latest changes in the market yourself. It's still early days in understanding how the rise of voice assistants like Amazon Alexa and Google Assistant will transform the market, for example.
Display ads
Ask a person in the street 'what is display advertising?' and – once they'd got over the weirdness of getting that question from a stranger – they'd probably say 'banner ads on websites.' But display is much more than that. And a good thing too, banner ads are suffering a long, steady decline at the hands of more effective forms of marketing.
Display advertising as a category also includes things like video ad units and 'native' advertising that is designed to integrate naturally into a website's design.
These kinds of ads can be expensive to produce and place, and are often more about brand awareness than driving a direct sale straight away. As such, they're not as well suited to small businesses as other channels listed in this article.
Social media ads
Social media advertising can be incredibly effective because of how specifically you can target your ads. This is particularly true of Facebook, which offers powerful tools to help you reach exactly the right members of its 2.23 billion-strong monthly user base.
Instagram, which topped 1 billion monthly active users in summer 2018, is also a great place to advertise, if you can tell a strong visual story about your product or service.
Don't be fooled into thinking it's impossible to go wrong with social media ads, though. Just because you can target a specific audience, doesn't mean you're targeting the right audience, or that the audience you want to reach responds well to social media ads. Thankfully, social media platforms make it easy to experiment with small spends until you get the combination of message and audience just right.
SEO
Search engine optimisation is one of the most important forms of marketing for many small businesses.
The SEO market evolves all the time. Techniques that worked one day may be wiped out overnight if Google makes a change to the way it ranks websites. And in much of the English-speaking Western world, SEO might as well be 'GO' (Google optimisation!), given that company's strong presence in many markets.
Over the years, Google has become better at bringing exactly what each user wants from its search results right to the top. This makes it harder to blatantly game results in quite the way some SEO professionals used to.
Still, it can really pay off to find a skilled SEO pro who's on top of the latest developments in the field, to improve your website's layout, language, speed, and design in ways you'd never have considered. When it's done well, the results can be incredible.
Content
In recent years, content marketing has skyrocketed in popularity. From company blogs, to research reports, to podcasts and YouTube shows, businesses have seen the benefit of becoming a publisher.
When it's done well, content marketing can show you're an expert in your field and give prospects a good reason to keep coming back to your website. When it's done badly, it can be a drain on your resources that delivers very little in the way of return.
The secret is to put the audience first. What is useful to them? If you don't know, find out. But don't just rehash what other people have said in their own blog posts elsewhere. That will do nothing to persuade people you're a company worth caring about.
Whether you're producing text, video, or audio, think about what unique expertise and insights your company can share with the world.
Social media
There was a time when social media marketing often meant just getting an intern to sit on the company Twitter account all day and crack jokes that might get a few retweets to help boost awareness of your brand.
Nowadays, there's a whole lot more to it. There are a dizzying number of platforms and strategies you can adopt. Should your company have an ephemeral 'story' on Instagram or Snapchat? Should you be engaging with influencers? Is it worth investing time and effort in live video streaming?
There's no space here to answer all those questions. Suffice to say that you should focus only what you can do well, and that will reach your target audience in a meaningful way. In the world of social media, there's always a novel new feature to try. Experiment frequently, but don't fall into the trap of doing something trendy that will have no impact with your target audience at all.