Company background
Web Windows is an advertising and marketing agency based in Peterborough. The business was incorporated in 2002 and today employs 25 staff across its media, marketing and design departments.
The company mission statement is to gain 'More sight for your site' through web marketing services. These services fall into four key areas - search engine optimization, national newspaper advertising (for, among others, Times, Observer and Guardian), online advertising (online media buying services across some the UK's leading websites) and pay-per-click advertising.
The Issue/Challenge Faced
Web Windows has a 10-strong new business sales team which is focused on lead generation through outbound activity.
The team has used a number of different marketing automation software products in the past but they needed a solution which would provide an extra level of functionality beyond website visitor tracking.

Tom Anderson, Associate Director at Web Windows, explained: "We needed software which could support our outbound sales team by generating high quality leads. We also needed a solution which could integrate with our CRM platform effectively so that we have all the information about our prospects in one place. When we came across the CANDDi platform we immediately thought this was the software for us."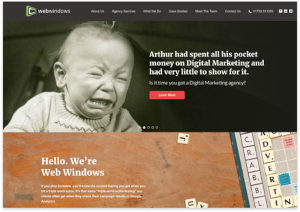 Web Windows launched a new website in December 2015 and wanted to ensure that it was fully integrated with CANDDi. With the business growing in the UK, and also in the US with the opening of a New York office, the new website was an important platform for the agency, so the ability to generate insight from it for new business activity was a priority.
"We needed software which could support our outbound sales team by generating high quality leads."
CANDDi for Web Windows
Web Windows uses
CANDDi
to generate insight into how its outbound email campaigns are performing. By integrating the
CANDDi tracking code into emails
it sends to new business prospects, the sales team are able to identify visitors clicking on the email links which go through to the Web Windows site.
The sales team prioritize certain actions based on how the prospect has interacted with its outbound communications. The company's emails contain a call to action in the form of a link to pre-designed landing pages. For example, if there is no interaction with the email content, the sales team then prioritize a call directly to the prospect.
Web Windows also uses
CANDDi to track data on visitors to its website
. The team run a filter on the length of time they remain on each page to understand their areas of interest. This gives the company complete visibility of qualified and genuinely interested leads.
CANDDi is fully
integrated with Web Window's existing CRM system
, which is made possible due to its open API. CANDDi sits as a "marketing" (or analytics) filter on top of the CRM platform. When
identified visitors
perform predefined trigger actions on their website, CANDDi will capture this information and will
real-time update the CRM platform
with this information.
The Benefits
"I knew that CANDDi would provide us with better information about our customers to aid the sales process. This would prove invaluable to our business development teams, who often need to segment information across numerous markets and sectors."
CANDDi has boosted Web Windows's new business capabilities by providing valuable data which enables the sales team to become more efficient and targeted. Web Windows have also experienced an improved clickthrough rate in their outbound email campaigns and an increased number of visitors to their website.
"CANDDi has undoubtedly helped us to attract new clients, and more than pays for itself every month."
"Whereas many of our competitors take a scattergun approach to new business, we have the data to make the right decisions on the most appropriate tailored and personalized ways to engage with our prospects and customers. As an advertising and marketing agency, it's important that we maintain good relationships. CANDDi helps us to do this more effectively."