Company background
Sapphire Systems is an established global provider of world leading Enterprise Resource Planning (ERP) and Financial Management Solutions (FMS). Founded in 1993, the company offers software, services and support to over 800 customers worldwide.
Sapphire works with integrated search agency 4Ps Marketing who ensures that Sapphire is kept visible within all the territories it operates.
"We love the fact that the CANDDi team are always open to ideas about how the product can be improved and developed for user needs. The CANDDi team have been really responsive to what we want to do with the product."
The Issue/Challenge Faced
With the business growing rapidly in different sectors and across multiple markets across the world, there was a need for sales and marketing efforts to become highly targeted.

Sapphire was looking for software that would allow them to intelligently utilize data from their outbound email marketing campaigns to generate sales leads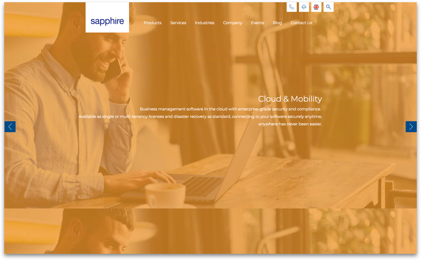 CANDDi for Sapphire Systems
Marketing insight
Returning visitors notifications
Visitor profiles
The Benefits
"I knew that CANDDi would provide us with better information about our customers to aid the sales process. This would prove invaluable to our business development teams, who often need to segment information across numerous markets and sectors."
The CANDDi platform provides Sapphire with a rich body of data which is used to identify and engage with prospects and customers. Sapphire uses CANDDi's tracking code within emails to promote content such as whitepapers and videos of product demos, meaning that the business can personalize the approach. Combining this insight with knowledge of the sector and the location allows for segmentation and future planning.




With CANDDi, Sapphire has also been able to monitor the effectiveness of different sections of the website and make changes that interest potential clients. For example, they have been able to track which people are watching the video section of the site, find out why they might be dropping off halfway through, and make the necessary amendments. This information can then be used to modify their outbound email communications.

Sapphire's extensive use of digital marketing and analytics tools means that CANDDi is able to adapt, creating partnerships and a roadmap that will help to keep it at the forefront of marketing automation. Together with 4Ps Marketing, Sapphire has chosen to push the boundaries and use CANDDi alongside other marketing systems and processes so that it gleans greater insight and reaps further rewards.
Matt Stannard, Head of Analytics and Technology at 4Ps, is also very keen to put CANDDi in front of the agency's other clients. Additionally, Sapphire uses CANDDi to drive its marketing strategy to such an extent that the Business Development Team is looking to hire a full-time member of staff to focus on the CANDDi element alone.