Company background
4net Technologies is a business communications technology specialist which provides unified communications, contact centre solutions and cloud and managed services to customers in the UK and overseas. Its scalable offering allows it to cater for organizations with as few as ten employees to large-scale enterprises comprising 2,000 members of staff.
Founded in 2005, 4net Technologies is at the forefront of technology developments within the telecommunications market. The company offers a complete communications package from design and implementation, through to aftersales customer support and maintenance.
"Our priorities were to find a solution which was easier to use and more affordable than our existing software. We are also keen to work with other businesses based in the North West so were very happy to come across CANDDi and are thrilled with how it's working so far."
The Issue/Challenge Faced
Since the company's telemarketing team is small, it wanted a flexible software solution which would help it to generate high quality leads by tracking traffic on their site and support ongoing email marketing campaigns.

In the past, 4net had used Wow Analytics, which was more expensive and complicated for the user. 4Net was contractually tied into this alternative provider but a timely email from CANDDi meant that the business became aware of the more cost-efficient but feature-rich solution. 4net was able to switch to CANDDi in August 2015 and was delighted to find it so straightforward to implement and use.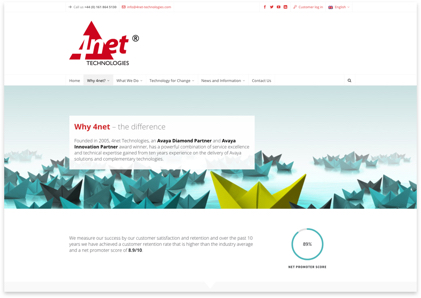 CANDDi for 4net Technologies
CANDDi is now a fully integrated part of 4net's telemarketing function. The software tracks existing customers and new prospects to the site. Automatic identified visitor notifications are sent to the relevant sales people within the 4net sales team for follow-up. These emails contain rich data including name, contact information, duration, number of sites visits and a history of previous interactions.

As well as tracking web visits, 4net have started to use CANDDi in their outbound email marketing campaigns. They are able see who has opened and interacted with what content and to utilize this data to generate sales leads. Sending one-to-one emails is high on the agenda for 4net. The telemarketer incorporates links to different areas of the website at his discretion and can then easily monitor levels of prospect interaction. Once they engage, the next step is to arrange a face-to-face appointment.

The company is also using CANDDi creatively, for customer feedback. Emails are sent to customers which ask them to click on one of four links to rate customer service. The team is able to see who responds to which option and tailor responses accordingly.
The Benefits
Within weeks of deploying the solution, 4net's sales team has experienced the benefits of the CANDDi platform. The influx of leads and a rich body of data has kept the team busy with follow-ups.
CANDDi has enabled 4net to make further inroads into public sector prospects. Although the company has a strong history of developing successful communications services with public sector customers, it had previously been difficult to determine who specifically was responsible for making buying decisions within public sector bodies. CANDDi has allowed 4net to identify names and behaviours of individuals interested in its offering. The business is now building up a contact list for these target organisations.
"It's been great. Nothing seems too much trouble for the team at CANDDi."
4net runs a number of annual events which take place between January and August to promote its services. Now that CANDDi is in place the business is looking forward to making use of it for targeted mailshots to build its profile by raising awareness prior to each event.
The sales team will also consider using CANDDi Capture to ask visitors what they are interested in, build a rapport and be even further informed about their needs so as to close more sales.