Our Zoho plugin automatically directs your website traffic to your CRM in real time!
CANDDi inside Zoho
Listening to our customers, we have learned that there is often one key issue that divides sales and marketing: communication. CANDDi's Zoho integration solves this problem, efficiently sending information about all your leads directly to the sales team.

When CANDDi's data appears in Zoho, your salespeople have will access to richer information about their prospects. And by providing data about hot prospects in real time, CANDDi lets your sales team get in touch when they are most likely to close the deal.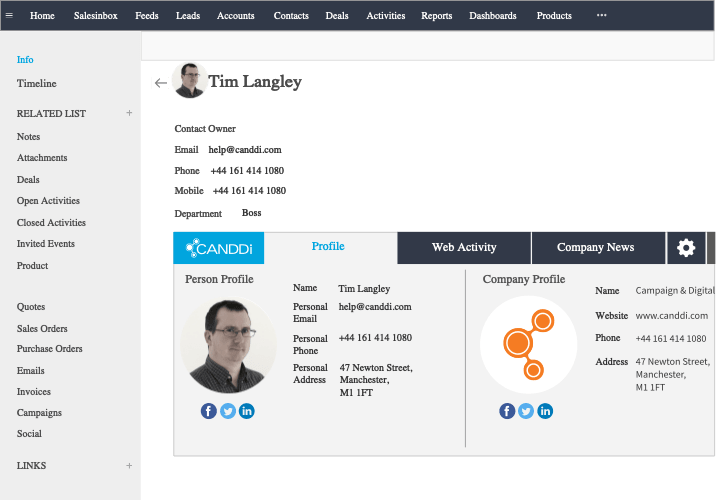 Profile includes Person Profile & Company Profile
Within your CRM you can see the prospect's real-time web activity, including any of their form submissions and downloads. No more scrolling through emails or searching CRM's to find extra information - it's all in one place!
Web Activity includes Contact Tags, Page Views, Downloads & CANDDi Capture

Company News Coming soon!
Use Artificial Intelligence to help the sales team connect by showing latest relevant news about each Company: Blog posts, Social Media, Awards, new Product launches. Our Machine Learning algorithms are hunting out the most relevant stories to help your team start the engagement.