5 Ways to Improve Your Online Conversion Rate
Did you know that website landing pages have an average online conversion rate of 23%? So, if 100 visitors visit your landing page, it's likely that 23 of them will perform your ideal action. In this situation, nearly a quarter of your site visitors have been attracted by your digital marketing efforts, which is impressive.

However, to get those numbers, your landing page has to have superior conversion rate optimization (CRO). If you want to improve your website's conversion rate, read on. This article will detail five methods you can use to improve your online conversion rate.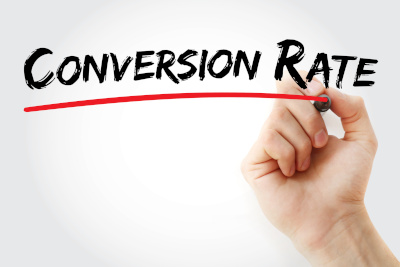 What Is an Online Conversion Rate?
The online conversion rate is a measurement of a website's lead generation success. That is, it's a measurement of site visitors that take a desired action.
The desired action is often a part of a business's lead conversion funnel. Some great examples would be a visitor subscribing to a newsletter or downloading a product demo. These leads should eventually cause a visitor to purchase a product or service.
Purchasing a product or service can also count as the desired action. It all depends on your business's current digital marketing strategy.
What Affects a Site's Conversion Rate?
There are a lot of factors that can affect your site's conversion rate success or failure. Three of them are the visitor's interest level, the offer's attractiveness, and the ease of the process.
Visitor Interest
Your business first needs to attract members of your target audience. Then you need to make sure he or she is in the right position to be persuaded by your leads.
Offer Attractiveness
Your value proposition needs to be clear enough for the user to understand your message. It should also connect with him or her on a personal level.
Ease of Process
It should be easy for site visitors to take the desired action. They should be able to navigate the site easily and the pages should load quickly. Without this ease, the visitors will get frustrated and leave.
Five Ways to Improve Your Site's Online Conversion Rate
In essence, you need to improve your site in the three areas mentioned above. Below you'll find some methods you can use for doing this.
1. Make Things as Simple as Possible
Your visitor should not feel overwhelmed by the number of tasks they have to perform. They shouldn't have to take in a lot of information or fill in a lot of forms.
Use a Third-Party Login System
Do you want your visitors to make site accounts? If so, don't make them fill in a lot of unnecessary form fields. Let them import the information they have on Google, Facebook, etc.
Only Put Essential Information
Don't try to put all the information about your product on the landing page. Put only the most influential information, such as customer reviews, on there.
2. Use the Right Kind of Pop-Ups
Pop-ups can help guide visitors down the lead conversion funnel. It prevents the visitor from searching for the right link.
However, you have to make sure that your pop-ups don't annoy the visitor. It should also give them what they want.
Make the Pop-Up Easy to Close
Pop-ups often block important information on your site. This can get annoying to visitors. Make sure that they have an easy way to get rid of the pop-up if they wish.
Try a Few Different Offers
You can't always accurately predict what special offer will yield effective lead generation. Try a few different offers like PDFs, coupons, premium content, etc.
Analyze the lead conversion rate for each of these. Then you can settle on the most effective offer.
3. Assuage Any Worries
Your visitors will be asking themselves a lot of different questions as they're considering purchasing your product or service. These questions should also drum up a lot of worries. If you can't help your visitors relieve these worries, they will be less likely to buy your product.
Add a Live Chat Service
A live chat service should answer any questions that your visitors have. Put one on your website. You should also make sure that you make the button to access the live chat visible and easily accessible.
Give the Product a Money-Back Guarantee
Consider giving your products a money-back guarantee. This will make your visitors worry less about purchasing your product or service.
4. Create Effective CTAs
An ineffective call to action (CTA) can be what causes your visitor to abandon the project. To avoid this, you need to make a strong call to action.
This just doesn't mean your CTA should be clear. It should also be attractive and relatable.
Don't Use Generics
Visitors have probably read the same "call now" and "start here" CTAs over and over. It's better to do something that surprises them. Be creative!
Understand Your Customer
Put yourself in your customer's place. Think about what they need to hear at that moment. Make that your CTA.
5. Optimize Your Site
A poorly built site will drive potential customers away. You need to ensure that your site functions perfectly for every visitor. Examples of things you should look for are written below.
Make an Effective Mobile Site
Over 97% of Americans have a mobile phone of some kind. They will likely access your site with these phones. You need to give them a site that works well for the mobile experience and not just a desktop site.
Clear Up Any Bugs
A glitchy site does not appear professional. They can also frustrate guests. Eliminate any site bugs as soon as you see them.
Analyze Your Website's Visitors With Our Software
Keep in mind that this list is by no means exhaustive. There are plenty more ways you can buff up your online conversion rate. Just do some further research to find them or make up your own.
Meanwhile, try our software if you need help analyzing your site's visitors. It will give you complete visibility over your website's traffic. Get a one-month free trial of our site on this page.