What Is B2B Lead Generation? A Complete Guide
As a B2B business, consistent and qualified lead generation is essential.

Lead generation is the process of initiating consumer interest or inquiry in a product, service, or company. You can achieve this through various means. Whether it is through digital marketing, or something more traditional, B2B lead-gen is a very important aspect of a company's success.

There are many benefits to lead generation, both for your customers and business. To learn everything you need to know about B2B lead generation, keep reading!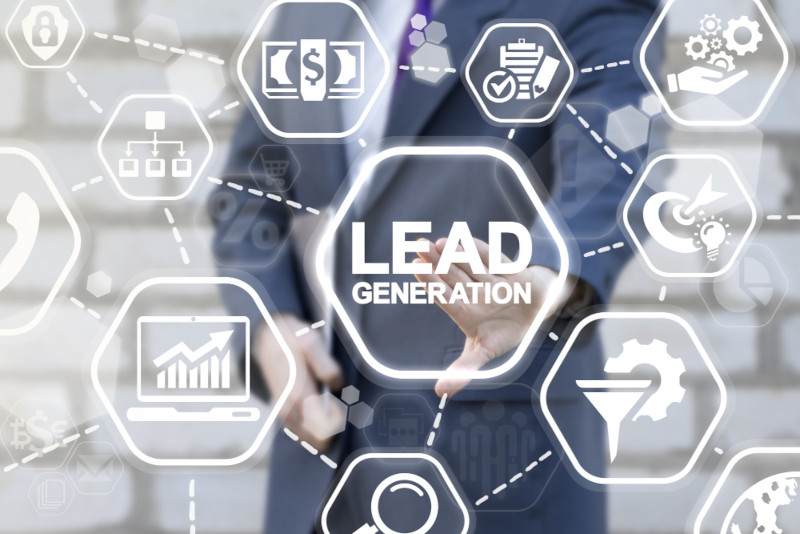 What Is B2B Lead Generation?
B2B lead generation refers to the process of initiating consumer interest or inquiry in a product, service, or company. There are many ways to achieve this. Whether it is through digital marketing, or something more traditional, B2B lead-gen is a very important aspect of a company's success.
It is important to remember that B2B lead generation can be extremely different both in its approach and results.
As a company, you should focus on generating leads for fairly specific target audiences. There are many benefits to lead generation, both for your customers and business!
Here are just a few reasons why it is so important:
More opportunities for your company to make a great first impression before the customer even has a chance to consider doing business with you.
Better conversion rates when it comes to web-based campaigns, which will in turn increase ROI.
More chances to discover new demographics and locations in your target audience that you weren't aware of before.
More of an opportunity to be innovative with your product or service offering that will leave the customer with a lasting impression.
How Is B2B Lead Generation Different From Consumer (B2C) Lead Generation?
If you have experience in generating leads for business-to-consumer campaigns, then you might be wondering what makes it so different from a B2B lead generation campaign.
The first major difference is the nature of the audience.
Whereas a consumer lead generation campaign will have a much wider target audience, a B2B one will be more specific and tailored to corporate entities or businesses that buy particular products or services regularly.
Another difference is that as opposed to B2C lead generation, a B2B campaign will usually take place online. This is because the target audience will most likely be highly tech-savvy business professionals that are searching for particular products or services at an organization of their own.
You will need to use different types of lead generation techniques to find success, which can vary between B2C and B2B.
How Is Lead Generation Beneficial for My Company?
It might seem difficult to see how lead generation can benefit a company at first. Yet, as soon as you start generating leads, many different benefits will come into play. Here are just a few of the most common:
Consistency of Leads
One major benefit to lead generation is that it will ensure a constant stream of leads for your company. Since these leads will be directly from your target audience, there is a good chance they will be more relevant. This consistency can even allow you to create a better strategy. It also acts as an effective sales team and marketing strategy for your consumers.
Consistent, Targeted Audience
As mentioned earlier, with business-to-consumer campaigns, you can gain a better idea of who your target audience is and what they are looking for/interested in on the web. This means you will have more control over how consistent this audience is. Managing leads may also be easier because the leads are so targeted, which will allow for more consistent sales numbers.
Quality of Leads
The leads that you generate will be much higher in quality because they are coming from your target audience instead of anonymous consumers. This means that not only are you getting leads who truly want to do business with your company, but also leads that are more likely to convert.
Long-Term ROI Gained From Leads
Aside from the fact that there are short-term benefits for your company once lead generation has begun, there can also be long-term advantages as well. Once you have generated enough leads, the higher converting rate of prospects will result in a better return on investment. This will also allow you to expand your business and product offerings if needed, which will allow for long-term growth.
What Are the Different Methods of Lead Generation?
Businesses can use many different methods when it comes to generating leads. A few of the most common methods include:
Search Engine Optimization (SEO)
SEO is the practice of ranking higher on Google search engine results, which can result in more traffic to your website. As a result of this increased traffic, your company will be able to generate more leads through methods of conversion funnels.
Social and Display Ads
Using social media platforms and websites like Facebook and Twitter is another way to generate leads. You could also use display ads to target a certain audience and reach them on their favorite websites.
Content Marketing
Creating content that is useful for your target audience can also help you to gain more leads for your company. Platforms like LinkedIn have become popular by the use of this strategy, which provides targeted results depending on the type of content that users have created.
Retargeting
Using browser cookies and other tracking methods, you can reach out to consumers who have already visited your website and send them targeted ads. This will allow for a personalized approach to lead generation, especially if they were already interested in one of your products or services.
Email Marketing
Email marketing is often done through email blasts, newsletters, and other forms of messages sent to your consumer base. These messages can include everything from promotional offers to informative blog posts. This type of outreach also allows you to stay in contact with your target audience on a more consistent basis.
Getting Started With B2B Lead Generation
Now you should have a better understanding of what B2B lead generation is and the different methods that you can use to generate leads. The next step will be taking action by implementing a few of these strategies into your company's marketing plan.
To get started with this strategy, jump on a free trial today. We'd be happy to walk you through the next steps.