Everything You Need to Know About B2B Sales
When it comes to any transaction, not one sale is the same. Then when you throw B2B sales in there, they couldn't be more different to a B2C consumer purchase.

The whole process is a lot more complex, business decisions can't be made lightly after all! This often means a sales team is stuck trying to find that customer that has buying power and knocking down those walls.

This takes a lot of patiences and trust. Your sales reps can't simply make a pitch and get it over the line (hardly, anyway). They need to nurture their leads and slowly nudge them through your sales funnel.

It's not for the short-tempered.

That's why we've put together everything you need to know about making (and closing) B2B sales.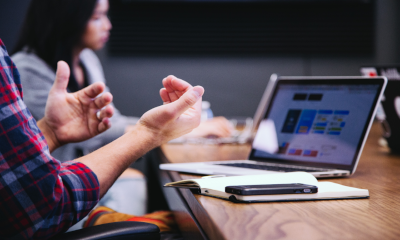 The B2B Sales Cycle
The tricky thing is that a B2B sales cycle starts way before your sales team even knows about them.
57% of decision-making is done before a prospect even enquires. Yep, we have to be marketers and mind-readers now…
Well maybe not quite, but best believe that the businesses showing interest in what you have to offer have already started to make up their mind about you.
This might be because they've seen your ad on Facebook, maybe they've followed you on LinkedIn for a while or they're already using a competitor of yours. It's your content that drives a purchasing decision.
It's then up to your sales team to confirm they made the right choice.
But what does this look like?
The B2B sales cycle is a long one with a lot of touch points. Your marketing team should use a range of channels to communicate with potential customers. Typical touch points include social media platforms, phone calls, email marketing and live chat conversations.
The key is to get a grasp of what stage of the sales cycle your prospects will be in when they hit certain touchpoints.
For example, cold email campaigns will require much more educational content than nurturing email campaigns which can push much harder for a conversion.
So how do you know which is the right approach?
B2B Sales Techniques
First things first, you need to understand your buyer. There's no one size fits all when it comes to B2B sales techniques.
Each business you come across will have different challenges and needs, the hard part is drilling down into what these are.
So once you know what this looks like, you can start to craft the right sales journey for each type of customer.
For example, if you're talking to a fellow salesperson, you'll know they spend a lot of time on their phones. All content you send should be optimized for mobile devices and you should probably reach out via email, as they're usually tied up on their own calls.
Personalisation goes a long way too. With certain marketing tools, you'll be able to personalise your messaging on an account or personal level. This will help you create a hyper-personal outreach that will nudge those need-to-close cases over the line.
Simple things like merge tags for their first name or company names can go a long way, as well as using tracking tools to identify what it is your prospects are looking for in the first place.
It's almost like getting a glimpse into their mind. If you can tell them what they're already thinking, you'll be on to a winner.
Don't be discouraged if things don't go your way either. A good sales technique is always evolving.
We've all heard the typical sales excuses, but only you can control how your sales pitch goes! If you think your competitor is in the way, show them a better offer. The leads aren't good enough? Speak to your marketing team and see what can be done.
Measuring B2B Sales
A lot of effort goes into B2B sales, so it's only fair to keep an eye on them! Analytics tools like CANDDi can help you track the entire B2B sales process, from initial contact through to final purchase.
We can show you who's landing on your website, what they've looked at, how long they spent browsing and what brought them there in the first place.
Not only does this give you good insight into their buying journey, but you can use this data to make sales decisions and predictions for future reference.
If you think this seems like a lot of hassle, remember that roughly one a third of leads are qualified. That's a whole load of wasted time.
This is why it's important to track your marketing to uncover which methods provide the biggest ROI.
At the end of the day, B2B sales make the world go round! Your sales team are out here using a range of marketing techniques to seal the deal, with your marketing team then measuring these sales with the latest analytics software.
Whilst B2B sales can be a bit of a long slog, you can be sure to secure lucrative sales opportunities done correctly.