6 Sneaky Ways to Check Up On Your Website Traffic
Did you know that 34% of consumers are more likely to make an unplanned purchase after they get personalized content?

But to give your website users personalized content, you need to know exactly who's visiting your website. Otherwise, you're just delivering generic content to an unknown audience. Worst of all, you're leaving money on the table.

One of the best ways to give your users personalized content is to pay attention to your website traffic. Whether you're an e-commerce company or a local consultant, checking your website traffic is a must if you want to grow your business.

Ready to learn all about how to check your website traffic? Here are six sneaky ways to do so that will help you get a detailed understanding of your audience.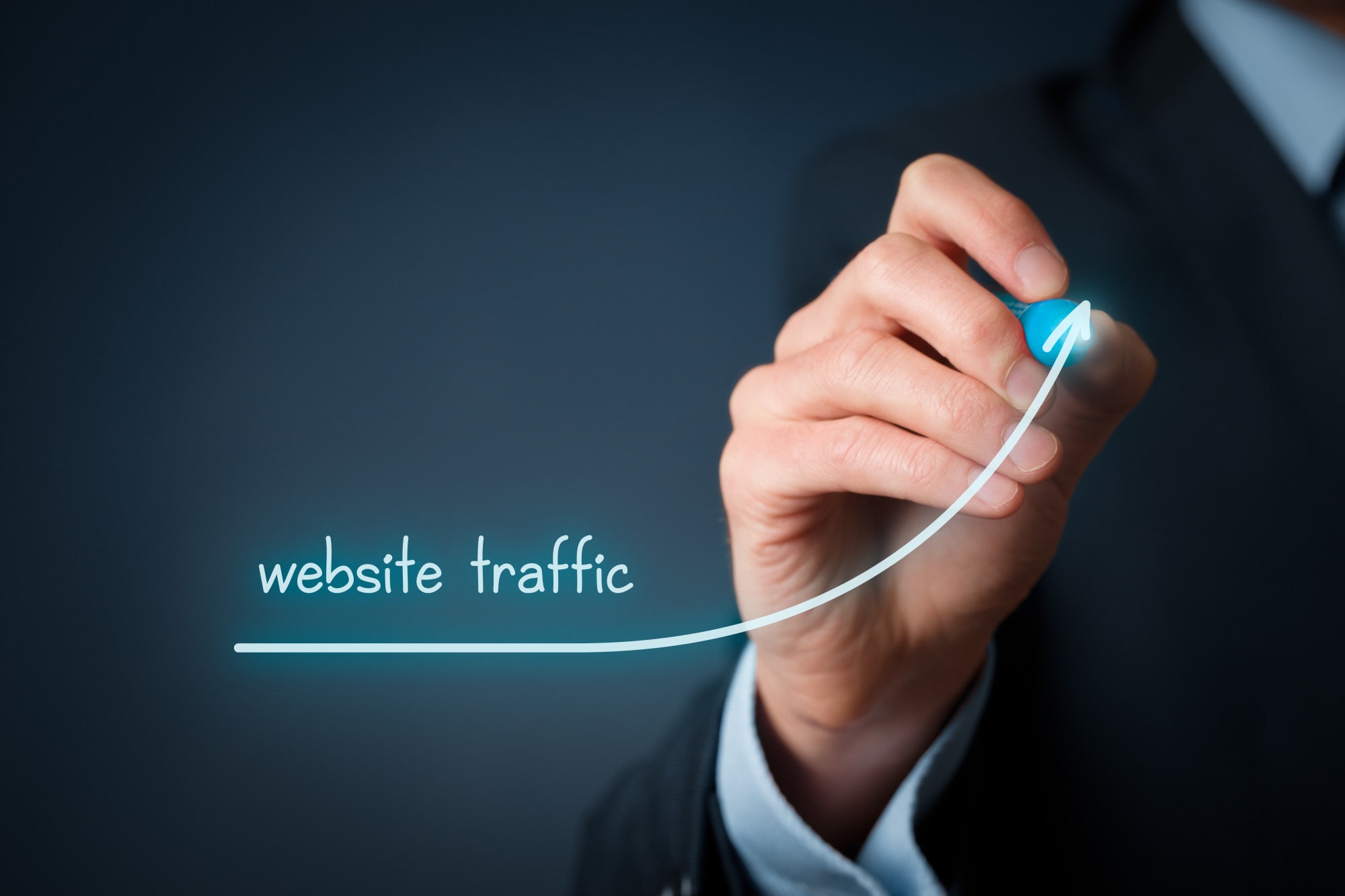 1. Check Blog Post Comments
One of the quickest and least complicated ways to check on your website traffic is to take a look at your blog post comments. This method also doesn't cost you anything, so it's a great way to get started with checking your website traffic.
While this method won't tell you the total amount of traffic your website gets as not everyone will leave a comment, you'll get a good idea of how many engaged website visitors you have.
You can also use this number to estimate your traffic. Some people estimate that around 1 in 200 blog post visitors tend to leave a comment.
To check your comment traffic, go to the comments section of one of your blog posts. The page should list the number of comments. If it doesn't, you will have to count them by hand.
You can multiply the number of comments by 200 to get a rough estimate of your website's traffic. You can also try this for a few of your blog posts to get closer to an average.
Of course, this method isn't the most accurate, but it's a free way to give you a rough, ballpark estimate of your website traffic.
2. Look at Video Views
If you have a website where you've embedded videos, such as a cooking or travel blog, you can make use of video views to get an idea of your website's traffic.
If you have any YouTube videos embedded into your blog posts, you can check video views in one of two ways.
The faster way is to click on the video you embedded. Wait to be taken to the video page on YouTube, and note down how many views your video has. This number is on the right-hand side, underneath the video.
But if you have videos on something like a landing page, you'll need a different method to check how much traffic you get for that video. This is where Google Tag Manager comes in.
Google Tag Manager is a way for you to track your analytics using tags, which are bits of code that don't require you to change any of the code on your website.
Once you've added the tags, they allow your website to share information with Google Analytics.
Tips for Google Tag Manager
Once you've set up Google Tag Manager, you want to pay attention to the following 3 things:
How many people clicked "play?"
How much of the video did people watch?
What actions did video watchers take? Was there a difference in actions compared to people who didn't watch the video?
Keep taking note of these analytics from time to time. You'll want to compare them and see which of your videos get you the most conversions. You might even find that your most-watched video doesn't get you many conversions, which is going to impact your video strategy.
The reason that it's a good idea to use video on your landing pages is that it's more authentic. It captures your audience's attention right away, and you can use your body language, facial expressions, and tone to show the value of your product or offer.
You want to check these video views every month or so to check what's working and what kinds of videos keep the audience watching the whole way through.
3. Check your analytics
Next up, you can use Google Analytics for free to check your website visitors' activity. Not only does Google Analytics show you your overall website traffic, but it breaks them down into a few important categories.
Some of the benefits of Google Analytics include:
Seeing who visits your site
How people got to your site
When people visit your site
Visitor demographics
Your most visited pages
One of the best things about Google Analytics is that it automatically collects data, so you don't need to do anything by hand. You can also get customized reports where you can pick which metrics you want it to display.
How To Get the Most Out of Google Analytics
One of the best benefits of Google Analytics is that it helps you track how people found your site.
For example, if you're a local environmental consultant, did people find your website through LinkedIn? Did they find you via organic search on Google? Or have you not been getting as much traffic from social media as you'd hoped?
When you know how people found your site, you can capitalize on this and focus more of your marketing efforts on the outlets that are getting the most traffic to your site.
Google Analytics also shows you what kinds of devices people are using when they're on your website. For example, if most of your users are browsing your website on mobile, you need to make sure your website is optimized for mobile and is easy to use on a small screen.
You can also use Google Analytics to see where users clicked off your site without visiting any other pages. This is called your bounce rate, and you want to reduce it as much as you can.
To reduce your bounce rate, check if there are any problems with your landing page. It could be difficult to navigate or not be visually appealing enough to keep users engaged.
When using Google Analytics, make sure you filter out your own visits to your site so that you see accurate results.
4. Keep an Eye On on Competitors With a Traffic Checker
You'd think that you wouldn't be able to see anything about your competitors' traffic given that you can't see their Google Analytics. But did you know you can still get an idea of how much traffic your competitors get?
You can use a free traffic checker to get a general overview of your competitors' traffic. Free checkers will often give you a traffic overview of your competitor's website.
This includes how much organic monthly traffic they get, how many backlinks they have, how many keywords they use on their website, and what their most popular posts are.
A traffic checker may also show you the domain authority of your competitor's website, which is a search engine ranking score that shows how likely a website is to rank in search engine results.
Understand Your Competitors
Not only does keeping an eye on your competitors show you which posts and pages you're competing with the most, but it helps you to understand your competitors.
When you understand your competitors, you'll know exactly what kinds of products and services they're offering. This way, you can identify any gaps in the market and figure out how your product or service can fill them.
No matter how unique your offering is, there's a high chance that at least one of your competitors offers something similar. This is why the most important thing you can do is to examine your competition and find out why customers might choose one product or company versus another.
Keep in mind that some free traffic checkers only give you a set number of searches that you can do in a day, so make sure you start with your top competitors.
5. Try Tracking Pixels
Tracking pixels are small bits of code that help you gather information about who's browsing your website. This includes what they're browsing and what they're clicking on. Tracking pixels are also called marketing pixels.
There are two main types of tracking pixels: retargeting pixels and conversion pixels.
Retargeting pixels are pixels that look at the behavior of website visitors. This helps businesses personalize their ad experience in relation to what kinds of content users browse.
Conversion pixels track sales from ad campaigns after customers make a purchase. These help businesses see how well their ad campaigns are working and how many conversions they're getting.
Pixels also help you track other marketing information, such as email open rates and how many people click on your ads.
Be Careful When Using Pixels
While pixels can help you track customers, you need to be very careful about when and where you use them.
Data protection privacy laws are different in each country, and you need to make sure that you are compliant with the online laws in the countries your visitors come from. This also includes state laws such as the CCPA.
You also shouldn't place a pixel on every page—only on certain pages that you're currently tracking.
Most importantly, you need to give users the option to opt out of tracking pixels.
6. The Top Tip for Website Traffic: Use Visitor Tracking Software
While all these free tools are great ways to give you a head start on getting an idea of your audience, the best way to check your website traffic is to use website visitor tracking software.
This is because specialized visitor tracking software like CANDDI shows you the specifics of everyone who visits your website, beyond a big-picture overview.
CANDDI's website visitor tracker shows you exactly who the individuals are that visit your site. Regular analytics tend to only show you the journey of a few unnamed visitors, which means you can't tailor your pitches to these potential customers.
See the Specifics
CANDDI also lets you see the individual activity of every single visitor. This includes showing you who the person is, their location, how many times they've been on your site, and how many activities they've performed on your site.
And even if a visitor is anonymous, CANDDI is able to use IP tracking software to see which company a website visitor is from. This way, you can see who would be a good B2B contact should you want to reach out to them.
Another great benefit of CANDDI is that it lets you create customizable alerts. The software will send you email notifications whenever a potential customer completes a crucial stage of the buying process.
This way, you can target the potential customer with a personalized offer at the right time.
And while you should always contact your legal team if you have any concerns, CANDDI is also committed to becoming GDPA compliant, making for less worry around privacy protection laws.
Finally, CANDDI shows you who has converted and where they converted. The software assigns every person a score, so you can see right away which visitors are good leads for your business.
This means spending less time searching through your analytics and spending more time pitching to your ideal clients.
Skyrocket Your Website Traffic With Visitor Tracking Software
By using these 6 sneaky ways to check your website traffic, you're well on your way to getting to know your audience on an intimate level.
And while free options are a great way to get started with outlining your business goals, the best way to truly know your audience is to use specialized visitor tracking software like CANDDI.
In 2021, we were named a leading player in US Web Analytics. Our human-centered approach to analytics means that you'll have all the information you need to turn your website visitors into hot leads.
Ready to get to know your audience so you can deliver personalized pitches and customized content? Sign up for a free one-month trial with CANDDI today.