Need to recover some lost revenue?
There doesn't need to be a pandemic for your sales to take a hit. Business is an unpredictable game and it often takes a lot out of business owners and sales teams.

With that being said, the turbulence of the past year has left us picking up more pieces than usual.

Although that sounds daunting (and a little depressing) it doesn't mean there's nothing to be done about it!

Recovering lost revenue is a tall order of course, but it's still totally doable.

Like many small businesses, we can speak from experience. So we've gathered some of the simplest routes you can take to climb back up that money ladder.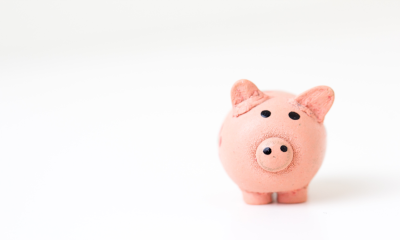 Make your marketing and sales process match
When it comes to driving revenue for your business, the book doesn't start and stop with your sales team. Your marketing department also has a hand in snapping up those customers.
So if you don't seem to be generating as many leads as you'd like or expect, instead of blaming one team or the other, have a look to see if their processes are aligned. Because 9 times out of 10, they're not.
With that being said, make sure both teams are having cohesive discussions about who your ideal customer is. Once that's been agreed on, you can develop a streamlined message for each type of prospect.
When everyone is singing from the same hymn sheet, there'll be a more focused, seamless buyer journey for the customer. This will in turn produce more closed deals. Ta da! An uptake in sales straight away.
Okay, it might not be as easy as 1, 2, 3. But it's not far off. Especially when you have lead generation tools like CANDDi that are designed to ensure sales & marketing complement each other effectively.
Quality AND quantity
Going back to the misalignment of your sales & marketing teams, this can have a significant effect on the quality of the leads coming in.
If your marketing team isn't aware of what qualifies a lead in the first place, your salespeople can waste a whole lot of time getting to the bottom of whether they're serious or not.
Ultimately, it's not just the volume but the quality of leads that has a bearing on your ability to generate revenue.
Start with your lead generation infrastructure. How do you connect with leads in the first place? If things aren't going to plan, it might be better to start fishing in a different pond.
As you push further down the line, you need to make sure that your lead qualification process remains relevant.
It doesn't take a rocket scientist to realise that if your leads are consistently on a path to nowhere, you should probably re-evaluate how they're qualified.
Once you have that figured out, you'll be in a better position to recover your lost revenue.
Automation is key
At the end of the day, your time is precious. For each minute your sales team is completing administrative tasks, a lead is slipping away.
Wherever possible, automate and streamline your business processes.
The best place to start is with some sort of sales automation. If you can figure out a way to take away the monotonous tasks of data entry, you can give your salespeople more time to do what they're hired to do… sell!
CRMs are a great way to take the legwork out of processes that don't need to be done by a human. Even better if you can get a sales tool that directly integrates with your CRM.
This way, your sales team can spend less time faffing about with software and more time generating leads.
When it gets down to the actual work, using automation tools for email sequences, meeting scheduling and even chat bots, you're giving your sales team more time to drive their energy into finding the prospects with buying intent.
You can even save more valuable time with an email tracking tool.
By implementing such software, your sales team will get an insight into who's engaging with their sales activity. They'll know who's worth a follow up and who's not. Instantly saving their time and effort.
Look at your pricing
This is typically our last resort, but it does sound pretty obvious. Either under or over-selling yourself will take a toll on your revenue. So it might be worth taking a look at your pricing strategy.
Developing an effective price range for your business is tricky, but there are still certain techniques you can use to help you get the most out of it.
Before your start, you need to understand your industry. How is it looking? More importantly, how does your competition value themselves?
From here, you can gather a good understanding of where you stand in the market, ready to consider the demand for your product/ service alongside any external economic conditions.
Regaining lost revenue is overwhelming in any circumstance. But that doesn't mean it's a task that should intimidate you. We can't lie, it'll take blood, sweat and tears. But we're all in the same waters here! With patience and hard work, you'll get through it!
If you need help with any of the points raised above, reach out to us at help@canddi.com to see what we can do for your business.