Using Google Search Console's Search Analytics Report
Google has been making it increasingly difficult to view query data, but that doesn't mean that you are forced to blunder in the dark when figuring out what consumers are searching for. While it's true that finding out what is going on in terms of organic data is now difficult, you can easily get information about history data thanks to the Search Analytics Report.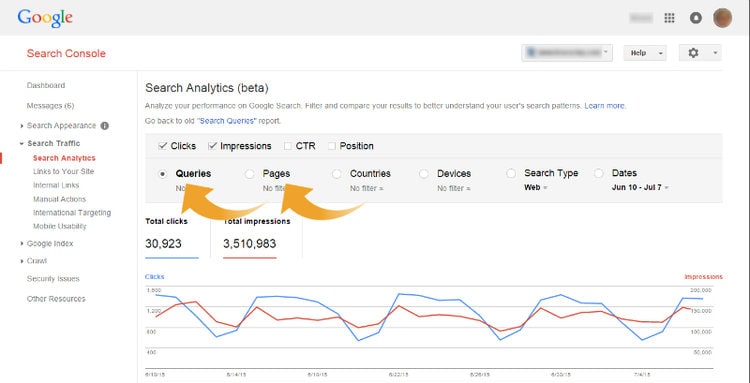 By default, the Search Analytics Report has a 90-day limit, and if you want to view more information than that, then you are expected to either download the data as a CSV file or use the API. However, there are other options.
Storing Query Data for Later Retrieval
One of the best options is to integrate GSC data with Google Analytics. To do this, you must enable Webmaster Tools Data Sharing. This is an incredibly useful feature, and something that a lot of people overlook. Linking the two accounts offers a lot of benefits.
Once you have linked the accounts, information from GSC will be fed to Analytics and can be used for your normal reports. However, there are some quirks that you will need to get used to. One particular quirk is that numbers in Google Analytics will be rounded, while they are not in GSC. In addition, there are some filtering limitations in Google Analytics that may be frustrating to people who are used to the Search Analytics report. You can only filter by Google Property or Country - not both at the same time - and there is no option to filter by device at all.
In spite of these limitations, Google Analytics is very useful. It will store the data for longer, and it will allow you to get email reports for keywords and also schedule automated delivery times. So you can always stay on top of the latest query data.
This feature is nothing new - in fact, it has been around for more than four years - but it is only recently that Google has made major improvements to the accuracy of the information that is fed to Google Analytics when you link the two accounts. Now that the integration is much improved, you can get far better data from Google Analytics and take advantage of advanced reporting tools too. If you wrote off the tool a few years ago, now is a good time to have another look at it.
Tim