Learn With Alice- Nightly What?
Three things.
1. Reports are great.
2. People don't always know how to get the most out of them.
3. So in turn they get ignored/ deleted.
This is an overview of how you can get the most out of them.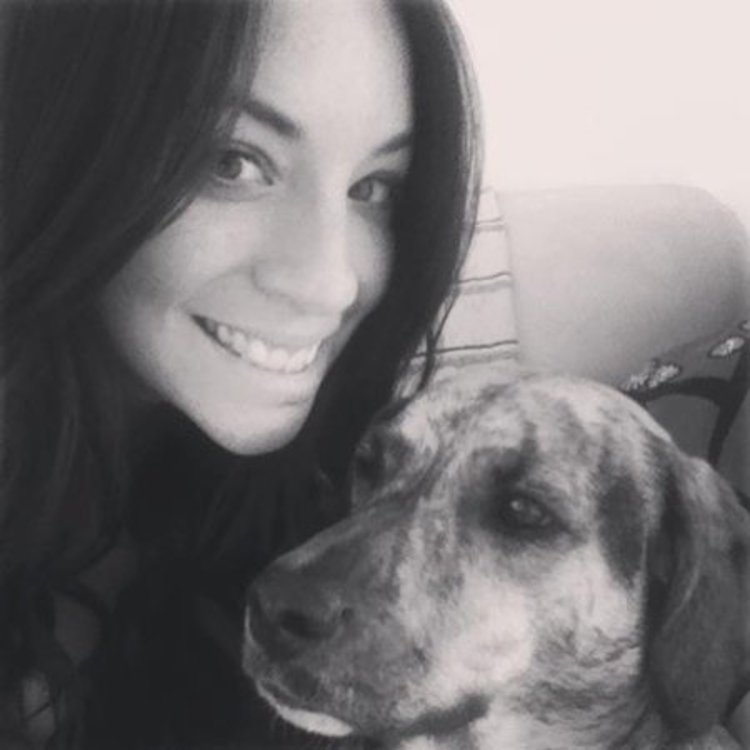 I thought I would give this a go. Being new to CANDDi, I had no idea what tools were in place to help support me with marketing. I have always pulled my 'end of night' reports from different platforms and found that the amount and depth of the data was quite overpowering and in some cases unmanageable.
When I started receiving CANDDi Nightly Summary emails, I am ashamed to say I ignored them. It became another email that got lost in the filter and I only opened it to get rid of the irritating red dot by the corner of my app.
I then had to attend a meeting with my boss and look blankly when he mentioned this tool. After walking away with a bright red face, I looked into how the Nightly Summary could be used to benefit me at CANDDi but also how our customers could start using it and not deleting it. Boy, is this a useful tool when used properly!
For the past few weeks, my focus has been on the site's content and website traffic and I thought it would be good to see if these reports could work for me.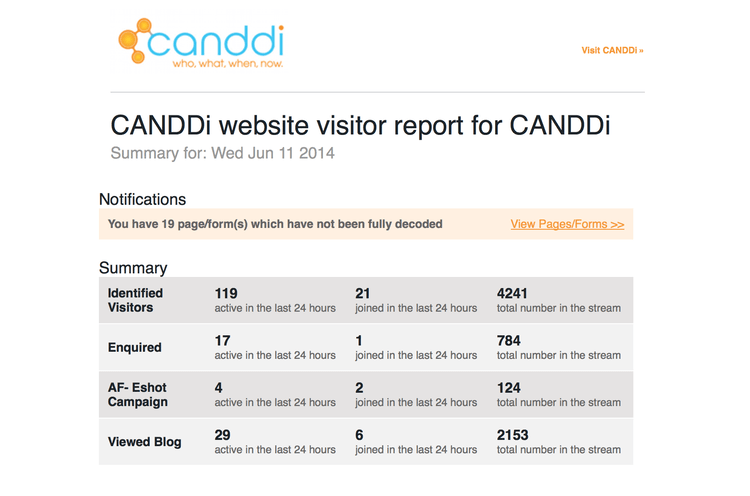 Firstly, the blog content. I am interested in monitoring the level of activity and engagement with our blog posts. I set up the Nightly Summary to report on how many visitors in the last 24 hours visited CANDDi blogs; if there were new visitors to the blog and the total number in the stream.

It then lists the top 20 most recent visitors in a list as seen in the below format:

Each individual contact has information listed by their name including: how many times they have visited the blog; the duration of their visit; their last activity and total activities as well as their name, company and email address.
If I wanted to, I could click through to Mr Bob at Cars4u and email him asking what his thoughts were on the "5 Ways Someone Would Use CANDDi… In The Automotive Industry" blog post. How cool is that?! Creepy, but cool!
Secondly, I'm rolling out different email campaigns every day and keeping up with results can be extremely time consuming. I have been playing about with times of send this week and what time of the day is most effective for sending out emails. By running a Nightly Summary that includes email campaign click throughs, I can compare the reports, side by side, each day. At the end of the week, I can pull a review based on these stats.
I can also react quicker to these results. If on Tuesday at 10am, we had 35 click throughs from an email campaign and Wednesday at 3pm, we had 235 click throughs, then I would be interested in changing Thursday's email to go out at 3pm instead of 9am to measure results.
As time goes on, I will be using this report in different ways depending on the marketing activity that I wish to review.
For example: With the NEW CANDDi ADMIN DASHBOARD, it is so much easier to set up reports for the team. When the new intern comes onboard and starts to own the social media platforms, I will able to set up this report so the focus is website visits from social media. This report will allow me to keep an eye on activity but will also help them deliver tangible results on conversion rates every day and track for the week.
I think there is more we can do to support our customers to get the most out of the Nightly Summary so please get in contact with us if you think there is something missing or even if you have found a cool way to use it yourself.
For more info on how to do this, check out the below resources:
Adding Streams to Nightly Summary
How to build Streams
How to add a Trigger to a Stream

Alice Flook
@flook88
CANDDi
Who, what, when, now.