At a glance
| Features | | |
| --- | --- | --- |
| Identify companies on your site | | |
| Identify individuals on your site | | |
| Cookie tracking | | |
| Real-time alerts | | |
| Email integration | | |
| CRM integration | | |
| Lead scoring | | |
| Daily reports | | |
| Bespoke integration | | |
What's the difference?
Identifying companies
Snitcher can show you which company has visited your site, which is great for finding out what business is interested in yours.

However, only having this vague information can be an issue when you attempt to contact that company, since you don't know the name of the person that's interested.

That's why CANDDi is so useful; with innovative identification methods, we can tell you who visited your site, giving your team the precise information they need when it matters the most.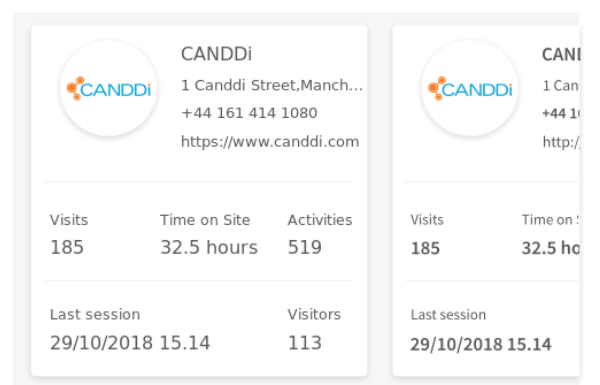 Daily reports
Though Snitcher sends updates data about prospects in real-time, it doesn't offer the same Daily Report and real-time alert service that has proven so popular with our users.

With the Daily Report, anyone from your team can get a highly detailed snapshot of the day's new leads and marketing performance at a glance.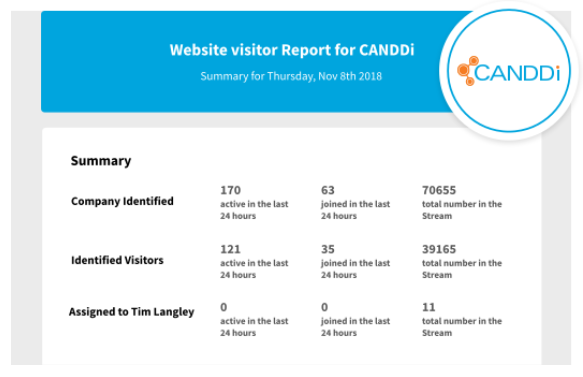 Cookie tracking
CANDDi operates in real time, and since we combine IP tracking with cookie tracking, you can rest assured you'll never miss a sales opportunity again.

Whether your prospects are browsing from their office or home, our CANDDi email notifications will alert you the second important activity happens on your website.

This includes every time a new website visitor is recognised on your site, when they return, and if they engage in an identifying action.