Before making a decision on which software is right for you...
It's important to understand how they are different. Marketo offers many different packages with a wide range of solutions, whereas CANDDi is highly focused on a specific purpose: providing actionable insights about your prospects.
Because the services offered by the two products are so different, some may even decide they want both!
At a glance
| Features | | |
| --- | --- | --- |
| Identify companies who visit your site | | |
| Identify individuals who visit your site | | |
| Integration with major CRMs | | |
| Lead scoring | | |
| No set-up cost | | |
| Email marketing tracking | | |
| A/B Testing | | |
| Real-time prospect alerts | | |
| Landing page building tool | | |
| One-on-one email open tracking | | |
What's the difference?
Identifying Visitors
Currently, Marketo does nothing to help you identify visitors on your website.

With CANDDi's innovative identification methods, we can tell you which individual has visited your site, so you can contact them personally when they are most likely to close the deal.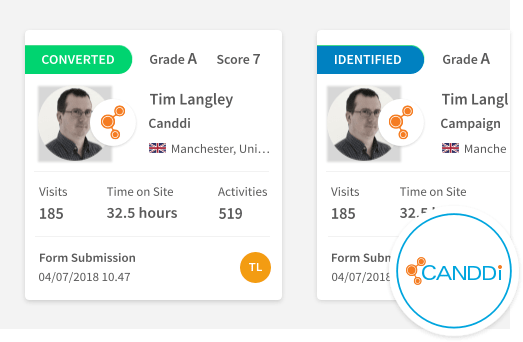 Pricing
Marketo's many solutions make it one of the most expensive marketing automation tools available. With add-ons, the majority of packages cost tens of thousands per year - not counting the $6,900 set up cost!


CANDDi offers a complete package to identify visitors, nurture leads and close deals — all for a fraction of Marketo's price. We also don't have any set-up fees, additional extra costs, or price hikes after the first year.
One-on-one email tracking
Like CANDDi, Marketo integrates with your email marketing campaigns to track which recipients click links on the email, and what they do once they arrive at your website.

CANDDi offers an even deeper service by allowing you to track the emails you send one-to-one, so you're notified when leads open and engage with any of your emails!