Before making a decision on which software is right for you...
It's important to understand how they are different. While CANDDi is a flexible solution that plugs into your pre-existing software, HubSpot requires you to use only their systems.


This is why HubSpot is a great solution for big new companies with a sizable marketing budget. On the other hand, it can be wrong choice for smaller companies who only end up using a fraction of the HubSpot features they pay for.
At a glance
| Features | | |
| --- | --- | --- |
| Identify companies who visit your site | | |
| Identify individuals who visit your site | | |
| Integration with all major CRMs | (with 3rd party software) | |
| Bespoke integration with any CRM | | |
| No set-up cost | | |
| Lead Scoring | | |
| Real-time prospect alerts | | |
| Track visitor activity on website | | |
| Free phone support for every user | | |
What's the difference?
Identifying Visitors
With CANDDi's innovative identification methods, we can tell you which individual has visited your site, so you can contact them personally when they are most likely to close the deal.

HubSpot is unable to identify visitors to your site, and only begins tracking their activity after they fill in a form or enter their details on your site.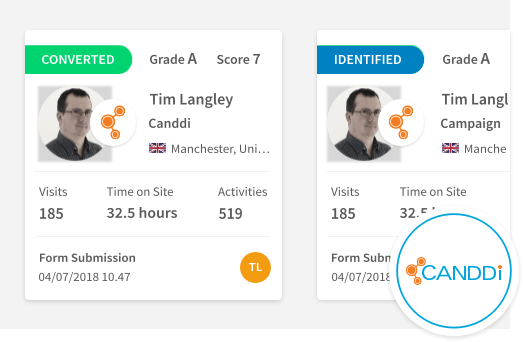 CRM Integration
At CANDDi, we believe it's important to drive our rich data about prospects directly into the software your sales team is already comfortable using. That's why we integrate seamlessly with so many CRMs, and will provide a bespoke integration with your CRM if we don't already!

Since HubSpot has its own CRM, it doesn't fully integrate with any others apart from Salesforce. Third-party integration software like Zapier can be used, but this does complicate the set-up process, and means the features available to you are limited by what's included in the integration software.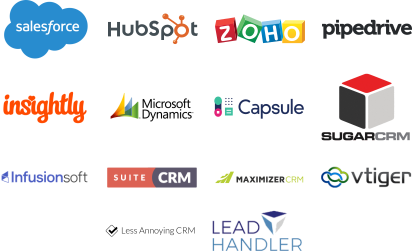 One-on-one email tracking
HubSpot offers a free version, which is limited but offers a good start for inexperienced marketing teams. However, the full version becomes very expensive with add-ons, set-up costs, and price increases after the first year.

CANDDi offers a complete package to identify visitors, nurture leads and close deals — all for a fraction of HubSpot's price. We also don't have any set-up fees, additional extra costs, or price hikes after the first year.