How to build a sales cadence that works
What even is sales cadence I hear you ask? It's the process you or your sales team use to reach out to new leads to drive them into your pipeline.

This could include various touchpoints across different channels such as calling, emailing, or your social media platforms, all with the goal of building a relationship with a lead to preempt a future sale.

Sounds simple enough, but the tricky thing with sales cadence is that if just one of your touchpoints are out of sync, it'll throw off your whole pipeline.

Unlike your typical slap-dash sales advice blogs, we're here to offer a long-term sales cadence plan that's based on analytical data, rather than old hat sales advice.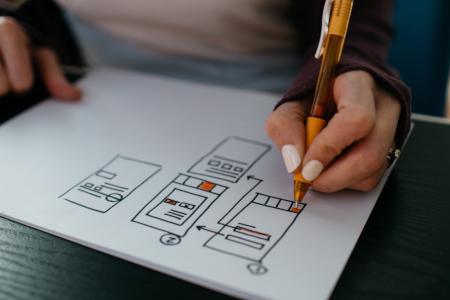 To build a sales cadence that works for your business, and more importantly your prospects, you should start with some customer research.
By understanding who your leads are, you can build the right messaging for them, ensuring each step will align with your prospects' needs.
Here's the steps you should follow for a successful sales cadence:
Create buyer personas
The classic don't walk before you can run rule. Before you make a start on any type of sales strategy, you need to know your customers inside out.
If you're not understanding your customers, your sales strategy will get off on the wrong foot. Why? Because going forward, your cadences won't resonate with them, or will just miss them completely.
That's why the first step to building a sales cadence process is to create or update your ideal customer profile.
There are no rules when it comes to your perfect customer persona. Your ideal customer might take form in a number of shapes and sizes. Once you understand how each one works, you can start to map out who fits into each profile.
The best way to organise this is with data. Tools such as CANDDi offer visitor level tracking for your website.
By implementing this, you'll be able to identify companies that have already been actively engaging with your site or other online content. You can consider these warm leads.
You can also see what types of customers are interested in certain services, or respond well to a specific type of marketing. A good place to start is by looking at the stats of your recent campaigns or website traffic.
The next step is to segment them accordingly.
Segment the data
Now you've started to get an idea of what your customers like and dislike, you'll notice that a sales cadence can't be a one-size-fits-all kind of solution.
Each cadence will need content adapted to their situation. This could depend on the following categories:
- Lead source

- Type of customer - industry, job role, size of the business

- Buying power

- Painpoints and challenges.
Regardless of your choice, the messaging, goals, and timing of your sales cadence will be completely different for any of these leads.
You might even want to set specific cadences that are sent to renew current customers, and another to reach out to leads who showed interest but were unable to progress further until a specific time. As you get to know your leads, you can segment them according to the categories that make sense for your business.
Although you don't need to overdo it! Start by limiting your segments to no more than 3. You only want to be creating a new sales cadence that is dramatically different to what you already have.
Draft your content
A sales pitch that converts is one that knows what really upsets its target audience. Better yet, shows a solution to that particular problem.
Based on your buyer personas, you'll already have a pretty good idea of each of their pain points and challenges.
As a result, you can tailor your messaging to keep your sales cadences on track per persona, by selecting one clear painpoint for each of your segments.
Once your sales cadence has a defined goal (e.g. solving the prospect's pain) you'll start delivering a clearer message across your marketing, resulting in a uniform set of CTAs (calls to action).
With certain marketing tools, you'll be able to personalise your messaging on an account or personal level. This will help you create a hyper-personal outreach that will nudge those need-to-close cases over the line.
Simple things like merge tags for their first name or company names can go a long way, as well as using tracking tools to identify what it is your prospects are looking for in the first place.
It's almost like getting a glimpse into their mind. If you can tell them what they're already thinking, you'll be on to a winner.
Preferred communication channels
Now you're ready to send out your sales cadence, you need to figure out the best place for it to land.
You could write the world's best sales copy, but if your prospects aren't seeing it, how are you ever going to convert?
Time to go back to those trusty personas. In your preliminary research, you should have found out what type of communication turns your leads on, or off.
To find your customers' preferred channel, you must first consider where they're spending a lot of their time. Is this on their emails to and from sales meetings? Are they a younger exec who spends their day browsing LinkedIn? Or sometimes it's the old fashioned cold call they trust.
Either way, you need to find a communication channel that they frequent that also offers the ability to respond with minimal kickback or friction.
Don't forget about your sales reps and marketing team either. It's no good forcing the most amazing sales pitch if their skills don't lie in phone conversations and voicemails.
If your team isn't confident in what they're propositioning, it'll show. This will result in a bunch of dead ends whether your sales cadence was great or not. It's important to strike a balance between the two.
Start cadence!
You're all set! It's time to schedule those emails and pick up the phone.
A typical cadence pattern might follow something like this:
- Day 1: Awareness email and LinkedIn connection

- Day 3: Follow up call with voicemail or additional email if no answer, as well as scheduled social media posts for the targeted persona

- Day 5: Send LinkedIn message for less formal approach, as well as another phone call

- Day 7+: A mixture of personalised videos, content and calls to understand what it is your prospect is looking for and how you can help achieve their goals.
One of our top tips is to make sure you're monitoring your engagement and interactions. Our CANDDi email plugin allows you to track exactly who's opening your emails, as well as clicking any links or files within them.
This will help give you a greater insight into who's exactly moving through your sales funnel.
Now you've learned the what, where, and how of building a sales cadence, your team can start work more intelligently and harmoniously, working in line with company branding to show a united front and ultimately close more deals.
If you want help monitoring your sales cadence, reach out to the team at help@canddi.com or register here for your free trial.