CANDDi FEATURE, Nightly Summary, What Is It And What Can It Do.
Three things.
Reports are great.
People don't always know how to get the most out of them.
So in turn they get ignored/ deleted.
This is an overview of how you can get the most out of them.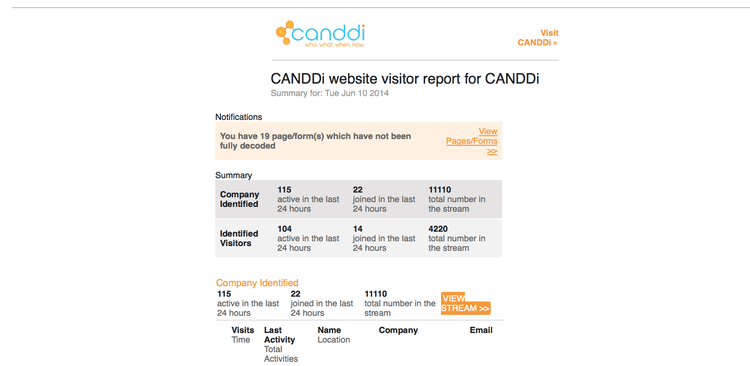 ###What Are Nightly Summaries?
This is a clever little report that CANDDi sends out at the end of the day to every CANDDi user in your company. It lists key stats pulled from your website and gives you a snapshot of what is going on across your CANDDi account.
What we are finding is that CANDDi users feel this overview is a useful tool in gaining a broad overview of key objectives, however, they are not using it to its full potential.
We want you to use it more effectively.
###Back to Basics.
The current default summary that is sent out to all users includes:

Company Identified
Contacts that were active in the last 24 hours/ joined in the last 24 hours/ total number in the stream

Identified Visitors
Contacts that were active in the last 24 hours/ joined in the last 24 hours/ total number in the stream
It then goes on to list the last 20 contacts for both categories, with details of their duration on your website, their activities, their location and details of contact. There is also the option underneath to click through to see the entire list.
This is a great starting point for viewing the data gathered from a broad perspective.
###What Are You Missing Out On?
Depending on your business, there are key bits of information that can be focused on in a nightly summary. This information is drawn from your streams, which means, you can choose what gets included. Basically, any stream that you have set up on your CANDDi account can be included in the summary.
When everyone has different KPIs, why would you send the same blanket report?
###Here are a few examples to consider:
####Different Departments:
If you have different departments in your business, you may want to set up different summaries for each team or even individual. A classic case, Sales and Marketing.
The Marketing manager will most likely be interested in inbound leads that have been generated from different campaigns. This information can be broken down and the report will provide a quick overview on the success of marketing activity over the 24 hours.
On the other hand, the sales manager is unlikely to be interested in what campaign the customer has been referred from and more in the activity once on the website. The nightly summary can breakdown the leads into hot prospects and product-specific enquiries.
####Different Individuals:
This doesn't have to be limited to departments. For example; within marketing, you may have various roles (a content manager, a PR manager, a campaign officer, a brand manager), all of which have their own set of KPIs. Summaries can be split into different categories (ie. campaigns, press page interaction, blog page traffic, POS engagement etc) and each individual can receive a custom made summary.
####Marketing Tip: Are you A/B testing? You can make changes over 24 hours and compare the summaries side by side to get an overview of the results. You can then go back in the next day, after reviewing the summary, and roll out.
This post is an overview of how you can use nightly summaries much more effectively.
For further resources, please see below:
Adding Streams to Nightly Summary
How to build Streams
How to add a Trigger to a Stream

Alice Flook
@flook88
CANDDi
Who, what, when, now.