Sales Innovation Expo - Are you coming?
The Sales Innovation Expo is the largest and most important event for professional sales leaders and takes place at ExCeL, London.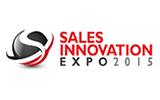 The Sales Innovation Expo is next week – Wednesday and Thursday, the 13th & 14th May.
With 60 of the industry's most recognised companies exhibiting including the likes of MHI Global, Action Coach and CANDDi, the show is a one-stop marketplace to assist Sales Leaders to get the most of their salesforce.
Accompanying the extensive list of suppliers is a comprehensive seminar schedule consisting of 80 seminars with industry experts sharing their thought-leading guidance. The likes of:
They will be giving unparalleled advice to equip Sales Directors and Managers with the latest systems and knowledge to improve sales performance.
Tim's presentation is about using Big Data to understand how your prospects interact with your marketing and move through your pipeline.
What's more your free ticket also gains you access to The Business Show running next door - the largest business exhibition attracting 25,000 visitors, 250 free seminars, workshops, networking and hosts some of the UK's top business speakers.
To visit the Sales Innovation Expo website for more information or to order free tickets then please click here.