To make the most out of the CSV files you upload to CANDDi, we recommend you use CANDDi.Link.
CANDDi.Link allows you to capitalise on the existing knowledge within your CRM and other databases. For example, if you had a contact that's known to be an 'opportunity' or 'lead' within your CRM, we'd be using this information to tell CANDDi.
So, when this recognised contact returns to your website, CANDDi will know who owns that contact and at what stage they're at within your sales process.
To upload your CSV files, head to the 'Settings' tab of your CANDDi dashboard. Here you should scroll down the left hand side until you see 'Upload CSV' under 'Site Management'.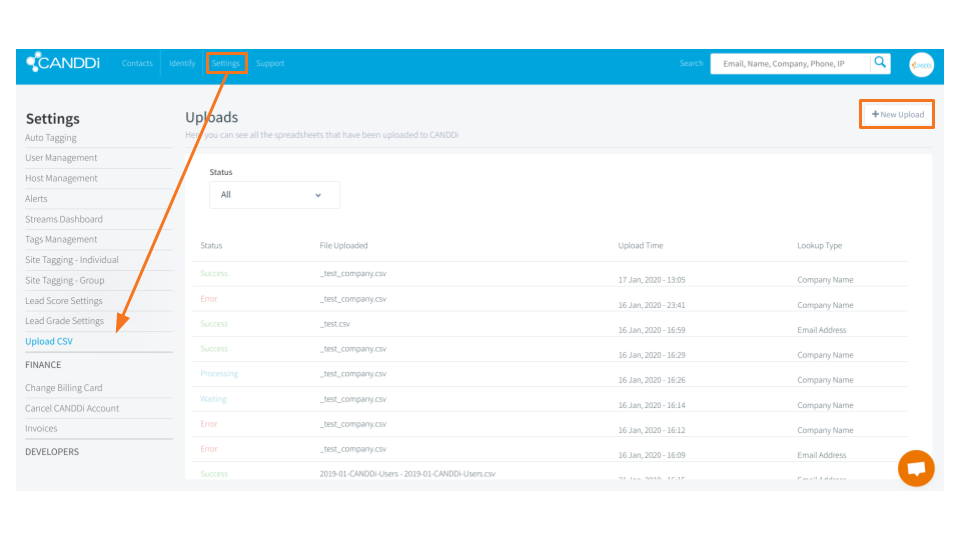 Once you've clicked on 'Upload CSV' you'll see a 'New Upload' button in the top right. Click on this and you'll be able to drop your CSV directly into CANDDi.
You can also manage all of your other uploads in this part of the dashboard. They can be filtered by those that are processing, successful and those that've had errors.