We're sure you already know by now that CANDDi's power lies in its ability to identify actual individuals visiting your website, rather than a vague company name guessed from an IP address.
But what's the point in all that valuable data if you can't see where they came from, or where they're going?
That's where CANDDi Streams come in. They allow you to monitor your web visitors' journey across your site with the ability to filter your visitors depending on their location, industry, marketing campaign and pretty much anything else you can think of!
In doing so, you can focus on the prospects you really want, whenever you want. If you want to learn more about how to get Streams set up, you can check out our handy guide.
Grouping and editing your Streams
If you've got a lot of Streams set up, it can be really difficult to keep on top of them all. A perfect way of streamlining them is to create Groups.
Let's say for example you've got a bunch of streams for your email marketing campaigns, so you might want to group these together for convenience and clarity.
You can do this by opening up your CANDDi dashboard to see all of your existing streams, and clicking on the stream you want to add to the group.
Once this stream is open, click on the button with the three little dots towards the right hand side of the screen and then click 'edit stream'.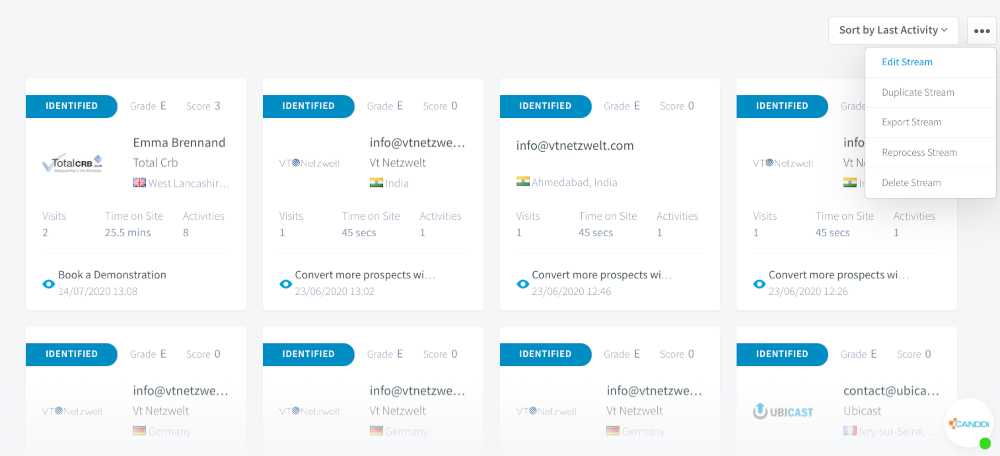 Now you've got the edit screen open, scroll down to the 'advanced' button and click on this. Here you will be able to see the option to add some groups.
You can choose from existing groups you might have already created, or start typing the name of a new group to create a brand new one.
If you want to see how active these groups are, you can filter them even further with our time feature.
To do this, click on the calendar icon towards the top of the screen. From here, a pop-up will appear with a number of time periods to choose from.
If you'd rather make a bespoke time frame, click on the 'custom' button. This will allow you to pick your own start and end date, for full flexibility.
Sharing groups
There's no use keeping all of this to yourself! To share your Streams with your colleagues and other CANDDi users, click on the stream you want to share, and navigate to the three little buttons to the right of the screen.
Click on 'edit stream' from the drop down.
Scroll down to the 'advanced' button and click on it. You'll be able to see an option to 'share your stream' and you can either add in the specific users you want to share the stream with, or tick the 'share with all users and admins' box to share with everyone.
If your colleagues can't see the stream, this is because every stream you create is unique to your dashboard until you choose to share it with other users on your account. Once you've followed the steps above, you should all be able to see your stream masterpiece.
If you're having any trouble with your Streams, have a look at our troubleshooting FAQs here, or reach out to the team at help@canddi.com