CANDDi vs. Competitor Data
When it comes to any type of B2B tool, it's usually better to try before you buy! This way, you can get a more accurate sense of how it'll fit in with your existing systems, and if you and the team are comfortable using it.
At CANDDi, we're well aware that we're one of the smaller players in the industry. Our competitors are powerhouses like Lead Forensics and Leadfeeder. But that doesn't mean that many of our customers look to switch to CANDDi for one reason or another.
That's why you can run our CANDDi free trial against your existing software to compare results. How else will you know how to make the best decision for your business?
We simply want to provide you with real data so you can see real results. As a result of this, our transparent, honest results can often come with some discrepancies.
Whenever you're comparing tools like CANDDi, it's completely normal to see differences between the data sets. So, don't worry about it!
Why does this happen?
Simply put, all tracking tools work differently. This means there'll be differences in the way their data is reported. Many of our competitors rely solely on IP lookup of static IP addresses. CANDDi uses IP lookup too, but we also use first-party cookies to track individual devices.
This lets us monitor the activity of a particular device, rather than the IP address of the whole company. If you want to know more, see how CANDDi identifies individuals.
So, because of all this, the data that you'll see can differ from time to time. That's completely normal!
Why am I seeing different results?
We're confident that all of the data you'll see in both your existing tracking tool and CANDDi will be similar, it'll just require a different interpretation.
That's why you'll always have the help of our Customer Success team throughout your free trial, ensuring you get the most out of CANDDi.
In the meantime, We've put together this article to explain why these discrepancies occur and what you can do about it!
First things first, check you've got your CANDDi tracking code on every page of your site.

This might sound silly, but it can be easily missed! Just check your CANDDi dashboard to find your code and copy and paste it to the header/ footer of your website. We'll handle the rest!

If you're tracking multiple domains, double check CANDDi is tracking all of them. There's a 'Site Management' section in the 'Settings' tab of your CANDDi dashboard where you can check what's up and running.

As mentioned earlier, all tracking tools work differently. Rather than relying on the data provided from an IP lookup, CANDDi tracks individual devices through cookies.

As a result, many website visitor tracking tools don't have the ability to differentiate between different visits of the same visitor. What we mean by this is that if 1 person from a company returns to your site 100 times, this will often be counted as 100 separate visits.

Obviously this will cause some differences when you start comparing the two!

CANDDi also joins together multiple companies. Since you can track more than one website with our dashboard, if they have more than one domain and visitors are looking between the two, we'll recognise this!

At the end of the day, IP tracking is not an accurate science. There's always going to be information that CANDDi can find that other tools can't and vice versa.

CANDDi shows you all the data. Other software shows you all the names of the company and the times they visited, but it doesn't show IP addresses. So you have no way to check if it's interpreted correctly.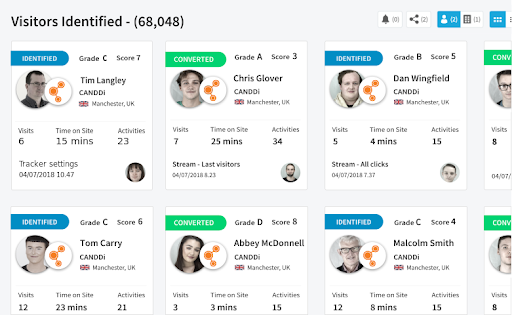 What can CANDDi do to help?
To understand the data, we can do a comparison between the records your existing tool has generated alongside CANDDi.
In order to match the data, we'll need an extract including the time and the number of pages.
Ideally, we'd like your extract to be between a specific date range (so we can see the same data in CANDDi). We'd recommend around a week, but if you're a high traffic site, then a day will suffice.
Following this, our Customer Success team will produce a bespoke analysis for you. We'll match your existing data to similar visits on CANDDi and explain/ highlight the differences that occur.
Ultimately, our free trial is exactly what it says it is. A trial period. The whole point of a trial is to experiment and figure out what works for you.
We pride ourselves on our ability to be honest, hence why we're happy to show all the differences throughout! At no point will we try to bad mouth your existing tracking tool, but help you make the most out of the software you're paying for.