How to add and edit Stream Groups
Sorting the data within CANDDi is a brilliant way of segmenting data, organising it, and separating out exactly what you want to see. But when you've got loads of streams, it's really difficult to keep on top of them all. A perfect way of streamlining them is by creating Groups.
Creating stream groups
Let's say for example you've set up a bunch of streams for your email marketing campaigns, so you might want to group these together for convenience and clarity. You can do this by opening up your CANDDi dashboard to see all of your existing streams, and clicking on the stream you want to add to the group.
Once this stream is open, click on the button with the three little dots towards the right hand side of the screen and then click 'edit stream'.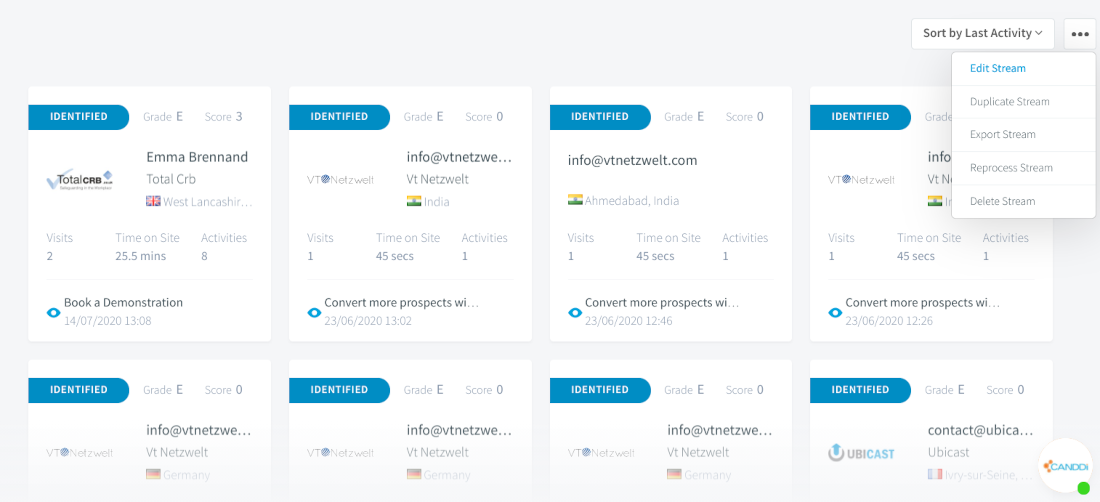 Now you've got the edit screen open, scroll down to the 'advanced' button and click on this. Here you will be able to see the option to add some groups. You can choose from existing groups you might have already created, or start typing the name of a new group to create a brand new one.
If you have Streams that aren't part of a Stream Group, it will automatically appear as 'ungrouped'. This will happen when you have not specified what you want the stream group to be called.
Sharing stream groups
Click on the stream you want to share, and navigate to the three little buttons to the right of the screen. Click on 'edit stream' from the drop down.
Scroll down to the 'advanced' button and click on it. You'll be able to see an option to 'share your stream' and you can either add in the specific users you want to share the stream with, or tick the 'share with all users and admins' box to share with everyone.
If your colleagues can't see the stream, this is because every stream you create is unique to your dashboard until you choose to share it with other users on your account. Once you've followed the steps above, you should all be able to see your stream masterpiece.
If you need more help grouping your streams, reach out to the team at help@canddi.com