What is the CANDDi Sales GUi?
You may have noticed that some of CANDDi's features require you to download our Sales GUi… but what is it?
Well, the Sales GUi is a simple google chrome extension that allows CANDDi to help out with your day-to-day activities across multiple platforms.
The Sales GUi offers three major features as well as lots of little bonus ones, so let's jump in!
Track your outbound Gmail emails
With the Sales GUi installed, CANDDi will automatically track the outbound one-to-one emails you send via Gmail.
This has two huge advantages:
You'll see in real time when someone opens your email, or clicks on a link within it.
People who click links will become identified by CANDDi, and will be recognized on all future return visits.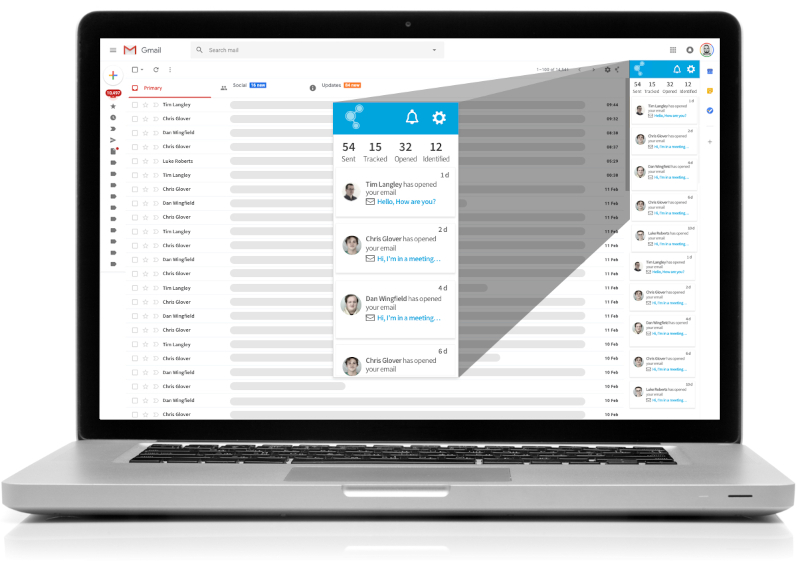 To learn more about tracking your Gmail, click here.
LinkedIn Prospect Tracker
When you open up the SalesGUi, you'll notice a section called the LinkedIn Prospect Tracker.
With this tool, you'll be able to add tracking to the messages you send on LinkedIn!
The LinkedIn Prospect Tracker allows you to:
Create handy message templates to speed up your outreach
Use merge fields e.g. for maximum personalization
See every action prospects take on your website after clicking through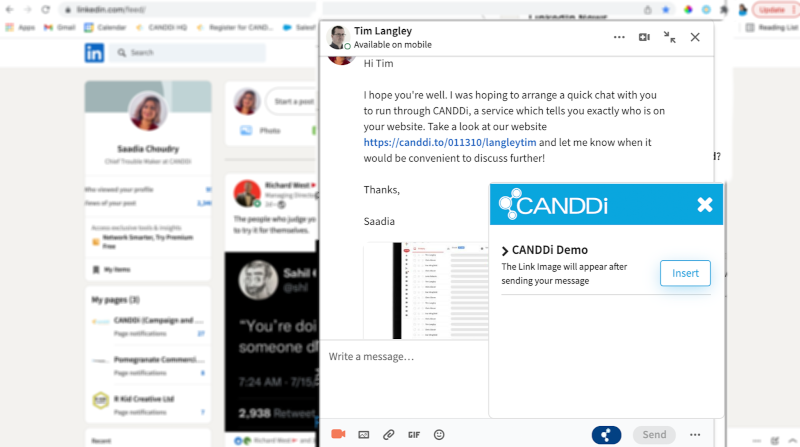 Since prospects who clickthrough will be identified in CANDDi, you can expect every benefit - such as knowing when they return to your site in future - that you'd expect from any other of our identification methods.
Plug CANDDi information into your CRM
The Sales GUi also adds an automatic integration between CANDDi and your CRM.
As long as you're using your browser, when you access a lead within your CRM you'll notice a little CANDDi overlay. This overlay will show you every bit of information that CANDDi knows about the individual and their company, so you don't have to go searching in different windows!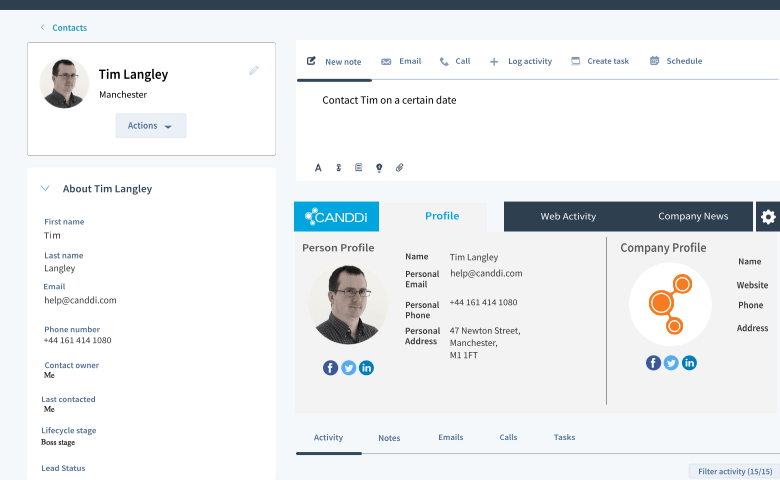 This functionality works with most major CRMs, so check out this page to learn more about this handy integration!
Bonus Features
Email Marketing Link Generator
If you're someone who loves adding CANDDi tracking to your email marketing campaigns, you'll know you usually have to open up the CANDDi dashboard to generate those tracked links.
Depending on your email marketing platform, CANDDi's SalesGUi adds the link generator to the platform itself… so you can write your email and add tracking all in one place!
Email Signatures
Another fantastic feature of the SalesGUi is the Email Signature Generator.
Not only does this allow you to create a professional-looking email signature which gets added to every email automatically… but it also adds a CANDDi-tracked link to the signature which identifies anyone who clicks on it!
Auto BCC
And now for the final handy SalesGUi feature: automatic BCC!
This allows you to enter an email address which will automatically be BCC'd on any future emails you send.
You can download CANDDi's SalesGUi by clicking here.